BREAKING: Illinois Covid Numbers Soar Into Red AGAIN, Nearing Shutdown Triggers?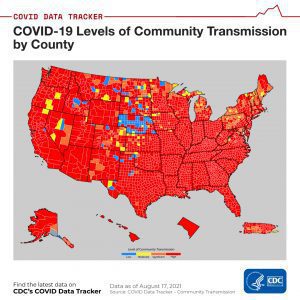 Covid numbers have leapt tenfold since late July, led by the more infectious delta variant. Over 96 percent of all new cases are among unvaccinated individuals. All Illinois state zones are in the red, "high" levels of transmission and hospitalizations. All 102 counties are now into the red, "high" levels.
The rate of new covid-19 cases per 100,000 people is up 30 percent over the past week. The rate of new covid-19 deaths per 100,000 people is up 53 percent over the past week.
Some businesses have already begun shutting down or cancelling events, reminiscent of what has happened in the past, prior to larger, more wide-sweeping shutdowns. Artist Shakey Graves canceled a number of shows around the Midwest due to the rampant spread of the delta variant of covid. The popular Codfish Hollow Barnstormers and Raccoon Motel venues in the Iowa and Illinois Quad-Cities market have both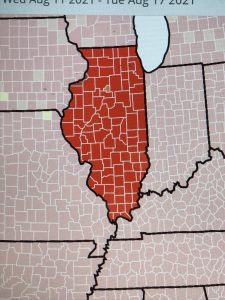 announced canceled concerts and proof of vaccination requirements to attend shows, as more and more touring artists begin to require proof of vaccination to attend concerts.

In addition, as previously reported by QuadCities.com, Illinois Governor JB Pritzker did not rule out further shutdowns and restrictions while announcing a return to covid mitigations in Illinois due to the huge spikes in infections in the state, especially among unvaccinated people. Pritzker's mitigations included a return to students wearing masks in schools, and a requirement all state employees at congregate facilities to be vaccinated. All employees at veterans homes, senior facilities, long-term care facilities, etc. will be required to be vaccinated.
Shutdowns and stronger mitigations have already begun sweeping the United States as the highly contagious delta variant of covid-19 begins to creep back up and temperatures start to dip into fall, meaning more people will be inside and the risk of contagion is higher.
The U.S. level of community transmission is high. COVID-19 cases are increasing in most parts of the country. The 7-day average of daily new cases is 130,121. This is 13.2% higher than the previous 7-day period, and 1,016.8% higher than the lowest daily average in June 2021.
Take actions to protect yourself and prevent the spread of COVID-19.
If you aren't vaccinated:
Get vaccinated.
Wear a mask over your nose & mouth.
Stay at least 6 feet from others.
Avoid crowds & poorly ventilated spaces.
Wash your hands often.
Everyone—even vaccinated people—in areas with a substantial or high level of community transmission should wear a mask indoors in public. More:
https://bit.ly/2Hw1EZZ
For more information on this ongoing story, continue to check your free, fact-based
QuadCities.com.