Progressive Causes And Caring Inspire Glynn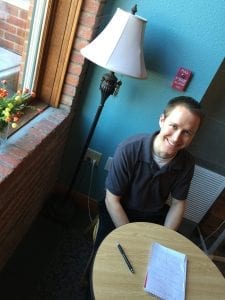 Travis Glynn is soft-spoken and quick to smile as he sips his coffee from a large mug at Elly's in downtown Muscatine. He's talking about his family, one of his favorite subjects, and the winter holidays, but he speaks with the same consideration and compassion on most topics, displaying the humanity and courtesy that informs his life and pursuits.
Glynn has been involved in various progressive causes over the past decade in Muscatine, but he's far from the stereotype of the strident radical. He's extremely low-key and polite, is deliberate and quiet in listening to different viewpoints, and presents himself and his ideas in the considered way of a veteran college professor, subtly inspiring his students to not necessarily think the same as him, but to think nevertheless.
Glynn, 33, was born and raised in Hastings, a small town in southwestern Iowa, and graduated from Iowa State before moving to Muscatine in 2007 for a job with Stanley Consultants. "It was between here and Topeka, and my brother was already here working at Hon, so it seemed like a great choice," he said.
It's certainly been a fortunate one in a number of ways. Glynn has been happy with the job he continues to hold, he met his wife, Alyson, here, and they make it home with their children Alex, 10, and Grayson, 3. And of course Glynn has become a quiet but persistent fixture in the community with his involvement in a variety of local groups including the Muscatine Society of Freethinkers, Progress Muscatine, Soil and Water Conservation District and the Democratic Central Committee.
Oddly enough, for someone who's involved in so many left-leaning pursuits, Glynn was raised in a staunchly conservative home and was a lifelong Republican up until about a decade ago. He voted for George W. Bush and the first time he voted Democratic was for Barack Obama. He was an engineering major at Iowa State, so the mythology of the pervasive liberal influence of academia hardly rang true in his awakening. It was more of a combination of factors, he said.
"I grew up in a very Republican household, but it was also a very privileged situation in which we were middle class and were largely around people with the same background," Glynn said. "It wasn't just one thing that changed my way of thinking, it was over the course of several years. Once I started to see the world and meet different people and learn about different things that changed my way of seeing things. It made me realize that there are inequities in the world and made me think about how we as people should try to level the playing field. I would like to live in a society where everyone is valued and that people are better educated and have better jobs."
Glynn eschews the political labels associated with that thinking.
"People kind of identify me with these Democratic causes and groups but I don't think about the labels of it, I just have an empathy for my fellow humans and people now and in the next generations and want to make the world a better place for them," he said. "When I think about my sons, it's very personal to me to want to make the world a better place.
"The causes and groups I'm involved in all have that in common, they're all about helping people, particularly those who have been historically disenfranchised, and I think that's important in helping society as a whole," Glynn said. "I do a lot of stuff behind the scenes, but it's all with that in mind, in trying to do the right thing and help people and help society better itself."
Going beyond the labels of society and getting to the heart of kindness is the driving force behind Glynn's life, and it'll continue to be his guiding light, he said.
"What I think the most important thing in life is is to be good to people and understand where they're coming from," Glynn said. "I think empathy is a big thing that needs to be emphasized, and that's how I try to live my life and the example I try to set for my kids. Ultimately, I think that's the greatest legacy you can have."