Mata Traders Trunk Show at The Ruby Slipper
Many local businesses have had to make adjustments in order to keep their customers safe these past couple of months. And there is no exception for The Ruby Slipper, in Bettendorf.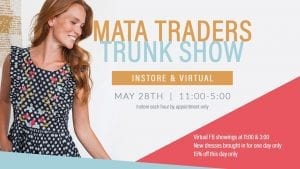 The Ruby Slipper (2507 53rd Avenue Bettendorf) will be continuing with their annual Mata Traders Trunk Show, both in-store and virtually, this Thursday May 28 from 11 a.m. – 5 p.m.
Whimsical day dresses have become a way of life, and this spring/summer will be no different. So make plans to check out the latest styles at The Ruby Slipper!
Virtual showings will take place on Facebook at 11 a.m. and 3 p.m. Shoppers can also sign up for an hourly time in-store showing via the Facebook post on Monday May 25. Only 6 people will be allowed to sign up per hour. Complimentary masks will be given to each attendee.
For more information, follow The Ruby Slipper on Facebook today!