Looking For Cool Winter Events For Kids?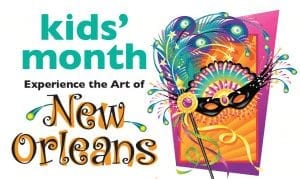 Are you looking for a fun event to do with your kids for this month? Do you want an escape from an Illinois winter? Look no further than the Galesburg Civic Art Center. This month is Kids' Month and to celebrate, they are hosting a free community event through Saturday, January 21, with a closing reception on Saturday, January 28. The Galesburg Civic Art Center is located at 114 East Main Street, Galesburg, Illinois, 61401. To view the event page, please follow this link: https://www.facebook.com/events/1835683436676873/.
Bring your children ages pre-k to 5th grade for a variety of activities based on the Art of New Orleans, including: 2nd line parasols, mardi gras masks, king cakes, and fleur de lis prints. The dates for this event are: Thursday, January 12th from 6:00 p.m. till 8:00 p.m., Saturday, January 14th from 11:00 a.m. till 2:00 p.m., Tuesday, January 17th 6:00 p.m. till 8:00 p.m., Thursday, January 19th from 6:00 p.m. till 8:00 p.m., and Saturday, January 21st from 11:00 a.m. till 2:00 p.m. The closing reception on January 28th is from 1:00 p.m. till 3:00 p.m. and will serve as the designated time for kids and parents to pick up their artwork.
The Galesburg Civic Art Center's goal is to promote the visual arts and it does so through exhibitions, a gift gallery, Art in the Park, Black Earth Film Festival, Studios Midwest Residency Program, and many other special events throughout the year. They develop many opportunities for community involvement and exploration through education, events, and inspiring gallery exhibitions in order to bring cultivation and enrichment to the visual arts. They are open on Tuesdays, Thursdays, and Fridays from 10:30 a.m. till 4:30 p.m., Wednesdays from 10:00 a.m. till 4:30 p.m., and on Saturdays from 11:00 a.m. till 4:00 p.m. They are closed on Sundays and Mondays.