Jump In To Wick's Lake Polar Plunge At Jumers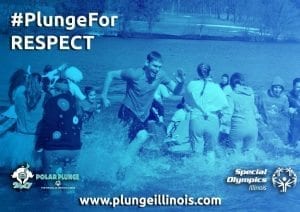 With warmer weather just around the corner, have you been craving a nice brisk dip in Illinois' frigid winter waters?  Good! Because it is time for the annual Wick's Lake Polar Plunge to benefit the Special Olympics Illinois.
The Polar Plunge, presented by the Law Enforcement Torch Run and GEICO, is a unique opportunity to support Special Olympics athletes. This year's event will take place on Sunday, March 19 at 2pm in Wick's Lake at Jumer's Casino in Rock Island. Registration information can be found at: https://www.soill.org/wp-content/uploads/2015/01/Online_Registration_Instructions_Plunge2017.pdf.
Participants must raise a minimum of $100 to participate in the Plunge. All plungers will receive a hooded sweatshirt as well as a free ticket to the Post Plunge Party. Prizes are awarded for the top individual plungers, top teams, best costume, highest fundraising Special Olympics athlete and the Donut Award for the Top Cop.
Plungers are encouraged to continue raising funds, even after this event. All donations received by Friday March 24 will count towards earning your 2017 Polar Plunge incentives. For more information regarding post-plunge donations, please visit https://www.soill.org/polar-plunge/.
All proceeds for this fundraising event will go to benefit the more than 22,000 traditional athletes and 20,000 Young Athletes of Special Olympics Illinois. So please take this opportunity to warm your heart for a good cause and then cool it off with a celebratory Polar Plunge!