Holiday Wine Walk Uncorked At Bucktown Friday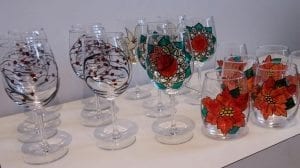 Some people break out the egg nog when the snow falls. Some sip hot chocolate by the fire. For others, a glass of wine does the trick any time of year. If you like wine glasses and tastings, then come to the Holiday Wine Walk.
This annual event will be held on Friday, Dec. 16, at the Bucktown Center for the Arts (225 E 2nd Street, Davenport, Iowa 52801) from 6:00 p.m. to 9:00p.m. Purchase beautifully hand painted wine glasses and taste many unique brands of wine. A portion of proceeds will be donated to the National Alliance on Mental Illness. (NAMI)
This event will be accompanied by Black Hawk College Community Chorale as they perform for your entertainment. There will also be a model train display. You can complete you holiday shopping at the Bucktown Center for the Arts galleries.
Bucktown Center for the Arts is comprised of over a dozen unique shops and studios that create unique, creative, and affordable works of art. The Center is open Wednesday through Saturday from 11:00 a.m. to 6:00 p.m. and on the last Friday of the month (known as Final Friday), they are open until 9:00 p.m. You can contact them at (563) -424 -1210 or info@midcoast.org.
To visit the Bucktown Center for the Arts website, please visit: http://www.bucktownarts.com/
To view the official page for this event, please visit: https://www.facebook.com/events/1815158645433984/