Get Your Drink On at Brewed Live 2020
It's no secret that the Quad Cities is home to a wide selection of impressive breweries. So many, in fact, that you might find it difficult to try all of them at once, right? Well not anymore!
Brewed Live returns to the QCCA Expo Center (2621 4th Avenue Rock Island) on Saturday Feb 29 with dozens of new and limited-edition releases!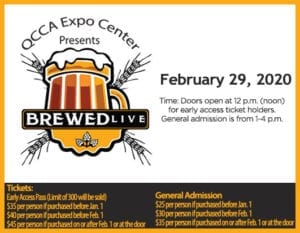 This event showcases over 30 local, regional and national breweries. Enjoy samples of more than 100 tasty beverages while receiving an educational experience on beer brewing!
General admission tickets (from 1 – 4 p.m.) are just $35.
Early admission tickets (12 – 4 p.m.) are $45.
Tickets can be purchased online at https://qcca.yapsody.com/event/index/492806. Get your advanced tickets online before this Friday Feb 28 at 5 p.m. and save $5 by using promo code BRWED.
The 2020 QCCA Brewed Live Brewery List:
Bent River Brewing Co.
Front Street Brewery
Potosi Brewing Co.
Green Tree Brewery
Crawford Brew Works
Galena Brewing Co.
Backpocket Brewing Co.
Millstream Brewing Co.
7 Hills Brewing Co.
Generations Brewing Co.
Lena Brewing Co.
Iron Spike Brewing Co.
Goose Island Beer Co.
Spoetzel Brewery
Bell's Brewery
Kona Brewing Co.
Sweetwater Brewing Co.
Alaskan Brewing Co.
BrewDog Brewing Co.
Elysian Brewing Co.
Breckenridge Brewery
Golden Road Brewing Co.
Big Muddy Brewing Co.
Omission Beer Co.
Whole Hog Beer Co.
Point Brewing Co.
Ballast Point Brewing Co.
Ciderboys Hard Cider
Virtue Cider Co.
Vermont Hard Cider Co.
Fishback and Stephenson Cider Co.
Press Hard Seltzer
Geneseo Brewing Co.
For more information on Brewed Live 2020, follow Brewed on Facebook.