What's The Good News For September?
We're falling into fall, but we're also falling into a lot of great things that are going to make it an awesome autumn in the Quad-Cities! Here's some of the good news going on around the community!
Haunt Opening Friday The 13th!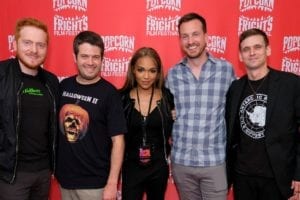 "Haunt," the directorial debut of Scott Beck and Brian Woods, the former Quad-Citians who go by the name Bluebox Films, will debut in theaters worldwide Friday, Sept. 13.
Beck and Woods, who wrote the Oscar-nominated "A Quiet Place," also wrote "Haunt," which was produced by Eli Roth, popular for the "Hostel" films and his work with Quentin Tarantino.
While Beck and Woods currently reside in Los Angeles, "Haunt" also stars a current Quad-Cities resident, Justin Marxen, who plays the big bad in the movie. Most of Marxen's role and backstory of the character are being kept under wraps, so as to not spoil the film, which has been getting terrific reviews at various film fests.
For more information, keep checking out www.quadcities.com for our Haunt Week next week!
Midwest Monster Fest Scaring Up Some Fun!
In other HAUNTING news… the Midwest MonsterFest, the Quad Cities premier horror convention, will take place on September 14th and 15th at the Spotlight Event Center in Moline.
The event coincides with the 45th Anniversary of the classic horror film, Texas Chainsaw Massacre, and will feature celebrity guests Ed Neal, John Dugan and Teri McMINN, all of whom appeared in the film.
Other celebrity guests include Wyatt Weed (Predator 2 and Star Trek), W.F. Bell (The Walking Dead and Rob Zombies 31), Bobby Ray Shafer ( The Office and Psycho Cop), Laila Haley (Sinister 2), Marlena Midnite (Midnite Mausoleum), and more. All guests will be signing autographs and offering photo-ops (individual rates and costs may vary).
Tickets for the event can be purchased online at www.midwestmonsterfest.com and at Co-Op in Moline and Wake Brewing in Rock Island.
Prices are $15 for a one day pass, $25 for weekend passes, and $60 for V.I.P. Limited to only 30.
In addition, Saturday Midwest Monster Fest is hosting a Independent Film Festival. Top films presented at the event are eligible to win awards. Horror themed cosplay contest will be on Saturday as well with prizes.
On Sunday of the event, Midwest Monster Fest will also hold an F/X Challenge where participants will compete to show off their best horror makeup skills for celebrity judges Wyatt Weed and Laila Haley.
A Horror Pinup contest is also scheduled for Sunday, and prizes for both contests will be awarded.
Over 40 vendors will attend the show, offering a wide range of products including collectibles, books, comics, movies, toys, food, beverages, and more. Several panels will also take place throughout the event.
A more in-depth presentation of Midwest Monster Fest's offerings can be found by visiting their website at www.midwestmonsterfest.com
Show hours are Saturday 10 am – 7 pm and Sunday 10 am – 5 pm.
Tripmaster Returns!
Tripmaster Monkey, the most popular band in the Quad-Cities in the '90s, which was signed to Sire and Elektra Records and had a video shot in the area, "Shutters Closed," on MTV, has returned with a new album, "My East Is Your West," and will be performing at 9 p.m. Friday, Sept. 27 at the Redstone Room in Davenport!
The group — guitarist and singer Jamie Toal, singer Chris Bernat, drummer Marty Reyhons, and bassist Wes Haas — was formed in 1987 by the then-teenaged core of the group and in 1993 was signed to major label Sire Records. The band's debut EP, "Faster Than Dwight," featured the minor hit "Present Tense," which was included on the soundtrack to the Eric Stolz film "Naked In New York." The EP also hit the top 20 indie charts in Britain and the group was featured on John Peel's radio show.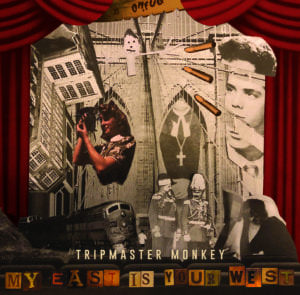 In 1994, they released their first full-length album, "Goodbye Race," produced by the then-hot indie duo  Sean Slade and Paul Kolderie, known for their work with seminal acts Uncle Tupelo, Buffalo Tom and the Pixies. The disc likewise featured a minor hit, "Shutters Closed," the video for which got airplay on MTV and showcased a number of Quad-Citians, including yours truly, during a shoot at the now-defunct Kimberly Pines skating rink.
In 1995 the band began recording its last major label disc, "Practice Changes," in the Q-C with producer Pat Stolley at the helm. Coincidentally, part of the label advance from the group would go towards building the local studio and helping to establish Stolley, who would go on to team up with Sean Moeller to kickstart Daytrotter in the next decade, giving the area its next national recognition.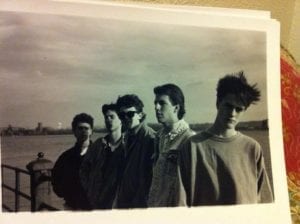 "Practice Changes" was released in 1996 to general critical acclaim but due to various business shakeups which caused the group to be chucked from Sire to Warner Bros. to Elektra Records and receive little to no help or promotion along the way, it was a commercial failure and caused the band to be dropped.
The group broke up shortly after, with Toal going on to move to Chicago and eventually Los Angeles, forming another critically-acclaimed band, Tenki; Haas moving to Portland to play in various musical acts; and Bernat to stay local to form Chrash and Reyhons to go on to become one of the most prolific and respected drummers in area music, playing with popular acts Einstein's Sister, Jim The Mule, The Dawn and The Velies, among others.
The last time the group hit a local stage was at RIBCO five years ago to benefit longtime friend and "fifth Tripmaster member" Rob Cimmarusti, the producer of "Faster Than Dwight," who has since passed away from complications due to cancer. The infrequency of the band's reunions has little to do with any acrimony (they all remain friends) and everything to do with geography (Bernat and Reyhons remain local, but Haas is in Portland, Ore., and Toal in L.A.
For more information, see https://www.quadcities.com/spotlight/tripmaster-monkey/
QuadCities.com Puts Local Entertainment In The Spotlight!
QuadCities.com has begun a special new feature, The Spotlight, where, for a week, we'll be featuring a variety of cool news and features, podcasts, pictorials, columns, features, the works, on local entertainment!
Next week, we'll be shining the spotlight on the Midwest Monster Fest and Haunt! Previous spotlights have included Tripmaster Monkey! What's coming up next? Check out www.quadcities.com to find out!
Marv Update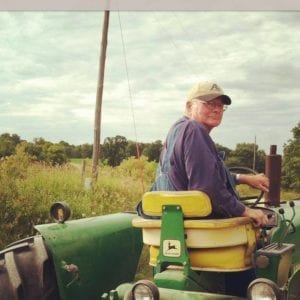 Marvin Franzen, the amicable denim-clad driver of the tractor that shuttles folks to shows at Codfish Hollow Barnstormers, is out of surgery and on the healing path after a horrible accident August 10 when his tractor flipped, breaking two arms and his pelvis.
However, medical costs are skyrocketing, and there's been a GoFundMe set up to help with expenses.
Codfish Hollow updated his condition with a post today:
Marvin needs all the support he can get. They have currently moved him out of Iowa City Hospitals and clinics and into the ICU at Select Hospitals in Davenport. He has a lot of recovery and rehab ahead of him. Please send cards and letters to Marvin C/o Tiffany Biehl 3437 288th Ave Maquoketa, Iowa 52060. Thanks so much Codfish Hollow Community. We love you!
To donate to Marv's GoFundMe, to help with medical expenses and to help repair his tractor, head over to https://www.gofundme.com/f/fundraiser-for-marvin-franzen?utm_source=customer&utm_medium=copy_link&utm_campaign=p_cp+share-sheet&fbclid=IwAR1LeDQFUok2grfnl-_cL81HT9jLL6l9ei0MT4Q1Cye1N2r5gZUd0ybfFAE
Rhythm City Gives Back To King's Harvest Pet Rescue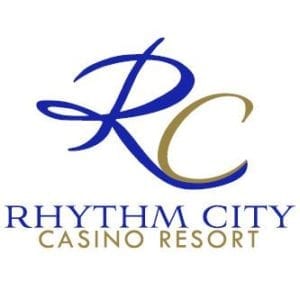 Rhythm City® Casino Resort hosted the King's Harvest Donate and Play every Wednesday in August to benefit King's Harvest Pet Rescue No Kill Shelter of Davenport, IA. This promotion invited Resort Club members the opportunity to donate to King's Harvest Pet Rescue No Kill Shelter and receive free slot play (up to $30). Rhythm City guests raised over $32,000 dollars to assist in the safe rescue and shelter for surrendered animals. Donations like this help keep their doors open and the continuous aid to animals in our community and beyond.
On Tuesday, September 3, 2019, Rhythm City Casino will be presenting a check to King's Harvest Pet Rescue at their no kill shelter located at 2504 West Central Park, Davenport, IA 52804 at 1 PM. We invite the press to attend!
Mo Hyder, General Manager of Rhythm City Casino Resort comments, "The response of the King's Harvest Donate and Play promotion was phenomenal. Our guests raised over $32,000 to aid in the safe rescue and shelter of animals in our community. We appreciate our guests' passion for animals and we couldn't do this without their help."
About King's Harvest Pet Rescue No Kill Shelter – Our goal is to place our animals in permanent, loving homes. We pride ourselves on matching animals to adoptive families based on mutual suitability. Kings Harvest Pet Rescue is sponsored by Kings Harvest Ministries in Davenport, Iowa. In helping the low income and homeless in our area we found a need to take in pets for the people we help. We are a non-profit organization and rely on donations to help keep our doors open.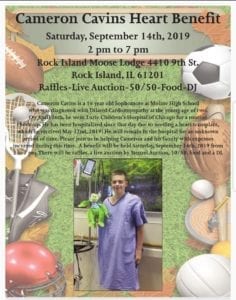 Benefit For Cameron
A local teen has received a second chance at life and plans to make the most out of it. Cameron Cavins, a student at Moline High School, has experienced more in his 16 years than most have in a lifetime.
When he was almost two years old, Cameron's doctor discovered a heart murmur. While that may be common in many young children, what the Pediatric Cardiologists wasn't so common. Cameron was diagnosed with Dilated Cardiomyopathy. DCM is a condition in which the heart's ability to pump blood is decreased because the heart's main pumping chamber, the left ventricle, is enlarged and weakened. In some cases, it prevents the heart from relaxing and filling with blood as it should. It is a very rare condition to be found in children.
Latasha Eggers, Cameron's mother, says it was "a very emotional day" when they found out about their son's condition. She says it was "heart breaking because it wasn't anything they could fix." Cameron was put on medication and informed he would have to eventually receive a heart transplant.
The new diagnosis for this young man was a life changer. Cameron loved playing sports, including soccer and baseball, but was informed he would not be allowed to play sports after the age of 12. The fear that his heart would not be able to handle the extra exhaustion was the main concern for the doctors.
From the age of 2, Cameron visited his Pediatric Cardiologist every six months. While at a regular check-up this past April, news came that no parent ever wants to hear. Now 16 years old, the Moline High School student's heart was failing, and it was time for a new one. Cameron was admitted to Ann & Robert H. Lurie Children's Hospital of Chicago and was placed on the donor list.
While in residence at the Ronald McDonald House near Lurie's Children's Hospital, the big day finally came. Cameron received his brand-new heart on May 22. Then came the strenuous journey of recovery, recuperation and the hope of avoiding rejection. The family is still residing at the Ronald McDonald House and taking every day as an opportunity to show gratitude and appreciation for organ donors, the doctors and staff, and their family members and friends back in the Quad Cities trying every way they can to help them get through.
With Cameron's parents having to miss so much work over the past couple months, friends of the family have joined forces to create the Cameron Cavins Heart Benefit. The benefit will take place on Saturday Sep 14, from 2 – 7 p.m. at the Rock Island Moose Lodge (4410 9th Street Rock Island). Raffles, live auction from Stenzel Auction, 50/50, food and DJ will all be available to help raise funds for the family. For more information, visit the Facebook Page.
In the meantime, the family also had a PayPal account set up to help raise funds. If you would like to make a donation, you can do so by sending payment via PayPal to: Camsbenefit@gmail.com.