What's The Good News For July, Quad-Cities?
It's summer, and there are plenty of smiling faces around the Quad-Cities now that the weather is gorgeous and the floods have subsided! We here at QuadCities.com, in conjunction with our partners at KWQC-TV6's "Paula Sands Live," are always looking for positive news around the area to present in our monthly feature, What's The Good News?
So, what's the good news for this month? Glad you asked!
Get More Rewards For Reading This Summer!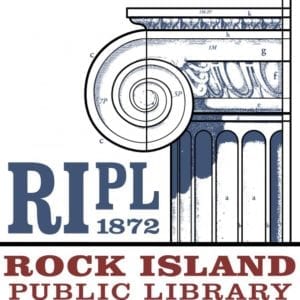 Reading is a reward in and of itself, a generous gift to the imagination, but Rock Island Public Library is making it so that in addition to that benefit, you can score some other swag as well from area businesses!
The Rock Island Public Library is the first public library in the Quad Cities to subscribe to My Library Rewards™, a reading incentive program that promotes literacy, learning, and community engagement. With it, library card holders earn rewards just for checking out items at Rock Island Public Libraries.
Any cardholder over age 12 who uses their card at a Rock Island Library can register for My Library Rewards. (Children's cards can be linked to a parent's account.) Points are automatically awarded for the first few visits. To earn full points, patrons will need to register with a library card number and valid email at www.MyLibraryRewards.com. Points can be redeemed for awards at participating merchants.
How it Works: Library patrons automatically earn points for items checked out at a Rock Island Public Library service desk. Cardholders earn 10 points for each item checked out at Rock Island Public Library physical locations, with up to 100 points available per week. Accumulated points can then be redeemed via the My Library Rewards website for special offers from businesses in the community. Patrons have up to seven days to use redeemed coupons.
The My Library Rewards marketplace contains a number of offers from Quad City businesses, as well as gift cards from national merchants. Interested local merchants may contact My Library Rewards via the merchant participation link. There is no additional cost for a business to participate.
The ongoing My Library Rewards program officially launched June 4, just in time for patrons to take advantage of the library's busy Universe of Stories summer programming season and RockTown Reading Challenges. Now when children, teens, and adults take time for reading from June 1 through July 31, they can earn both the summer library incentives AND points for rewards later. By encouraging children, teens, and adults to read for fun, learning and prizes, the Summer Reading Challenge helps avoid summer learning loss, keeping skills sharp and minds engaged.
For complete details on "summer mission goals" for reading and Universe of Stories events happening at Rock Island Libraries this summer, visit any Rock Island Library or www.rockislandlibrary.org, call 309-732-READ, and follow Rock Island Library on social media.
Christmas in July Food Drive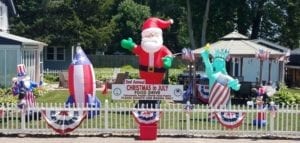 While the temps continue to rise outside, one local man is working to keep the Christmas spirit alive in all of us. Henry's Christmas Yard, located at 1504 26th Avenue Moline, is currently hosting a Christmas in July Food Drive.
Henry the dog and his human Scott Hildebrand are utilizing some fun-filled Christmas decorations to remind us that hunger is not something people only experience around the holidays. It is a year-round issue for many, and our holiday spirit is needed even in the warm months of summer.
You can stop by Henry's Christmas Yard to witness a very patriotic display (including Santa, of course!) and drop off non-perishable food items and paper items. The items collected will go to the Tabernacle food bank, located across the street from the display.
The Christmas in July Food Drive will continue through July 8. For more information and updates, follow the event page on Facebook at https://www.facebook.com/events/2445932405628726/.
Local Teacher Monson Wins Golden Apple Award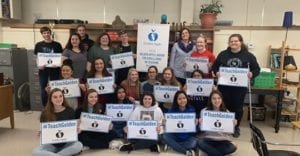 United Township history teacher Heather Monson was one of the Illinois state teachers to win a Golden Apple Award 2019 for Excellence in Teaching & Leadership. The awards were presented May 18 in Chicago and honored 10 teachers from around the state.
Ms. Monson was selected from 550 nominations from 71 counties in Illinois for the 2019 awards, the first year that teachers outside of Chicago were able to be nominated. The awards have been existence since 1986.
Cameron Cavins Benefit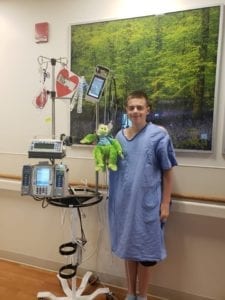 A local teen has received a second chance at life and plans to make the most out of it. Cameron Cavins, a student at Moline High School, was diagnosed with a heart murmur when he was 2. While that may be common in many young children, what the Pediatric Cardiologists found in Cameron wasn't so common. Cameron was diagnosed with Dilated Cardiomyopathy. DCM is a condition in which the heart's ability to pump blood is decreased because the heart's main pumping chamber, the left ventricle, is enlarged and weakened. In some cases, it prevents the heart from relaxing and filling with blood as it should. It is a very rare condition to be found in children.
Latasha Eggers, Cameron's mother, says it was "a very emotional day" when they found out about their son's condition. She says it was "heart breaking because it wasn't anything they could fix." Cameron was put on medication and informed he would have to eventually receive a heart transplant.
The new diagnosis for this young man was a life changer. Cameron loved playing sports, including soccer and baseball, but was informed he would not be allowed to play sports after the age of 12. The fear that his heart would not be able to handle the extra exhaustion was the main concern for the doctors.
From the age of 2, Cameron visited his Pediatric Cardiologist every six months. While at a regular check-up this past April, news came that no parent ever wants to hear. Now 16 years old, the Moline High School student's heart was failing, and it was time for a new one. Cameron was admitted to Ann & Robert H. Lurie Children's Hospital of Chicago and was placed on the donor list.
While in residence at the Ronald McDonald House near Lurie's Children's Hospital, the big day finally came. Cameron received his brand-new heart on May 22. Then came the strenuous journey of recovery, recuperation and the hope of avoiding rejection. The family is still residing at the Ronald McDonald House and taking every day as an opportunity to show gratitude and appreciation for organ donors, the doctors and staff, and their family members and friends back in the Quad Cities trying every way they can to help them get through.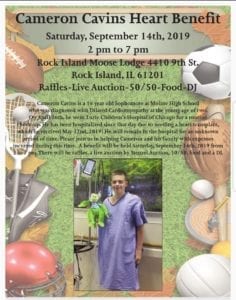 With Cameron's parents having to miss so much work over the past couple months, friends of the family have joined forces to create the Cameron Cavins Heart Benefit. The benefit will take place on Saturday Sep 14, from 2 – 7 p.m. at the Rock Island Moose Lodge (4410 9th Street Rock Island). Raffles, live auction from Stenzel Auction, 50/50, food and DJ will all be available to help raise funds for the family. For more information, visit https://www.facebook.com/events/2272050986346606/.
In the meantime, the family also had a PayPal account set up to help raise funds. If you would like to make a donation, you can do so by sending payment via PayPal to: Camsbenefit@gmail.com.
Cameron Cavins looks forward to returning home and seeing his friends, as soon as he can. He is working hard every day to recover and keep his spirits high. He has made it his goal to come home healthy and take full advantage of this second chance at life. After having to miss the last four years of what he loves most, sports, he hopes to eventually join the Moline High School basketball team! Cameron is currently on 15 different medications, including rejection pills, to assure a healthy recovery. While this amazing young man has a long road ahead of him, he continues to keep his head high and his heart full.
Jon Burns Q-C Icons
People rarely confuse the Quad-Cities for Hollywood, but there have actually been a good number of local folks who have gone on to fame and fortune.
Local artist and musician Jon Burns has been inspired since the beginning of this year to paint a series of portraits memorializing those local icons, current and former Quad-Citians who have achieved great things. Now those paintings will be getting a proper spotlight.
QC Icons & Landmarks The Art of Jon Burns, a new series of works is coming to DeSoto Studio, 2328 3rd Ave., downtown Rock Island starting August 2. Paintings, Drawings, Prints, Coloring Books, Drinks, Snacks, and more will be featured at the opening of the exhibit, and there will be a closing reception on Friday, August 30.
In addition to the Q-C Icons set being featured, selected paintings from Burns' recent Portraits for Choice series will also be on display. The Portraits For Choice is a digital portrait series with a concentration on DIY community fund raising with 100% off the profits going to the Missouri chapter of NARAL (National Association for the Repeal of Abortion Laws)
More info is coming soon, and the Q-C Icons Series will be featured here on www.quadcities.com!
Are You Hot For Hot Wings?
What's the best spot to fix your hot wing cravings in the Quad-Cities? Where can you get the best local wings?
We're having a little friendly competition here on QuadCities.com whereby people can nominate and vote for their favorite wing spots! We're taking nominations right now, and once we get them rounded off to a top 10 or top 15, we'll release the nominees for you to vote for your ultimate favorite spots.
Want to nominate a place? What's your favorite wing ding that makes your stomach sing? Send your nominations (up to three) for your best wing spot in the Quads to Sean Leary at Sean@quadcities.com. Thanks!
Happy Joe's Benefits Area With Golf Outing
Happy Joe's isn't just serving up tasty pizza to area families, they're serving the community.
The Happy Joe's Kids Foundation is dedicated to benefiting and improving the lives of children with special needs and their families and along those lines, on June 9, they held the Happy Joe's golf outing at Fyre Lake Golf Club in Sherrard, Illinois.  Cost was $100 per player and registration included green fees, a shared cart, a boxed lunch including two (2) drink tickets, and following golf an off-site social at TBK Sports Complex in Bettendorf, IA.  Sponsors included Dynamic Restaurant Holdings Burke Corporation BayTek Entertainment Betson Games Compeat Restaurant Software.
Proceeds from this event totaled over $1,000 and will benefit the Happy Joe's Kids Foundation. Kristel Whitty-Ersan states, "The goal of this foundation is to help improve the lives of children with special needs and their families. We also act as a liaison to groups in our area that can help as well as spread the word in general about the varied capabilities of these very special individuals.  They are amazing and many of them make valuable employees. We hope businesses in our area will consider this incredible talent pool when they are hiring!"
Storm wins award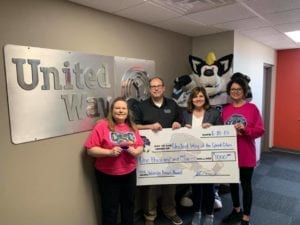 Earlier this month, local hockey team the Quad City Storm were named Wanda Amos award winners; the award given by the Southern Professional Hockey League (SPHL) for superior community service. With the award, the league granted the team $1,000 to donate to a non-profit organization of their choice.
The Storm presented United Way of the Quad Cities CEO Rene Gellerman with the $1,000 check for her organization after winning the award.
The Storm raised almost $200,000 for local charities in their inaugural season, and begin their second season at the TaxSlayer Center in Moline this fall. QuadCities.com is proud to be a sponsor of the Quad City Storm, and for all of your Storm news, check out www.quadcities.com!
Local 25 Safety Excellence Award Winners
In celebration of National Safety Month, the ILLOWA Construction Labor and Management Council awarded 31 area contractors with safety excellence awards during a recent luncheon at the Milan Camden Community Center. Five of those contractors are signatory to the Plumbers and Pipefitters Local Union 25.
Since the late 1990s, ILLOWA has gathered statistics on the number of hours worked and the number of site incidents during the prior calendar year. Each year, awards are presented to the contractors who achieve the lowest injury/illness incidence rate.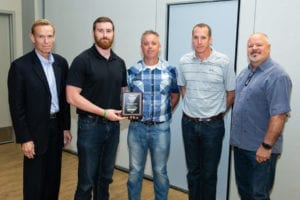 "This year was by far our largest group of award recipients, which just proves that adhering to stringent standards, safety production and attention to detail is of the utmost importance for both ILLOWA and the union construction industry," said Paul J. Foley, ILLOWA executive director. "It was great to recognize such a committed group of contractors, and we look forward to growing our safety awards more in the future."
The Local Union 25 award winners include the following:
150,001-250,000 hours
Petersen Plumbing
Ragan Mechanical
More than 250,000 hours
Johnson Controls
Northwest Mechanical
Ryan & Associates
"We are proud to have signatory partners who make safety a top priority," said Bill Allison, Local Union 25 business agent.
The union believes that a strong safety culture starts from the top down, and ensures that everyone is able to return home from their job site each night in the same way they arrived — healthy and safe. Classes are offered at Local Union 25 to satisfy OSHA requirements and other industry safety initiatives. Each union member — from apprentices, to journeypersons — is encouraged to attend to stay current on the best practices in workplace safety and to maintain their certifications.