Genesis Medical Center Nursing Officer Elected to National Nursing Leadership Board
Joel Moore, MSN, RN, chief nursing officer for Genesis Medical Center, Davenport, will soon be a national voice for nursing leadership.
Moore has been elected to the American Organization for Nursing Leadership (AONL) Board of Directors. Elected by the organization's membership, he will serve a three-year term, beginning January 1, 2024. As a board member for Region 6, he will represent Iowa, Nebraska, Minnesota, Kansas, Missouri, South Dakota and North Dakota.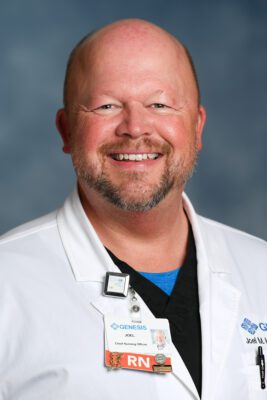 The AONL is a national professional organization of more than 11,000 nurse leaders who work in hospitals, health systems, academia and other care systems. Since 1967, the organization has led the field of nursing leadership through professional development, advocacy and research that advances nursing leadership practice and patient care. AONL is an affiliate of the American Hospital Association.
In his election bid for AONL board member, Moore ran on the platform of well-being and belonging for nurses. "These are challenging times in health care, our nursing workforce is fragile and the pressures felt by our nurse leaders is immeasurable," Moore said. "Now, more than ever, connecting with one another is essential. The community of nurse leaders that AONL has built is exactly that opportunity to connect with each other as, together, we reshape our profession."
Moore has spent 24 years in the nursing profession, 15 of those years as a nurse leader.