What's The Good News For December, Quad-Cities?
Happy holidays!
In our stocking this month, in this season of giving and positive vibes, we've got a lot of great news about awesome things happening in the Quad-Cities! And every month, in conjunction with our friends at KWQC-TV6's "Paula Sands Live," we at QuadCities.com present What's The Good News, a rundown of some of the great things going on in and around the Q-Cs.
So what's the good news for December? Here ya go! Merry Christmas!
Group O Building State-Of-The-Art Project For World's Largest Silicone Producer
One of the world's largest producers of silicones has selected Group O as a strategic partner to manage the filling, packaging, warehousing, and distribution of their construction silicone products. This complete line of building envelope silicone solutions for roof coating, air and water barriers, architectural coatings, weather sealing, residential glazing, insulating glass, and structural glazing can be found throughout the construction industry.
Using the latest German automation, technology and equipment, Group O will receive the bulk product through reusable fluid-bag containers, and package it into drums, pails, sausage packs, and cartridges using ultramodern filling machines and packaging automation.  A new state-of-the-art, climate-controlled color lab will also ensure quality and consistency by creating an ever-expanding line up of custom colors for silicone products.  Group O will also manage the fulfillment and distribution of all orders to our new partner's construction customers across the country and internationally out of its 117,000 sq. ft. recently renovated facility located at 7300 50th St, Milan, IL.
To support this new growth, Group O is currently hiring.  Pay starts at $18 per hour, with room for quick growth potential. The company offers a full benefits package, including over three weeks of PTO each year!  For more information, interested parties can apply at groupo.com/careers.
IowaWORKS to host 5th Annual Quad-Cities Success Fair
IowaWORKS will host the 5th Annual Quad-Cities Success Fair to assist Veterans, transitioning soldiers and the community in finding employment, resources and education opportunities.
The event will be held on Tuesday, December 14 from 1 to 4 PM in the Roglaski Center at St. Ambrose University.
"Veterans, military personnel and family members, will have the opportunity to have on-site interviews and network with some of the top employers in our region," said Jacqueline Friemel, Local Veterans' Employment Representative. "The community is also invited to participate and explore new career opportunities."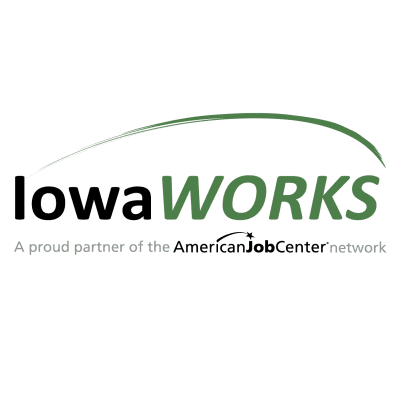 "If you can't attend the Success Fair, the IowaWORKS center in Davenport can provide additional resume and job-seeking services," Friemel said.
More than 80 employers will be on hand to speak with job seekers about thousands of job opportunities in and beyond the Quad Cities.
"We are excited to help the community connect with employers and the needed resources to help people succeed in diverse careers," James Stout, Veteran Representative at IowaWORKS, said.
IowaWORKS founded the Quad-Cities Success Fair five years ago to provide hiring resources for veterans and their spouses. Today, the community event has grown to be one of the largest job fairs in Eastern Iowa. The event's success has flourished through a partnership with the Rock Island Arsenal, Illinois Department of Employment Security and St. Ambrose University.
AT A GLANCE:
WHAT: 5th Annual Quad-Cities Success Fair hosted by IowaWORKS
WHO: Employers, job seekers, IowaWORKS staff
WHEN: Tuesday, December 14, 2021 from 1 to 4 PM
WHERE: St. Ambrose University – Roglaski Center — 2100 N. Ripley St., Davenport, IA 52803
CONTACT: IowaWORKS 563-445-3200 Option  2
East Moline's Eli Nache Represents Midwest Olympic Development Soccer Program
East Moline 13-year-old Eli Nache was among the players selected to represent the Midwest Olympic Development Program regional soccer team at the US Youth Soccer ODP Inter-regional Event being held in Orlando, Fla. Nov. 16-20!
Nache, playing the 2 spot at right outside defensive back, was among over 100 players who went through the three-day tryout for the event from a pool of players from the Midwest region including Illinois, Indiana, Iowa, Kansas, Kentucky, Minnesota, Michigan, Missouri, Nebraska, North Dakota, Ohio, South Dakota and Wisconsin. Thirty-six players were chosen for the two Midwest squads — Red and White, with 18 on each team; Nache is playing on the 2008 Boys White squad.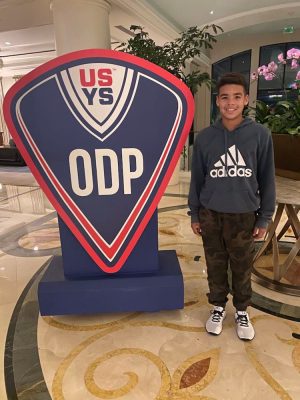 Locally, Nache plays for the EMSSC Spartans club team, and will be a freshman at United Township High School, playing for the Panthers soccer squad, next fall.
In a video recorded prior to leaving for the event posted on Facebook, Eli said, "I'm excited… I'd like to thank all of the EMSSC coaches and my Dad for coaching me and helping me to develop as a player… I want to thank my teammates… my brother for training with me, and my family for always pushing me and helping me… I'm excited and I can't wait!"
The Midwest squad will play against other regional teams from throughout the United States. The Regional staff and the ODP Scouting Network will be evaluating players throughout the event.
A selection of the top players from the event at each age group will be invited to attend the USYS National ODP Training Camp at the Tournament Sportplex in Tampa Bay, Fla., in January 2022.
Genesis Medical Center, Davenport Awarded Highest Grade For Patient Safety
Genesis Medical Center, Davenport has received an "A" grade, the top safety grade in the Quad Cities, from Leapfrog Hospital Safety Grade. This national distinction recognizes Genesis achievement in protecting patients from harm and error in the hospital.
The Leapfrog Group, an independent national watchdog organization, assigns an "A," "B," "C," "D," or "F" grade to hospitals across the country based on more than 30 national performance measures reflecting errors, injuries, accidents and infections, as well as systems hospitals have in place to prevent harm.
The Leapfrog Hospital Safety Grade is the only hospital ratings program based exclusively on hospital prevention of medical errors and harm to patients. The grading system is peer-reviewed, fully transparent and free to the public. Grades are updated twice annually, in the fall and spring.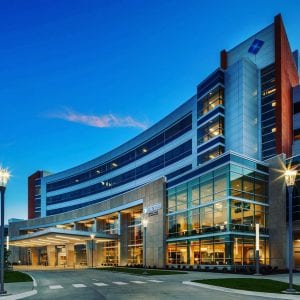 "An 'A' Safety Grade is a tremendous achievement, of which your community should be extremely proud," said Leah Binder, president and CEO of The Leapfrog Group. "I thank the leadership and workforce of Genesis Medical Center for its commitment to prioritizing patients and their safety, especially during these trying times."
"To earn the top grade in the middle of the worst public health crisis in more than 100 years is a tribute to the care, compassion and dedication of medical providers and Genesis staff," said Jordan Voigt, president of Genesis Medical Center, Davenport. "The disruptions created by the Coronavirus have not disrupted the constant goal of providing the safest care possible for patients."
To see the full details of Genesis Medical Center, Davenport and access patient tips for staying safe in the hospital, visit HospitalSafetyGrade.org and follow The Leapfrog Group on Twitter and Facebook.
Bettendorf High School Student Council Helps Feed The Hungry In The Quad-Cities
Bettendorf Student Council loaded up the truck and finished up the Hunger Drive, raising 53,000 lbs. That amount of food provides over 144,000 meals to our community.
For perspective, that feeds a family of four 3 meals a day every day for 62.5 YEARS. Thank you so much to our community for helping us raise this total and a special shout out to our Student Council members who put numerous hours into this cause! #BETTerTogether.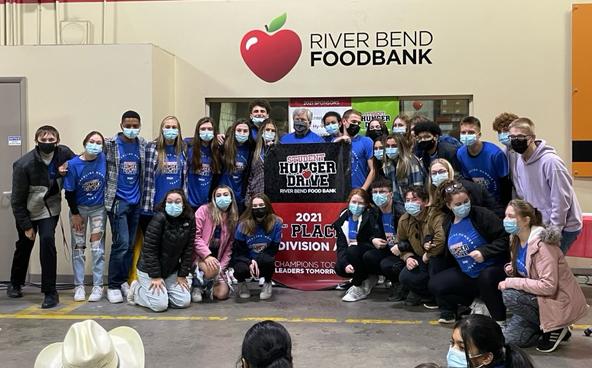 Rock Island / Milan Students Collect Over 22,000 Pounds Of Food For Hunger Drive!
Rock Island / Milan School District 41 students collected 22,815 pounds for the Student Hunger Drive this year!
That's a New record for RIHS/TMLC. That equals to 30.061 meals that will help feed local families!
Congrats on a successful campaign and thank you to our students, teachers, administrators, and our community who donated. #ThisHouseRocks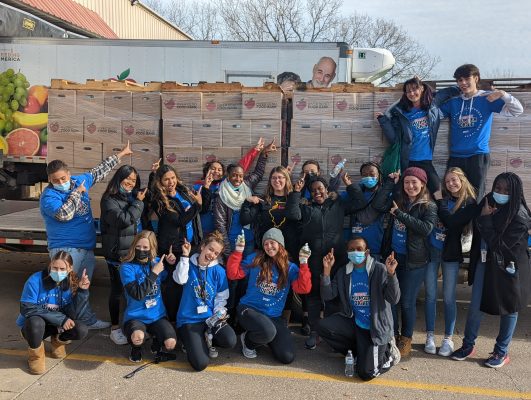 Rock Island High School Speech And Debate Team Members Score Big At Bulldog Invitational
Congrats to Favour Noya and Leah Connor of the Rock Island High School Speech and Debate team for their performance this month at the Bettendorf Bulldog Invitational.
Favour took home first place honors in the Oral Program event, while Leah finished 5th in Original Oratory.
Great job!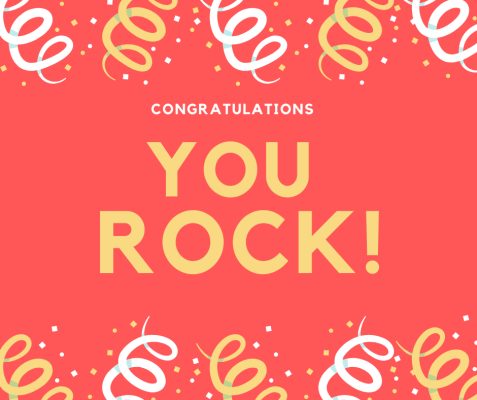 Polyrhythms Returns To River Music Experience
Next Sunday will be special for longtime friends Shellie Moore Guy of Rock Island and Nate Lawrence of East Moline.
On Sunday, Dec. 19, the Polyrhythms' exceptional Third Sunday Jazz Series returns to the Redstone Room at River Music Experience, with Fr. Stan Fortuna (a professional bass player before he became a priest) and his quartet in concert from 5 to 7 p.m.
Lawrence and Guy have been friends now for over 35 years, and co-founded Polyrhythms nearly 20 years ago. Their mission is potently mission-driven – extending beyond music. Polyrhythms first formed in 2002. "We were community organizers. Shellie was active in various community projects," Lawrence said last month. "We were active community builders."
Polyrhythms/Quad Cities Jazz Festival, Ltd., is a longstanding grassroots non-profit group of community and cultural arts advocates that evolved from the Louie Bellson Jazz Festival.
They first had a program with Quad City Arts, bringing back artists from the Q-C who had gone out to make a name for themselves, he said. That included jazz greats Bill Bell and Donald Meade. "We were bringing them back to demonstrate to people that you could do that, and they modeled that process," Lawrence said.
Polyrhythms' philosophy is not only to demystify jazz as an art form, but to expose more people to jazz – a fundamental American art form, Lawrence said. "If you don't know the fundamentals, you don't get to play," he said. "We could have picked a more popular thing, but this forced people to learn the fundamentals."