Treat Yourself To Circa '21's Wonderful 'White Christmas'
If you're looking for a delightful holiday treat of a show this season, treat yourself to Circa '21's "White Christmas."
The Rock Island dinner theater's latest is a warm, inviting holiday classic with fantastic wardrobe, wonderful choreography, and a big hearted, fun cast of characters reminiscent of a Bing Crosby/Bob Hope vintage tale.
There's a reason Irving Berlin's standby has lasted this long, and that's because it's right down the middle in pretty much all ways. It's just a fun, fluffy show for a season of levity and cheer, featuring upbeat songs and an optimistic, aspirational story with love at its core.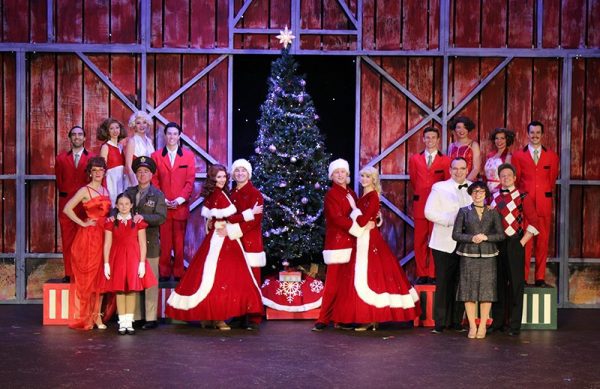 Circa does the right thing by not playing it for irony and just taking it as it is. There's an innocence to it that's refreshing and honestly relaxing in a world of constant conflict, division, and never-ending nitpicking and fault finding. There's something very welcome about a show that's as comfortable as an old blanket, especially at this time of the year, and "White Christmas" has that quality.
Director and Choreographer Ashley Becher has proven herself to be a fantastic asset to Circa '21, with each show she's involved in showcasing her considerable talent, particularly as a choreographer, even in the slightest moments of blocking she has such a clever fashion about her style. There are few local talents as reliable as Ron May as Music Director, and Costume Designer Bradley Robert Jensen's delightful outfits and Scenic Artist Becky Meissen's backdrops both augment the show in spectacular ways.
The cast is likewise likeable and talented, bringing forth a classic black-and-white film feel with their gentle touch on the material. Kyle DeFauw and Bobby Becher are perfectly cast as Bob Wallace and Phil Davis, the erstwhile soldiers turned to stars. Betty and Judy Haynes are spunky counterparts to the fellas, and Melissa Whitworth and Caroline Portner offer spirited performances as their distaff foils. Tom Walljasper is always a welcome sight on stage, even in the small but proud role of General Waverly, and the rest of the cast, Sarah Hayes, Carys Gleason, Lucy Petersen, Marc Christopher, Tristan Tapscott, Kiera Lynn, Quinnie Rodman and Savannah Bay Strandin all offer fun moments in their limited roles.
There are some times when you want something different and new and challenging in your entertainment, and there are some times when you want something that's just comforting and fun. You go into "White Christmas" if you're seeking the latter, and Circa '21 does a marvelous job giving you exactly what you want. It's a great holiday show, and one I highly recommend.
Get your tickets for performances through Dec. 30 by calling (309) 786-7733, ext. 2.