Rock Island's Circa '21 Has A Winner With Political Comedy 'The Outsider'
I didn't know much and didn't really know what to expect going into Circa '21's latest show, the political comedy, "The Outsider." The cast looked good, with Brad Hauskins, Bobby Becher, and a few others I enjoy. And director Dennis Hitchcock has helmed some great shows in the past. But I was unfamiliar with the script or the show.
To be honest, the first few minutes didn't do much to interest me. They were largely perfunctory plot points, where a charisma-free policy wonk, Ned (Hauskins), is reeling from a horrible public appearance after he's unexpectedly thrust into the role of governor, and his team has to clean up the mess. I figured it would be a so-so show of pallid laughs, not terrible but nothing great either.
Wow, was I wrong, and pleasantly surprised.
"The Outsider" is a terrifically funny show, with a great mix of broad humor and incisive snide commentary, with great comedic performances and a ton of laughs. I thoroughly enjoyed it, and would highly recommend it.
As previously mentioned, Ned (Hauskins) is a nerdy wonk who ends up getting shoved into the governor's slot after the previous governor is unexpectedly out. His first press conference goes horribly awry, as he freezes up on camera and looks like a dope. The twist is, he actually isn't. He's incredibly smart and brilliant at policy, the substance of politics, while being terribly inept at the superficial spectacle of it and timid and reserved in front of the cameras.
With no choice but to adapt, his team around him, led by his campaign manager (Becher), has to try to coax him into being better on camera and with public relations. To that end, they hire a slick political consultant, Arthur Vance (Corey Boughton), who quickly ascertains that his dopey on-screen persona is a boon, as it makes it seem like he's just a down-to-earth dope who people can relate to, and "would like to have a beer with." Vance encourages them to lean into his pathetic persona, as people want to see folks just like them on the political stage. To that end, a comically ridiculous secretary (Kim Bogus) ends up glomming onto the ticket as well, and the public polls for both skyrocket with each stupid mistake and malaprop they bumble into.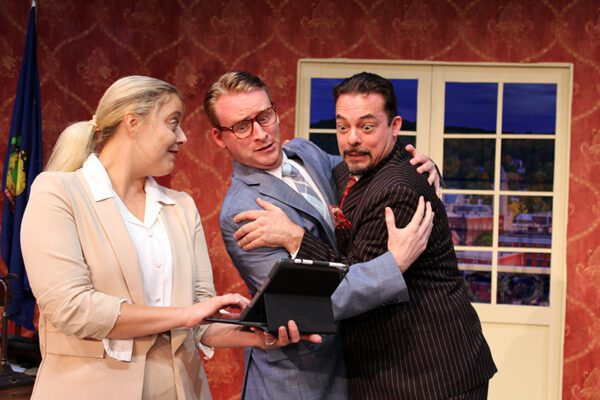 It's a snarky and often lacerating take on politics and personality, and it's really, really, really funny.
Boughton steals the show as the slimy but sharp Vance, Hauskins is great as the clueless Ned, Bogus has some huge laughs as the broadly goofy secretary, and Becher, who's quickly become one of my favorite actors at Circa, is pitch perfect in the Zeppo Marx role of straight man as the chaos surrounds him.
It's a fantastic show. I loved it. If you're looking for a great comedy that makes fun of politics without taking sides, you've got to check out "The Outsider."
"The Outsider"  will be presented at Circa '21 through October 29, with performances on Wednesday, Friday and Saturday evenings at 7:30 p.m., Sundays at 5:30 p.m. and Wednesday matinées at 1:15 p.m. Pre-show entertainment featuring the theatre's waitstaff The Bootleggers will precede all performances. Ticket prices are $60.55 for the evening dinner-and-show productions, $53.73 for the matinées.
 Reservations are available through the Circa '21 ticket office. For reservations, contact the theatre at 1828 Third Avenue, Rock Island or by calling 309-786-7733 ext. 2.