Quad City Music Guild Debuting 'Matilda' Next Weekend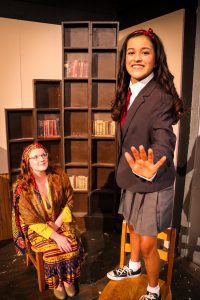 Quad City Music Guild will present "Matilda: The Musical" August 6-7-8 & 12-13-14-15, with shows Thur-Fri-Sat at 7:30 p.m. and Sunday at 2:00 p.m. at Prospect Park Auditorium, Moline.
Tickets are Adult $16 / Child $11.
Call 309-762-6610 or visit qcmusicguild.com for reservations now!
Inspired by the twisted genius of Roald Dahl, the Tony Award-winning Roald Dahl's Matilda The Musical is the captivating masterpiece from the Royal Shakespeare Company that revels in the anarchy of childhood, the power of imagination and the inspiring story of a girl who dreams of a better life. With book by Dennis Kelly and original songs by Tim Minchin, Matilda has won 47 international awards and continues to thrill sold-out audiences of all ages around the world.