Quad-Cities' "All Sweat" Branches Out to Podcasting to Support Local Music and Community Groups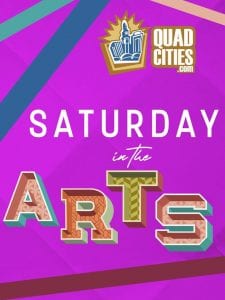 Saturday in the Arts is a weekly feature covering a trend, subject, event or personality of local interest. It runs every Saturday morning on your site for the best entertainment and arts coverage in the area, QuadCities.com!
The Covid crisis has made all musicians sweat, and Davenport's Alan Sweet – the father of the Quad-Cities' All Sweat Productions – is pouring his sweat into a new outlet that generously serves local musicians and the wider community.
Earlier this month, the friendly 39-year-old Davenport West alum and tireless performer launched the All Sweat Podcast, recorded at and produced by his second home, River Music Experience, 129 Main St., Davenport.
Sweet – who has a 2 ½-year-old daughter with his wife, Meagan, a sales representative at Cintas — wouldn't have come up with the podcast without the pandemic, and not being able to play music.
"I want to come up with an idea about how to get information out there that All Sweat was still around, and relevant and cool, and also just hang out with my friends," Sweet said recently. "That's a main part of why I play music – the camaraderie."
He knew how popular podcasts have been, and asked RME staff (headed by executive director Tyson Danner) what they thought.
"After sitting down and having a meeting with Tyson, Kate and Chrissy about the ideas I had for All Sweat, Tyson already had everything set up for the podcast for me," Sweet said, noting the connection with The Underground Economy on the RME second floor.
Headed by Josh Graves, Underground Economy (a new partner at RME) records the podcasts, among several in the area.
RME has produced the podcast and arranged to get it on Apple, Spotify, and the WVIK NPR app, which was incredible, Sweet said, leaving it to him to book and interview guests.
"I would never have started the podcast if I didn't have resources from RME," Sweet said. "I would never have been able to do an All Sweat idea or show, were it not for the RME and Redstone Room."
The All Sweat Productions live-music project was started in 2016 to bring a wide variety of local musicians together and has played tribute to iconic artists such as Queen, Michael Jackson, Stevie Wonder, The Beatles' "Abbey Road," Prince's "Purple Rain" and The Band's "Last Waltz," as well as soul legends Aretha Franklin and James Brown.
"We are incredibly excited to build on the success of the All Sweat tribute shows and launch this
new festival on the 50th anniversary of Woodstock," Sweet, singer for The Candymakers, said in summer 2019 before the two-day Sweatstock music festival he co-organized at East Moline's Murphy Park.
"We have extraordinary talent in the Quad-Cities, and Sweatstock will be a great outlet to grow our music community and bring people together over a shared passion."
"We usually have a rotating band, where musicians get up and down all night," Sweet said in December 2018. "Mainly, what the All Sweat shows are, they're a showcase for a bunch of singers. As you watch them, you can see the band change up in the back."
"One of the main reasons we do it, to get to play with other people, to get the community together," he said. "Half the members of the Candymakers have gigs with other bands."
"It's good for growth of the music community locally. We always have a lot of local people," singer Chrissy Boyer of Rock Island, the RME events manager, said. "We've heard them play for years and maybe we haven't had an opportunity to gig with them. It's been cool; there's been a lot of friendships formed from these shows."
"We try to bring in different musicians, so it's not just one band. It's an everybody band," Sweet said. "I just wanted to play with more people."
"Our music scene here, it's easy to do that, because the bands like to play together, to grow together," he said. "It was real easy for us to call people and say, 'Would you like to do this show?,' whether it's 'Abbey Road' or Prince or Stevie Wonder."
The Facebook page for All Sweat calls it "a live music project aimed at gathering the best musicians in the area and jamming the best rock n' roll moments known to man."
Sweet went to Davenport West with Candymakers bandmate and best friend Bret Dale, who's RME's director of education and married to Kate Dale, RME's director of entertainment, who books artists there.
Bret Dale succeeded Ellis Kell, the beloved bluesman who died in December 2016, and had a key role in the birth of the tribute shows (which used to average four a year).
"It was his idea to do these shows," Sweet said of Kell, who played a vital part in getting the 17-year-old RME built in the first place. Kell was among 25 players and singers in the first All Sweat show, in May 2016, performing the classic 1969 album "Abbey Road" in its entirety, plus other Beatles covers.
With a small band, a "HalloQueen" show played the Redstone in October 2015, where Sweet sang as Freddie Mercury. "I put teeth in and dye my hair," he said. "I try my best to sound like
him, which isn't easy. If we can do Queen, we can do any act we want; we just need to find the right people."
"This place here is the reason we can do All Sweat," Sweet said of RME. "Every musician that's in town comes here." Boyer and Sweet have often taught music at RME, including Kidstock (the former summer Rock Camp) and Winter Blues Camp.
Collaboration is the key
Like All Sweat, partnering with many artists (including RME staff) and passionate community leaders is a key part of the new podcast.
"One of the great things about All Sweat shows is that they're collaborative. Every show (and sometimes every song) features a different combination of musicians," Tyson Danner said by e-mail. "Alan has a talent for bringing musicians together for the first time and creating new relationships.
"When Al brought this podcast idea to us, it was a perfect match. That kind of collaborative spirit is perfect for the All Sweat Podcast, which is all about highlighting different voices in our regional music scene," he said.
"One of the River Music Experience's main goals is to put our energy and resources to work to help build a stronger music scene and a stronger community," Danner said. "So, in this case, that means creating a platform where our local 'movers and shakers' and interesting
people in our music scene can be heard.
"The podcast will feature a diverse mix of guests," RME's chief said. "Some may be very familiar to those who attend shows a lot, and some might be brand new to the listening audience. We're very excited to be able to provide this inside look into our QC music scene."
Though Boyer, Kate Dale, and Ben Schwind of RME were featured in the inaugural podcast (more of an introduction), Sweet has since hosted (with Boyer as co-host) Chad Pregracke and Mike Coyne-Logan from Living Lands & Waters with Geoff Manis from Moline Centre Main Street; Scott Leinert from Great Revivalist Brewery, Rob "Chopper" Haller from Partyboy Skateboards with Jack Hill reviewing local album releases; musicians Bob and Renae Rosenstiel, and Michael Brock reviewing a year in music for 2020.
New podcast episodes are released every Thursday at 7 p.m., and three have been released so far.
"We are really excited to continue this relationship with All Sweat Productions," Kate Dale said recently. "They've hosted almost all of their performances at RME for several years now, and it never ceases to amaze me what our local talent can do when they get together to produce a show.
"Seeing 20-plus musicians produce a show with very little rehearsals and coming from lots of different backgrounds and musical genres, is
nothing short of magical. Their shows are always fun and energetic.
"Alan's passion for music and creating a collaborative community is electric and infectious — I'm always excited to hear his ideas of how to grow and bring our local musicians together and am ready to get on board," she said.
"When he approached us about hosting a podcast, we were immediately excited and wanted to figure out how to make it happen," Kate said.
"Al has always been passionate about music and he's an amazing front man," Bret Dale said. "We've been playing music together for almost 25 years now and he's always had the same mentality about performing. Go 100% or go home. He's worked really hard over the years figuring out the range of his voice and he has a sound that's uniquely his own."
"The few times I'm in the audience and not on stage, people always run up to me and say, 'Man, Al can really sing, huh?'" Bret said. "The funny thing is it's the same people who've seen him sing for years and he is still making an impression.
"Al is a man who needs to be on the move and with the music world on hiatus due to Covid, he hasn't had his normal outlet," he said. "With the All Sweat Podcast he has a great opportunity to use that creative energy in a different way; yet familiar. He's no stranger to a microphone or conversation.
"When Al started the All Sweat concerts, it was all about bringing our community of musicians together," Dale said. "There's so many musicians we want to play with but everyone has gigs at the same time which makes collaboration impossible unless someone throws a concert where all the musicians can play together.
"Well, he did that. All Sweat has thrown a lot of concerts over the years and even a two day music festival with over 100 local musicians," he said. "With the All Sweat Podcast, you now get to dive right back into the world of collaboration again, it's just a different avenue. An avenue that is here to stay…the conversation.
"What a great opportunity to shine a light on the different aspects of our community and Al will be great host just like he's the best front man I've ever seen," Bret said.
Aiming for variety, always music
Sweet said that for each episode, no matter who guests will be, they'll always talk about music. A recent one he recorded featured musicians Zach Harris, Randy Leasman, Bret Dale and Chrissy Boyer.
Dale told a UFO story and they ended up talking a bunch about UFOs.
"It's really spread out there," Sweet said. "It's nice, everybody can feel safe."
They've used both Underground Economy and Redstone Room to record, and each episode will run about 45 to 60 minutes.
"We might just have one guest on and a co-host with me," Sweet said. "We've had multiple guests, to keep it lively and upbeat. A lot of these people sitting around the table are great friends and haven't seen each other for a while. It's been a lot of fun just getting people together – basically the same model that we do for the All Sweat shows.
"These people love each other; let's put them together on the stage, though they might not be in a band together," he said. The podcast is aimed simply to provide an interesting conversation.
"If you talk to a politician and find he likes to jam on a guitar, that's an interesting fact," Sweet said. "Just try and have some fun."
Talking with Chad Pregracke (president and founder of Living Lands & Waters, which cleans up many rivers) was great, since All Sweat has played for many Living Lands & Waters events, he said.
"I've done their Barge Party; I've done numerous weddings for them, receptions," Sweet said. "I love those guys, it's amazing what they do."
A main question he asks many musicians is how they've adapted over the past hard year. Leasman talked about recording an album at his house, instead of a studio.
"People just dropping music altogether, coming up with different ideas that make them happy," Sweet said. "It's been an interesting conversation definitely."
Having to switch gears since March
The last All Sweat tribute show they did was Green Day on March 7, 2020 at the Redstone Room, that Ben Schwind of RME coordinated.
"There were a lot of big Green Day fans," Sweet said, noting he sang lead on a couple numbers.
"It was a little scary. When we threw the show on, I don't think we had any worries about people not showing up. I think it was that big of a deal on March 7th, but by March 12, 13th, we were done, we were shut down," he recalled.
He moved back to the Q-C from Iowa City last summer, back to the west side of Davenport.
"I've been once again able to keep my sanity by doing a lot of different things – having a baby and remodeling a house," Sweet said. His daughter Lucille is 2 and a half.
The Candymakers have been on hiatus, shut down since early 2020.
They're a high-energy rock and soul band with traditions of old-school R&B and funk. Often joined by a rotating cast of horn players, the band can be up to 12 members on stage, including Boyer and vocalists Bethann Gavin and Erin Moore. That band features members from Des Moines, Cedar Falls, Cedar Rapids, and Iowa City.
"Multiple members of the band had babies around the same time, and just with other stuff going on, we pretty much just disbanded and we'll see what happens after the pandemic," Sweet said. "We have no plans for shows or anything for the Candymakers right now."
Sweet has done a little bit of livestreaming performances, including for Bettendorf's Joy Avenue Media, and did several RME Curbside Concerts last spring and summer.
He estimates he did 15 days worth, including some multiple locations the same day. Many of them were with his RME pals Bret and Chrissy (frequent partners in All Sweat shows).
"I really enjoyed that, especially with nothing else going on. That was a lot of fun," Sweet said. "I played for people on their porches, getting back to the grassroots of playing. When I'm not performing, I don't usually pick up guitars and play. Those curbsides really took me back to those times when I was doing that. They were fun."
Sweet was also part of the RME's Virtual Valentines video love song program for Valentine's Day.
"I think RME's doing a wonderful job," he said. "Tyson Danner, I owe him a lot for my sanity this year just because of all the cool things they came up with. They're helping me with these ideas I have for All Sweat, being able to have an outlet, and resources and support from the RME has been a big reason why I can even succeed in any idea I have. It's because of the resources RME provides for me and my friends down there.
"Tyson is amazing there – he's gathering ideas from anyone and everyone that's around, and he's trying to make it happen any way he can," Sweet said. "He's a blessing."
Podcast faces lack of Redstone tunes
On the first podcast, Sweet asked Kate Dale the question everyone wants to know – when will Redstone Room shows return?
"It's tough one; I wish I had a definite answer for you. Unfortunately, what's been happening this year, our calendar just keeps pushing down the calendar, kicking the can down the road," she said.
Last March, at first everyone thought the summer would be fine, then fall came and went.
"I'm in the process of moving all my confirmed spring shows for 2021 to fall 2021 or later," Dale said. "When the pandemic hit, we probably had 40 to 50 confirmed shows for the rest of the year, including our outdoor concert series, Live@Five, and Redstone shows."
She's down to seven shows still moving down the calendar, in the fall at the earliest.
Live@Five is usually every Friday outside in the RME courtyard (June through September) and this past year, RME canceled the first two months and then they adapted for August and September, with limited capacity and distancing.
That cut audiences from 275 people to about 85 and they still enjoyed it. "Not as much mingling around as we're used to," Dale said. "We're definitely going to do that again. That will be among the first shows to come
back for this year."
The hundreds of RME Curbside Concerts brought musicians to private homes, outdoors in driveways, backyards and cul-de-sacs. "We were able to give local musicians some gigs, and do it safely," Dale said. "We got to see a lot of pockets of the Q-C maybe we all hadn't seen before."
Curbside Concerts will return this year, she said. "It's a nice way to bring live music to people who aren't maybe ready to go out to bars and venues. There are some bars on the Iowa side, that have less restrictions, that are still doing live music. But not everybody's comfortable with that, right? This is a nice way to bring live music to people in their own pod, their own comfort level."
Dale said Friday that the weekly Live@Five will start back up in June and run through the end of September. "We'll likely start out with the social distancing and mask requirements, and then slowly roll those back as it's safer to do so throughout the summer as more people get vaccinated.
RME plans to host curbside concerts again as well, but she's not sure when they'll officially start (largely dependent on weather). Dale estimated they will be available in late April or by May.
The Redstone Room is a tough one, since the national music industry has been slapped, Dale said on the podcast.
"For the listeners out there who don't understand how it works, we've got to look out four to six months in advance to book our calendar," she said. "Especially for bands on the road, they have to make a route around the U.S., and with all the restrictions different in every state and county, it's just not possible. I would imagine that local and regional shows will be the first to come back.
"As soon as it's safe to do so, we will do so," Dale said. "The hard part is just the restrictions for social distancing make it harder for us, being a club-size venue. We do 300 capacity – a lot of standing room, a lot of dancing room. We can't have that right now. They say singers' droplets from their voices travel 18 to 20 feet, which takes up our entire dance floor. How are you gonna have a funk band with no dance floor?"
"That's just not fun. The clients don't want that; we don't want that," she said. "We want to come back when we can really come back, and put on a quality event for people, get back to normalcy, have fun, and be safe."
"I just want music back, so let the dummies run around," Sweet said off the podcast of Iowa relaxing indoor gathering restrictions
The Redstone recently installed protective Plexiglas dividers at the front of the stage, when they do have bands back.
"There are people out there playing music right now, and I applaud 'em," Sweet said. "I love the people who are out there doing it, and you can still listen to music now. I don't know if that's something I want to do. But at the same time, I love it."
He can relate to and sympathize with other musicians on the podcast, who are in a similar sinking boat, trying to make it.
"I think the strength of the ideas we had with All Sweat, was to reinforce when everybody gets back together and understands the idea of the
community, instead of just the individual," Sweet said. "Hopefully we can come together and have some really good parties, hopefully being safe."
"I think we're all – as far apart as we are – I think we're gonna be more connected when things come back around," he said.
Dale called Danner the best boss she's had in her 13 years at RME. "He doesn't say no very quickly. What RME is trying to be, with his direction, RME wants to be the place that services the community for all things music," she said.
"A lot of things I don't think would have flown six, seven years ago, are happening now and that's to a lot of his credit, and the staff," Dale said. "We have a really great staff at RME, really dedicated people, and I think it's really strong. It's really cool to have him stamp yes on this project, the podcast. Let's talk about it, let's make things happen."
"I like that he gets it," Boyer agreed. "He understands why we exist here. In the past few years, it's kind of solidifying what do we want the River Music Experience to be; what purpose do we serve in the community? How can we do those things, and make those the most important?"
What is Underground Economy?
The Underground Economy – founded in 2018 by Josh Graves, a 35-year-old Davenport North alum – aims to bridge the gap between art and entrepreneurship by providing the tools, resources and relationships that fuel success, according to www.undergroundeconomyqc.com.
The business, which moved from another Davenport site to RME last March, is built to empower creatives and entrepreneurs and everything in between to take their career to the next level. Their services include:
Audio pre & post-production
Video pre & post-production
Media & marketing consulting
Social media management
Content creation/curation
Technical production assistance
Talent acquisition
Artist management
Event coordination
Campaign management
Graves first started Graveyard Studios nine years ago out of his home, and has been recording local hip-hop and R & B mostly. He did theater and show choir in high school, and his dad is a computer programmer, so Graves has worked with computers his whole life.
In high school, he vaguely knew what an audio engineer was, but it's been his career for the last nine years, six years full-time. "Over the years, I've seen a need for resources for creative entrepreneurs such as myself," Graves said recently.
"I see what they need and what can take them to the next level," he said. "I'm trying to build a community more than just build a business. There's a lot of unseen opportunities in the Quad-Cities and the United States. The gig economy is growing and I think there's a power of collaboration I can use to benefit, not just my life, but all the different independent creatives, business owners and entrepreneurs in the area."
Many creative people don't consider themselves business owners, or don't understand the business, Graves said. "Not just musicians, but photographers, videographers, writers."
With Underground Economy, Graves wants to help coordinate events and empower creatives to improve skills they need, and learn from other people.
"That's why I called it Underground Economy, because there's a huge scene in the Midwest, that is making money off their art," Graves said. "There's a whole scene of people making money, but people don't understand that that's possible."
He started a podcast as well, which discontinued, but he pivoted during the pandemic.
Graves formerly operated in a building at Davenport's Annie Wittenmyer Complex, and moved last March to RME after Danner approached him.
"I'm blessed to be there; I love the space there," Graves said. "There's so much opportunity to combine our similar goals and core values."
It's the former Music Lab at RME, and Graves took a Pro Tools class there about eight years ago. "Now it's full circle, 'cause I'm in that same room. That class opened my eyes to audio engineering and production as a career."
In the midst of renovating the second-floor space, he's going to invest in up to about $20,000 in new recording equipment, on top of about $30,000 worth he had before. "Podcasts during Covid has been a very big market lately," Graves said. "Being able to still reach people."
In addition to All Sweat, he's recording two for WVIK (Talking Art and Heartland Politics); Coach Ru (by Davenport's Rumaisa Khawaja, a transformational life coach); the Scott County Humane Society, and Bush Construction.
Under construction through next month, Graves was recording in the open co-work space, while building the recording studio, soundproofing the booth, and building a control room, separate from the coworking space, allowing for more separation. Graves also hopes to do video streaming there as well.
He hosted an "Underground Experience" with RME before the pandemic, to highlight a band, poet, visual artist, and food vendors.
Graves wants to continue to host events, empowering the creative professionals in the area.
During construction, he's recording podcasts on the dance floor at Redstone Room. "It's nice in there – epic, almost. It's kind of like we're at a show."
Graves hopes to hire a community manager to expand his business.
He's new in the coworking industry. "I just want to be able to reach people at their level, 'cause I know there's a lot of diversity in the level of entrepreneur you are," he said.
Graves did a video last summer for Genesis Health System for its "Mask Up" campaign, with other local creatives (to encourage mask wearing to slow the spread of Covid). "That's the kind of project I want to do with our members," he said. "It's showing we can collaborate and do things for our community as well."
The impact of Covid has fueled a rise in audio-based platforms like podcasts, Graves said. "I just think it's gonna continue to grow and develop. There's a lot of flexibility in producing a podcast. There's no formula. With podcasts, you're really free to create it in whatever format you want."
"If people can't hear your music, you still have to be heard, have to be seen," he said. "Branding and social media, how you're seen is important. podcasts are just a great way to get your message out there. People can definitely utilize it more than they have in the past."
According to podcastinsights.com, there were over 1.75 million podcasts worldwide as of January 2021, with over 43 million episodes, compared to more than 550,000 podcasts in mid-2018. In 2014, there were 7 billion podcast downloads, jumping past 13 billion in 2017.
Among new Q-C podcasts Graves isn't part of are from Davenport Junior Theatre (since December), "Surviving the Suck" (from 2020 Augustana grad and mental health advocate Haley DeGreve since November), and the musical theater "Double Threat" (from Steph DeLacy and Megan Warren since April 2020).
Sweet is going about podcasting exactly the right way, Graves said.
"It's a good mix of what's happening in the community, what's happening in the art and music scene," he said. "Just some wild, fun good times."
Danner said of Underground Economy: "We have worked really hard to make good use of our building. It's a large space — sometimes it's a challenge to manage such a large space. We've found it's an asset, we can give other groups a home, like the Bix Society. Having multiple groups under one roof is really great, to have built-in partners. We end up working together on a lot of things."
Looking to the future
Sweet plans at least one future podcast episode may be recorded virtually, with Joe Marcinek, who's done several All Sweat shows.
"I'd love to get him in town," Sweet said, noting he's in Indiana, just outside Chicago. "He has a lot of interesting stories from the road. I
think we're gonna do a remote one with him, just to get him on and have some big guests for the first 10, and make it cool for people to listen to."
Marcinek was part of the epic lineup for the August 2019 Sweatstock – coordinated by Sweet and Boyer of All Sweat Productions, the lineup of 100-plus Q-C musicians recreated the legendary performances of Woodstock and performed sets of original music.
Boyer's now 17-year-old daughter Charlotte sang then, and her video of "It's a Man's, Man's World" was sent by Chrissy to NBC's "The Voice," which got Charlotte an audition this past October. And she's a contestant on the TV singing competition, beginning Monday, March 1 at 7 p.m.
The podcast will feature some small intimate musical performances, and down the line, Sweet would like to feature bands and do some video. Leasman played some recorded snippets of new, unreleased songs.
"Him being in so many bands, he doesn't get the chance to release many solo albums too often," Sweet said. "This is a project that's been in the making for a long time. The pandemic has afforded him the opportunity to stop and do his solo album he's wanted to do for nine years. It's been really good for some people, been an eye-opener."
The next All Sweat show he wanted to do was Fleetwood Mac "Rumours," for an RME fundraiser, so that could come at some point.
"I'm not real sure; we might just plan a small festival for when it gets warm outside," Sweet said. "I'd really like to feature more original artists, along with the community playing together."
To keep up with All Sweat, it's really no sweat – visit www.facebook.com/allsweatproductions.