Playcrafters, Music Guild, Spotlight Theater Shows Closing Today
It's last call to see a trio of local theater shows! So if you've been meaning to check them out, today is your last chance!
Last Chance To See 'Charlie Brown' At Spotlight
The last remaining performance of "You're a Good Man, Charlie Brown" will be 2 p.m. Sunday, June 13!
Tickets are $20 in advance ($25 at the door), available at 309-912-7647 or www.thespotlighttheatreqc.com.
Last Call For 'Spamalot'
It's last call also for Music Guild's "Spamalot!"
Quad-City Music Guild's first complete musical in a year and a half, "Monty Python's Spamalot," is available to be streamed online today,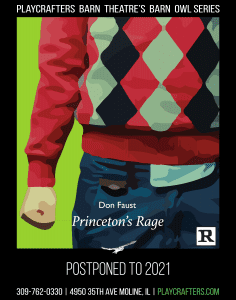 June 13 at 2 p.m.
Playcrafters' 'Princeton' Ending Today
Playcrafters' latest, "Princeton's Rage" is also ending its run today.
Performance will be at 3 p.m. today, June 13. Playcrafters tickets are $12 for the general public, and $10 for military and seniors (62+), available at playcrafters.com, or by calling 309-762-0330.