New Queen Musical At Rock Island's Circa '21 Really 'Rocks'
If you love the music of Queen (as I do), and you love creative and original visual spectacles on stage (I do), and you love so-dumb-it's-funny humor (ditto), then you'll love "We Will Rock You," the Queen jukebox musical playing at Rock Island's Circa '21 through March 11. (Call (309) 786-7733, ext. 2 for tickets and showtimes.)
I've honestly never seen a show quite like this at Circa before, and I mean that as a compliment. It's just so different looking and feeling from most of the stuff that hits their stage that it's both exhilarating and a little strange that it's taking place there. "We Will Rock You" has a decidedly retro futuristic look, in line with it's goofy sci-fi plot and its soundtrack of Queen hits. It's full of neon and bright costumes and an absolutely beautiful '80s style futuristic set and it's one of the most visually gorgeous shows they've ever put on.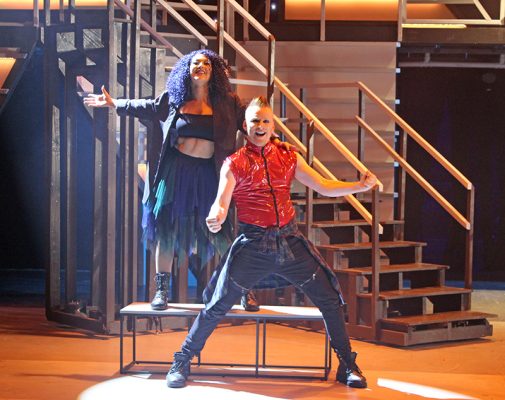 The performances and singing are likewise top notch. I mean, you really can't go wrong with the music of Queen, which is glorious, brilliant, and full of so much pomp, circumstance and campiness that it's tailor made for the theater. But you could certainly go wrong in its execution if you had a bunch of singers and performers who weren't up to it.
Thankfully, that's not the case for Circa. The cast does a terrific job in both hitting the literal and figurative high notes of the songs and also playing them for all the over-the-top drama inherent within them, and augmented by their placement in the plot of the show.
In all, I have to highly recommend "We Will Rock You" as a must-see show. You've really never seen anything like it on the Circa stage, and its majestic staging and visual elements in tandem with the musical performances make it a must-see if just for the experience.
And then there's the plot.
Now, I happen to enjoy stuff that's so dumb it's funny. I find it amusing. I was a big fan of the 2000s movie "Josie and the Pussycats," and this show has exactly that same vibe. If you like that stuff too, you'll dig this. If you're not a fan, go anyway for the visuals and the music, and groan and roll your eyes through the rest.
The storyline is ripped from a bunch of other "rock and roll will save us" futuristic plots, most notably the same narrative running through the Styx concept album "Kilroy Was Here." It's the future, rock 'n' roll has been banned, people are robots, there's an underground movement to find some chosen one rock star or something, blah blah blah. It's completely ridiculous. But the cast obviously realizes this and plays it for hammy fun.
Tristan Tapscott is the Lord of Sugarberry Farms when it comes to really digging into some hammy humor, and he's right at home here with this script, goosing some hilarious laughs. Marc Christopher is right there with him as the Newman-like villain Khashoggi, vamping and camping up the stage with faux menace. Sarah Hayes is right there with him as the vampy Killer Queen.
The heroes, ludicrously named Galileo (Cameron Nies) and Saramouche (Michaela Moore) likewise take a big bite out of this ham sandwich and chew up the scenery accordingly. as do their supporting cast, especially the hyper Britt (Bobby Becher) and sultry and sassy Oz (Natalie Carrera).
Director and choreographer Amy McCleary deserves a lot of credit for playing this exactly right, concentrating on the spectacle while giving a knowing wink to the doofy script. It reminded me of Olivia Newton John's cheesefest "Xanadu," or the Village People movie, "Can't Stop The Music," which, while being utterly moronic at heart, was also extremely entertaining as a camp classic and a visual spectacle.  Excellent job.
So, ride your bicycle down to Circa when you can before March 11 and get a kick out of "We Will Rock You." Freddie would've approved.