Moline's Playcrafters Presents 'Witness For The Prosecution' This Weekend
Playcrafters Barn Theatre in Moline presents
Witness for the Prosecution
By Agatha Christie
Directed by Victor Angelo
•Sept. 1-4
Friday & Saturday at 7:30 PM, Sunday at 3 PM
*Doors open 1 hour prior to the show.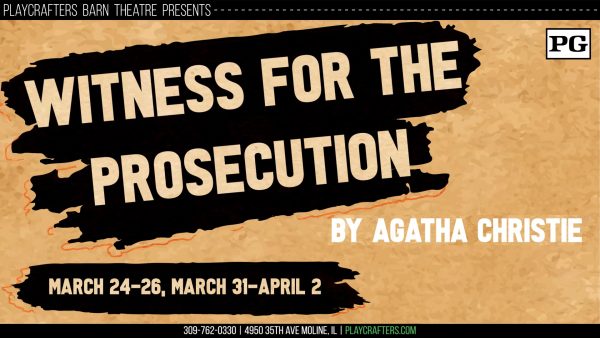 Rated PG
Leonard Vole stands accused of murdering a rich widow. The stakes are high with shocking witness testimony, impassioned outbursts from the dock, and a young man's desperate fight to escape the hangman's noose. Generally regarded as one of Christie's most accomplished plays, this suspenseful thriller keeps audiences guessing until the very end.
GRETA…..Storm Baca
CARTER…..Michael Lotspeich
MR. MAYHEW…..Guy Cabell
LEONARD VOLE……Bobby Metcalf
SIR WILFRED ROBARTS, Q.C……Don Faust
INSPECTOR HEARNE…..Jimmy Bennet
ROMAINE VOLE…..Shyan DeVoss
MR. MYERS, Q.C…..Kevin Keck
DR. WYATT…..Madison Duling
JANET MACKENZIE…..Suzanne Braswell
MR. CLEGG…..McKenna Coskie
USHER/CLERK/STENOGRAPHER…..Adrick Woodruff
COURT CLERK/ALDERMAN…..Tyler Henning
WARDER/JUROR…..Kathryn Klatt
We're always in need of volunteers! Every performance needs help with backstage, box office, ushers, and concessions! People who volunteer get to see the show for free. To volunteer, please email us at office@playcrafters.com or call 309-762-0330!