Jump On In To This Week's FUN10 For Fun Times This Week!
It's Sunday, and QuadCities.com proudly presents FUN10, a list of the top 10 things to do in the Quad Cities this week, and every week!
Every Sunday, we drop a new Fun10, to give you a head start on your week and a heads up on what's going on over the coming seven days. Check out FUN10 every Sunday for the details on ten awesome events happening around town. It's a cool read, and a great way to get started planning your entertainment for the week.
FUN10 — ten ways for you to have fun in the Quad-Cities, this week and every week, running every Sunday, only on your site for fun, free, local entertainment, QuadCities.com!
So what's on the FUN10 for this week? Read on …
Jump On In To The Trampoline Park!
The 1st Friday of each month is Glow Night at the trampoline park and if you're looking to jump into some good times, wear your fluorescent garbs and come have some fun!
Pricing:
2 hour jump = $22.00
90 minute jump = $19.99
1 hour jump = $17.00
Healing Compass Holding Grand Opening In Muscatine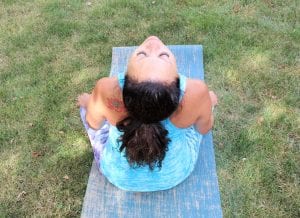 Impact Athletic Performance has graciously partnered with Christina Kelly with Healing Compass for a GRAND OPENING to celebrate Christina's new massage venture at Healing Compass,
610 Maiden Ln, Muscatine
from 10 a.m. to noon Saturday.
There will be plenty of room for social distancing and we will require masks to be worn.
Join us to learn about the different massage and healing services Christina offers. There will be a Grand Opening special you won't want to miss out on. There will be demos on sports massage, trigger points, lymphatic drainage massage and cupping.
There will be crystals and stones available for purchase. Butchers Vegetables will have juices available.
There will be drawings for prizes for those that come to welcome Christina on her new venture.
Healing Compass location is in Dr. Jeff Hanssen's Chiropractic office on 515 Cedar Street. To book a massage or healing session please message or call Christina at 563-316-0882.
See you there!
Namaste Friends!
WQPT Holding Hemingway Events
WQPT presents a variety of outreach activities in conjunction with the new Ken Burns documentary Hemingway. Directed by Ken Burns and Lynn Novick, Hemingway examines the visionary work and turbulent life of Ernest Hemingway, one of the most influential writers America has ever produced. Interweaving his eventful biography with excerpts from his writing, we will see beyond the façade of the public image, becoming intimately familiar with this brilliant, ambitious, charismatic, and egocentric man.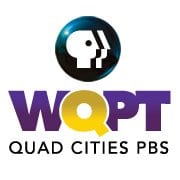 Beginning February 23 you can log on to https://www.pbs.org/kenburns/hemingway/events/ and join Conversations on Hemingway: A Virtual Event Series. These conversations feature the filmmakers and special guests as they explore the writer's art and legacy. The hour-long discussions feature clips from the upcoming three-part series.
Availability is limited. Viewers may register for multiple events. Once registered, you will receive a unique, nontransferable link to attend the virtual event. Topics to be covered include:
March 2           Hemingway and the natural world at 6:00 pm CST
March 4           Hemingway and Celebrity at 7:00 pm CST
March 9           Hemingway, the Sea and Cuba at 6:00 pm CST
March 11         Hemingway, Gender and Identity at 6:00 pm CST
March 16         Hemingway the Author at 6:00 pm CST
March 18         Hemingway and Biography at 6:00 pm CST
March 24         Hemingway and Women 6:00 pm CST
Local outreach, which includes Hemingway at the Drive-In, A Cuban Inspired Meal with a Side of Hemingway, a Hemingway-themed Trivia Night, and a discussion with Hemingway biographer, Mary V. Dearborn are scheduled in March and April. The documentary will air on WQPT in April.
WQPT is a public media service of Western Illinois University.
Here's A 'Tip' For An Interesting Event
The Big Tip" is a Service Indusrry Event designed to help the Service Industry itself, put together by a non-profit organization called "The Big Give". The Covid-19 social distancing and restrictions that started in March 2020, caused the unemployment rate to jump from an average of 3% in both Iowa and Illinois, to 10% and 16% respectively.The Service Industry is still suffering through another round of social distancing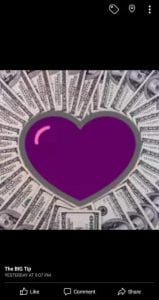 and restrictions that caused another dip in December in 2020.
This fundraiser event will help the economic relief of the Service Industry through social media, staffing agencies, donors and coupons/gift certificates from Service Industry to get people back in their establishments.
These businesses can include but not limited to bars,restaurants, hair stylists,, uber/taxi drivers, musicians, basically anyone that may receive a tip.
The event is being held on March 6th at the QCCA Expo Center in
Rock Island
, Il.
From 2-4pm the Service Industry appreciation lunch will be served.
Music will be performing from 2pm until 12am. The music line up is: The HeadLIner From Dallas, TX . Rocking the billboard charts at #31 "Anything But Human" The Amazing dancer/singer/producer/writer "Zay", Pop sensation "Alyx Rush", jazz pianist/singer/writer "Byron 'BK' Davis", writer/Bassist "Brent-Anthony Johnson", Drummer/producer/engineer "Wes Julien", the '
Quad City
Times' Best Band in 2014 "North of 40", a Quad City's Favorite "Soul Storm", the up and comer's debut live performance "Zayy Izzy", sound by "Bos Electronics", the original "DJBuddha", from "Dirty Water Music" in LeClaire,IA, "Doc" AKA Ray Burge ,Ballroom Dancer/Director "NIck Malusky" and the "Shine On Quad Cities" dancers, and the Master of Ceremonies is "The Bobfather" The event will be broadcast through Facebook Live throughout the event, as we pay bills of the service industry workers and businesses in between sets.
$50 -General Admission
2-12am All Music access
5-8pm Dinner by Smokin' Butt BBQ
(1) Drink Ticket
$200-VIP Admission
2-12 All Music access
Dinner prepared by The Captain's Table 5pm Hors D'oeuvres
6pm Prime Rib Dinner
(2) Drink Tickets
VIP Parking
North Entrance Access
Pre-sale Tickets are available.
Quad-Cities Comic Book Convention Is Back!
It's baaaaaaaack.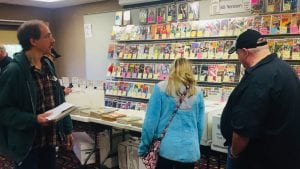 If you are looking to just buy comics and live in the
QCA
(or willing to drive there) you should come to the Quad Cities Comic Book Convention. No guests mean that you do not have to pay for the guests to come to the con, nor do the dealers so they pay less to set up and are more apt to give you a good deal. You can also attend as a fangirl or fanboy for FREE so if you are just looking for comics to buy then this is the place to go
The Quad Cities Comic Book Convention will be held on Saturday March 6 at the Ramada Inn in
Bettendorf
, IA. The Ramada Inn is located at 3020 Utica Rd (I-74 @ Kimberly Rd / Spruce Hills Dr, IA Exit 2). It will be open to the public from 10 AM to 4 PM and admission for the public is free.
There will be comics ranging from this year to the mid 20th century and in price from under a buck to 100s of dollars. Plus tihngs like toys and graphic novels. Dealers are also buying comics if you have them lying around you no longer want.
Remember when you come to a convention to buy your comics you get to see what the condition is of everything you buy before you buy it (not take someone else's word for it), once you are there you can buy as much stuff as will fit in your car (or truck, van, SUV or on the back of your bike) and not have to pay any extra shipping charges or have the items damaged in transit (unless you decide to do it yourself).
Plus you do not risk anything by having to use Paypal, credit card online or send a cheque or cash in the mail to pay for your purchase! Remember to bring plenty of cash and avoid having to pay an ATM fee! Most (if not all) vendors do not take credit cards.
Skow Boys Coming To Grape Life
Looking for some live music and some good wine?
Head over to Grape Life, 3402 Elmore Ave.,
Davenport
, for the Skow Boys at 8 p.m. Friday.
It's $5 per person paid reservations are required for safe, assigned seating.
Reservations can be made starting Monday, March 1st. Contact Diane at 563-940-6030 or email Diane@thegrapelife.com
Brian will be joined tonight by is far more musical sons to perform an eclectic set of music ranging from the 70's to last week.
Check Out The Blues Jam!
The Hilltop is THE neighborhood bar and grill of the Quad Cities. Featuring the best local draft beer selection and great food. It's at 1228 38th St., Rock Island.
And every Wednesday night at 8 p.m. at the Hilltop you can check out some awesome local musicians at the open mic blues jam.
So if you like the blues, head to the Hilltop on Wednesdays!
Live On Tuesday Night, It's Trivia Night Live!
Trivia Night Live is rolling into The Tangled Wood in Bettendorf every Tuesday at 7 p.m.!
It's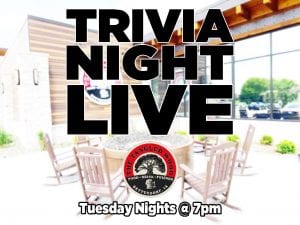 Free To Play, with up to eight people per team playing in various categories.
What is Trivia Night Live?
Trivia Night Live is a live interactive team trivia game played at your favorite restaurants and bars. The game consists of four rounds of questions of increasing difficulty and point values. Categories range from current events, history, geography, science, sports, and more….
Trivia Night Live is free to play, and you can have up to 8 members on a team.
Prizes are awarded for the winner of the 1st half and the overall winners win a $25 gift card for 1st Place, $10 for 2nd Place (cannot be used the same night).
We ask a question, and then play a song. Your team has the duration of that song to turn in your answer. No cell phones. web devices or smart watches can be used, just the useless trivial knowledge contained between your ears.
#LiveFromDavenportItsTriviaNight
presented by Think & Drink Entertainment.
Bootleg Hill Open Mic Every Thursday
Looking for a spot to showcase your talents?
How about the Bootleg Hill open mic night?
The musical open mic night is back. Happening weekly at Bootleg Hill Honey Meads in downtown Davenport. All are welcome. Hosted by Dan Fennesy and starts at 8 p.m.
Rock Out With Rock Star Bingo
It's time to rock out with rock star bingo!
Think you know your music trivia? Time to test your skills!
Think you know your music?
If you know what song contains these lyrics, you would probably love Rock Star Bingo!
"And she's watching him with those eyes,
And she's loving him with that body, I just know it,
Yeah 'n' he's holding her in his arms late, late at night."
What is Rock Star Bingo?
Just like "regular" bingo, but we replaced bingo numbers, like "B16", with parts of songs. If you know the song title (no phones, devices or apps – basically no cheating), then place a bingo chip on that square. Get 5 squares in a row and you're a winner!!
It's the most fun you will ever have playing bingo!
According to the folks involved, here are the deets:
**NEW Start Time of 7pm**
Rock Star Bingo
EVERY Wednesday @ 7pm
The Tangled Wood (Bettendorf, IA)
B-I-N-G-O +
Name That Tune +
Sing-a-longs
Rock Star Bingo
FREE To Play
Win FREE drinks!
Music changes EVERY week!
Music from the 50's through music that came out in the last month!
#ThisAintYourGrandmothersBingoNight