Pride Fest, The Dawn, Talking Heads Tribute, Bettendorf Fun And MORE In Today's FUN10!
It's Sunday, and QuadCities.com proudly presents Fun10, a list of the top 10 things to do in the Quad Cities this week, and every week!
Every Sunday, we drop a new Fun10, to give you a head start on your week and a heads up on what's going on over the coming seven days. Check out Fun10 every Sunday for the details on ten awesome events happening around town. It's a cool read, and a great way to get started planning your entertainment for the week.
FUN10 — ten ways for you to have fun in the Quad-Cities, this week and every week, running every Sunday, only on your site for fun, free, local entertainment, QuadCities.com!
So what's on the Fun10 for this week? Read on …
Pride Fest Shining On The Quad-Cities
In honor of June being Lesbian, Gay, Bisexual, Transgender and Queer (LGBTQ) Pride Month, The Project of the Quad Cities is for the first time holding a free Pride at Bass Street Landing on June 4-5.
Presented with sponsors ReCept Pharmacy (The Project on-site pharmacy at 1701 River Drive, Moline) and Arconic, the nearby event (on the plaza off 17th and River Drive) will be 6 to 11 p.m. Friday, June 4, and 9:30 a.m. to 11 p.m. Saturday, June 5, including food, live music, drag performances and education. Drinks on both nights will be provided by Galena Brewing Company.
The Project outreach team will be at the festival providing free HIV/STD testing inside the clinic, said Tyler Mitchell, the organization's marketing and communications director. Any event proceeds raised will support The Project's LGBTQ+ clinic and its patients.
For more information about The Project services, visit tpqc.org.
The Dawn Is Dawning Next Weekend
The Dawn (a Western Illinois based roots rock/jam band) is back at The Tangled Wood at 8 p.m. on Friday, June 4th! Their live show experience has proven contagious and is tightly gripped in spacious jams, roaring guitar and soulful harmonies.
Now a six-piece, The Dawn pushes the envelope at every performance and audiences are rewarded with an experience that can only be described as "The Dawn Effect."
Coupled with an equally adventurous light show, The Dawn concerts keep their dedicated and growing fanbase coming back for more.
Cody Road Rides Into Billy Bob's Tonight

Saddle up!
Country music's Cody Road will be ridin' in to Billy Bobs in the District, downtown Rock Island!
Show starts at 7 tonight, pard'ners!
Check Out The Talking Heads (Tribute) For Free Tonight
Talking Heads tribute band Heads In Motion will be playing tunes from the classic new wave band tonight at 7:30 p.m. at Sweet Arnie's in The Rust Belt, 533 12th Ave, East Moline.
This show will be happening at the Rustbelt, and Arnie's BBQ was soooo good. Arnie is looking to shake up and establish a new location for the local music scene in East Moline. He's got a great vision and we're excited to help build this thing!
Be Downtown Next Weekend In Bettendorf
The Downtown Bettendorf Organization (DBO) will once again present its "Be Downtown" event from 9:30 a.m. to 10 p.m., Saturday, June 5, in downtown Bettendorf.
Located in the city's parking lot at 15th and State streets, this free, family-friendly event will feature multiple bags tournaments with cash prizes, live outdoor music, food and drink vendors, children's activities and more. Patrons are encouraged to bring a lawn chair.
The day kicks off at 9:30 a.m. with 1031 Fitness presenting a free 45-minute high-intensity training (HIT) workout. Afterward, the K&K Family Fun Zone will be set up with food trucks, bounce houses, face painting and other family fun provided by the Bettendorf Library.
Food and beverages will be available for purchase from vendors Capriotti's, Here's the Scoop, QC FUEL and Smokin' Butt BBQ. Verde, a new, contemporary Mexican restaurant located at The Bridges, will offer food and an outdoor bar for alcohol and other beverage sales.
Additional event details can be found at www.downtownbettendorf.org or on the Downtown Bettendorf Organization Facebook page.
Environmental Lecture Series Planned At WIU
World Environmental Day is coming up, and Western Illinois University will mark it with a special lecture series.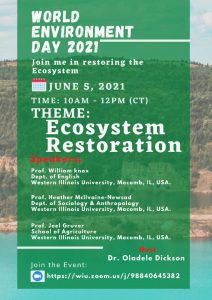 To commemorate World Environmental Day Saturday, June 5, three Western Illinois University professors will speak during a virtual event, from 10 a.m.-noon, themed "Ecosystem Restoration."
The lecture series, organized by WIU biology graduate student Oladele Dickson Owasoyo, of Nigeria, will take place over Zoom and can be joined at wiu.zoom.us/j/98840645382.
The event is divided into three sections, including:
• WIU English Professor William Knox will deliver "How Combating Climate Change Can Help Restore the Ecosystem."
• WIU Associate Professor of Agriculture Joel Gruver will deliver "How Ecosystem Restoration Can Help Address Climate Change."
• WIU Anthropology Professor Heather McIlvaine-Newsdad will deliver "How Ecosystem Restoration Will Have a Positive Effect on Social Well-Being, Socio-Economic Development and some United National SDGs."
For more information on the event, email Owasoyo at od-owasoyo@wiu.edu.
A Rare Gem Of A Singer Coming To The Adler
The trio of musical acts who will light up the Adler Theatre stage Saturday, June 5, are not only all led by African-Americans, they also lead with tremendous talent, heart and soul.
Rising East Tennessee singer-songwriter Amythyst Kiah – who was electrifying in her May 6 TV appearance on "Jimmy Kimmel Live" – is the headliner, with Quad-Cities openers Ashley Dean and Soultru. The show (starting at 7:30 p.m.) is presented by The Adler Theatre Foundation Series in collaboration withQuad City Arts.
Kiah, a 34-year-old native of Chattanooga, Tenn., is looking forward to her very first Iowa appearance. It's just the fifth date on her new tour, which started this week.
Since March 2020 until this month, Kiah performed for just two in-person shows, outdoors, in Virginia.
"Even though everybody was masked; everybody was separated and like, it obviously wasn't exactly the same as it used to be, but it was still like being able to perform in front of people was just in any capacity, is where it's at," she said in a recent interview.
"Black Myself" (which she sang on Jimmy Kimmel) is the lead single off her forthcoming album and Rounder Records debut "Wary + Strange," out June 18th. The radically reimagined version of her Grammy-nominated song departs from the mid-tempo acoustic original recorded in 2019 by Our Native Daughters, the all-women-of-color supergroup she co-founded with Rhiannon Giddens, Leyla McCalla and Allison Russell.
The track has been hailed by The New York Times, Rolling Stone, MTV, Billboard, and NPR, who called it a "breakthrough for an artist on the rise."
Add Color to Your Summer with Rock Island Library Events this week
Summer reading and events at the Rock Island Public Library begin the first week of June in full technicolor style with a summer reading "colorama" kickoff, a take-home pinwheel kit for kids, the start of Summer2Go events around the library bookmobile, a Friends and Family seminar with NAMI, and more.
From June 1 to July 31, Reading Colors Your World summer reading challenges and events at the Rock Island Public Library will encourage readers of all ages to be creative, try new things, explore art and color, and see the beauty of diversity.
Library summer reading programs help children and teens catch up on reading for fun, reduce summer learning loss, and connect to a lifelong pastime. The library's summer reading contests encourage children, teens, and adults to continue reading with pre-set goals and rewards. Participants may enter and track anytime through July 31 with the library's Beanstack site or app. A downloadable print log for all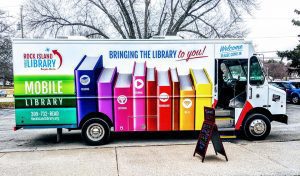 ages is also available via the Library's website.
Library events during the first week of June include:
Curbside Colorama Kickoff, Tuesday, June 1, from 3:30 to 6:00 pm, outside the Rock Island Downtown Library. Summer reading kits, yard games, chalk art, and Kona Ice. (Kits and yard games are also available at Southwest.) This event is for ages.
Children's DIY Pinwheel Kit, available starting Tuesday at Downtown, Southwest, and Mobile Libraries while supplies last. This event does not require registration.
Facebook Live Storytime: Tuesday at 10:30 am with Miss Ranell. Stories and more for ages five and under.
Facebook Live Teen Book Talk: Tuesday at 3:45 with Emily. Librarian book suggestions for young adult fiction and non-fiction.
Summer2Go with Library2Go: Tuesday at Rauch Family Park (10 am to 11:30) and at Longview Park (2:30 to 3:30pm) and Thursday at Centennial Shelter Park off Big Island Road (2:30 to 3:30 pm.) Children's Librarians bring a story and activity to do at the park around the bookmobile. This week's event is chalk drawing.
Family and Friends Seminar with NAMI, National Alliance for Mental Illness: Offered at 6 pm Thursday, June 3 via Zoom webinar. This informative seminar for adults offers tips and strategies to help those who are supporting friends and family members with a mental health condition. To join, register via the library website, and the Zoom participation link will be emailed.
Children's Facebook Live Book Talk: Friday at 10:30 am. Weekly reading suggestions for ages 7 to 12, and a sneak peek at new books in the library.
For summer reading and event details, visit www.rockislandlibrary.org. More information is also available at 309-732-READ, via the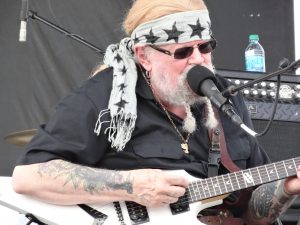 PrairieCat library app, and on library social media channels on Facebook, Instagram, Twitter, and YouTube.
All activities are open to the public and provided at no extra charge.
Coe Coming To Rust Belt
Outlaw county legend David Allan Coe, with special guest Brushville, will be coming to
The Rust Belt
, 533 12th Ave.,
East Moline
, at 8 p.m. Friday, June 4.