Racing At Cordova, Outdoor Concerts, 'Matilda' And More In This Week's FUN10!
It's Sunday, and QuadCities.com proudly presents Fun10, a list of the top 10 things to do in the Quad Cities this week, and every week!
Every Sunday, we drop a new Fun10, to give you a head start on your week and a heads up on what's going on over the coming seven days. Check out Fun10 every Sunday for the details on ten awesome events happening around town. It's a cool read, and a great way to get started planning your entertainment for the week.
FUN10 — ten ways for you to have fun in the Quad-Cities, this week and every week, running every Sunday, only on your site for fun, free, local entertainment, QuadCities.com!
So what's on the Fun10 for this week? Read on …
Bass Street Landing Summer Concert Series Shines On Moline
Moline Centre on Friday was excited to announce this year's lineup for the Thursday night Bass Street Landing Summer Concert Series, off
17th Street and River Drive.
"It has been 610 days since our last FREE concert @ Bass Street, and we are ready to 'safely' party with all of you again on the plaza!" it posted on Facebook, noting it is partnering again with Courtesy Car City as both the title and vehicle sponsor for this year's concert series.
Moline Centre "is taking many extra precautions to ensure that these series of concerts are following all CDC/State of Illinois Covid-19 safety guidelines," the group posted. "We ask that all guests please wear a mask anytime social distancing is not possible. Social distance whenever possible. Frequently use the hand sanitizing stations that will be provided. Avoid concentrated gatherings of people. Please stay home and do not attend these concerts if you are sick or feeling sick."
The Thursday night lineup for the free 7 p.m. concerts is:
5: Blues Rock-it
12: Smooth Groove
19: Avey Grouws Band
26: Alewife
2: Dynoride
Street Outlaws Roar Into Cordova!
Standard camping (RV/camper/tent): $150 plus admission per person
Trackside Premium RV Camping: $250 plus admission per person – Limited availability
Click the link for more info and to get your tickets ->
http://ow.ly/b5oT50FE08F
RME Rocks With Live At Five On Fridays
The River Music Experience, 2nd and Main streets, Davenport, has brought back the free Live@Five on Fridays from 5 p.m. to 7 p.m.
The RME courtyard will host live music featuring a wide range of genres and styles.
This year's schedule of bands is:
Help Genesis Pack The Bus
Genesis Health System will help area students and families get back to normal when schools reopen.
"Pack the Bus'' debuted two years ago as part of the Genesis anniversary celebration of 150 years of health services. The needs are even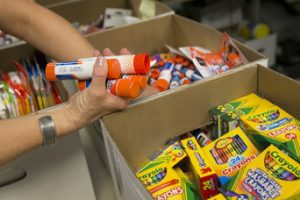 greater as families continue to recover from COVID-19 disruptions.
"The Genesis 'Pack the Bus' campaign will assist families and the schools again this year by providing the tools they need for learning," said Shirley Gusta, director of the Genesis Business Intelligence Center, who is coordinating the Genesis volunteer effort. "There is never enough funding for schools to provide everything students need and with the continued challenges we face with COVID, children cannot share supplies at school.
"We hope our own Genesis employees and the general public can help fill some of the gaps in supplies.''
Last year, even in the midst of the pandemic, the Genesis "Pack the Bus" team safely collected 10,355 school supply items with a value of $19,200. Supplies were delivered to 10 school districts. The efforts have been so successful and well received by the school districts that "Pack the Bus" returns for a third consecutive year Aug. 2-5.
"We are grateful for the generous response of Genesis employees and from the public for students and their local schools," said Gusta. "Like last year, we anticipate families and local school districts will continue to need our support because of the continuing challenges brought by COVID-19."
Donations will be collected at school buses parked at these locations on these dates:
Aug. 2 at Genesis Medical Center, East Rusholme Street, Davenport, in the parking lot between the Heart Institute and Edgerton building
Aug. 3 at Genesis Medical Center, West Central Park, Davenport, on the north side/West Central Park Avenue parking lot
Aug. 4 at Genesis Medical Center, Silvis, in the corner of the main parking lot
Aug. 5 at North Scott Foods, Eldridge.
Supplies will be collected each day between 7:30 a.m. and 3:45 p.m. Infection prevention and social distancing will be practiced.
Monetary gifts to "Pack the Bus" can be made at bit.ly/GenesisPackTheBus.
Genesis Health System, Durham School Services, Two Men and a Truck, Staples and North Scott Foods are sponsors.
Here are items requested by the schools:
AAA Batteries
Art Brushes
Backpacks (girl/boy/generic)
Binders (3-Ring)
Bleach Wipes
Colored Pencils
Crayons
Dry Erase Markers
Facial Tissues
2 Pocket Folders (Plastic or Paper)
Glue Sticks
Hand Sanitizer
Headphones, No Ear Buds
Highlighters
Liquid Glue – Elmer's
Mechanical Pencils
#2 Pencils & Pencil Boxes
Individual Pencil Sharpeners
Note Cards
Ink Pens (black, blue and red)
Scissors
Scotch Tape
Spiral Notebooks – Wide Lined
Tabbed Dividers for 3 Ring Binders
Washable Markers
Zip Lock Bags
Protect Yourself from Online Scams Presented by the Davenport Public Library
Learn to identify and protect yourself and your personal information from online scammers. On Wednesday, August 4th at 6:30 pm join us for a virtual workshop where you'll learn about three real-life online scams and familiarize yourself with some of the techniques scammers commonly use to access sensitive information. We are offering this free program in conjunction with Grow with Google.
Registration is required. Register here: https://bit.ly/dpl-protectyourself
Keep up with our virtual programming on our Virtual Branch Calendar of Events at https://davenportlibrary.libcal.com/calendar/virtual.
This event is FREE and open to the public. For more information visit www.davenportlibrary.com or call the library at (563) 326-7832.
Mockingbird On Main Debuts With 'The Mountaintop!'
Downtown Davenport's The Mockingbird On Main will present their inaugural production – Katori Hall's "The Mountaintop" through August 7.
What happened inside room 306 of the Lorraine Motel in Memphis the night before the assassination of Civil Rights Leader Martin Luther
King, JR. is a mystery. In "The Mountaintop," Hall imagines what may have transpired in the overnight hours between the legendary civil rights leader and a seemingly inconsequential motel maid.
Hours after King's famed final speech, punctuated by the immortal line "I've been to the mountaintop," the celebrated reverend reveals his hopes, regrets and fears, creating a masterful bridge between mortality and immortality.
Praised as "wondrous, hilarious and heartbreaking" by London's Independent and "a powerful, poetic take on (King's) legacy" by the Los Angeles Times, "The Mountaintop" won the prestigious Olivier Award for Best Play in 2010.
The production is directed by Kira Rangel and stars Anthony Hendricks as Martin Luther King, JR. and Erica Faye as Camae, the enigmatic maid. "The Mountaintop" is being stage managed by Synthia Gonzalez and produced by Tristan Tapscott and Savannah Bay Strandin.
"We are thrilled to be starting this new adventure with a piece like this and to be able to feature these artists", co-producer Tristan Tapscott said. His partner – co-producer Savannah Bay Strandin added, "When I first saw The Mountaintop several years ago, I was moved beyond words. It is a stunning piece and I am overjoyed that this is our inaugural production".
"The Mountaintop" will play The Mockingbird On Main's Downtown Davenport venue located at 320 North Main St August 5, 6, 7 at 8:00pm. Doors open to the public nightly at 7:30pm. Advances reservations are highly encouraged as the venue is intimate and seating is limited. Tickets and details can be found by visiting TheMockingbirdOnMain.com!
"The Mountaintop" is being presented by Jackson County Protective Services and The Mockingbird On Main's 2021 season is being presented by QuadCities.com.
Art In The Garden Blooms At Botanical Center
Art in the Garden is August 7 at the Quad City Botanical Center in Rock Island, Illinois.
The 5th annual event features local and regional artists including potters, painters, sculptors, jewelry makers and others who are inspired by
nature to create. Their works will be exhibited and sold at this outdoor show.
The handcrafted works will be on display in tents throughout the gardens and a variety of art price points will be offered.
The Quad City Botanical Center in Rock Island.
The event includes music by Roger Carlson and friends, demonstrations by the wood turners and fun activities for the kids.
Purchase tickets at qcgardens.com or pay at the gate. Advanced ticket purchasers will be entered to win a $20 voucher to spend at Art in the Garden. One prize is available. Winner will be drawn August 5th and contacted via email.
The Botanical Center is located at 2525 4th Avenue in Rock Island, Illinois.
EVENT DETAILS
8.7.21 Saturday
9 AM – 4 PM
ADMISSION
$8 adults | $4 members and kids 5-15
Free for kids 4 and younger
Purchase tickets at qcgardens.com
SAMPLE EXHIBITED ART
Sculpture
Jewelry
Pottery
Quilts
Paintings and painted objects
Charcoal and pastel art
Wood
Collage art
Nature-themed home décor
Photography
Scott County Iowa Genealogical Society: Swedish Genealogy with the Swenson Swedish Immigration Research Center
Scott County Iowa Genealogical Society and the Richardson-Sloane Special Collections Center of the Davenport Public Library invites you to their monthly meeting.
On Monday, August 2nd at 6:30 pm the Swenson Swedish Immigration Research Center will present the resources the Swenson Center has, a beginner's how-to for Swedish genealogy, and suggestions and tips on how to work with those materials.
Those wishing to attend may attend the event in two ways: in-person or virtually. Please register for the event at https://davenportlibrary.libcal.com/event/7808983 and indicate the way you want to view the presentation. In-person registrants will attend the event at  Main's Large Meeting Room (321 N. Main St.) Virtual registrants will receive an email with the Zoom Meeting Link and Meeting ID
Keep up with our virtual programming on our Virtual Branch Calendar of Events at https://davenportlibrary.libcal.com/calendar/virtual.
This event is FREE and open to the public. For more information visit www.davenportlibrary.com or call the library at (563) 326-7832.
Quad City Music Guild Presenting 'Matilda'
Quad City Music Guild will present "Matilda: The Musical" August 6-7-8 & 12-13-14-15, with shows Thur-Fri-Sat at 7:30 p.m. and Sunday at 2:00 p.m. at Prospect Park Auditorium, Moline.
Tickets are Adult $16 / Child $11.
Call 309-762-6610 or visit qcmusicguild.com for reservations now!
Inspired by the twisted genius of Roald Dahl, the Tony Award-winning Roald Dahl's Matilda The Musical is the captivating masterpiece from the Royal Shakespeare Company that revels in the anarchy of childhood, the power of imagination and the inspiring story of a girl who dreams of a better life. With book by Dennis Kelly and original songs by Tim Minchin, Matilda has won 47 international awards and continues to thrill sold-out audiences of all ages around the world.
'Newsies' Hits The Press At Countryside Next Weekend
Countryside Community Theatre will continue their 39th season with the energetic and exhilarating Disney's Newsies!
Set in turn-of-the century New York City, Disney's Newsies! is the rousing tale of Jack Kelly, a charismatic newsboy and leader of a band of
teenaged "newsies." When titans of publishing raise distribution prices at the newsboys' expense, Jack rallies newsies from across the city to strike against the unfair conditions and fight for what's right!
Featuring a Tony Award winning score with music by the acclaimed Alan Menken (Beauty and the Beast, Aladdin, Little Shop of Horrors, etc.), lyrics by Jack Feldman, and book by the inimitable Harvey Fierstein (Kinky Boots, La Cage aux Folles), this thrilling show is sure to sing and dance its way into your hearts!
Directing and choreographing the production is professional actor Ashley Mills Becher, who is currently also performing in Circa '21's production of 
Saturday Night Fever
. Ashley also works with
Davenport
Junior Theatre, and Lancer Productions. She will be guest directing 
Frozen
 this winter at the latter. Ashley runs the Circa '21 educational program 'Rising Stars' alongside her husband, Bobby Becher.
The extraordinarily talented cast includes Wisconsin native Andrew Arevalo as Jack Kelly, Sophia Kilburg as Katherine Plummer, Chris Tracy shines in yet another villain role, as Joseph Pulitzer, Nickie Callender as Davey, and current Jr. Miss
Rock Island
County Fair Queen Marley Haley as Crutchie. The talented ensemble will wow you with their athletic leaps and tricks, tap dancing, and masterful anthemic singing, all done on an industrial, multi-level set inspired by the original Broadway production!
Performances are August 6th, 7th at 7 PM, and August 1st, and 8th at 2 pm.