Find Out Awesome Things To Do In Illinois And Iowa With Your Weekly FUN10!
It's Sunday, and QuadCities.com proudly presents Fun10, a list of the top 10 things to do in the Quad Cities this week, and every week!
Painting Parties, Cake At RIBCO, Spicy Comedy And More In This Week's Fun10!Every Sunday, we drop a new Fun10, to give you a head start on your week and a heads up on what's going on over the coming seven days. Check out Fun10 every Sunday for the details on ten awesome events happening around town. It's a cool read, and a great way to get started planning your entertainment for the week.
FUN10 — ten ways for you to have fun in the Quad-Cities, this week and every week, running every Sunday, only on your site for fun, free, local entertainment, QuadCities.com!
So what's on the Fun10 for this week? Read on…
Rock Island Library Hosting Craft Night For Families
Rock Island Southwest Library is holding a fun take and make event for kids and parents.
Sign up for our July 12 take and make all-ages craft – a patriotic red, white, and blue clothespin wreath with silver stars. This one's a bit more complicated, so we suggest working on it as a family unit.
13 kits left at this time, so sign up at our calendar today.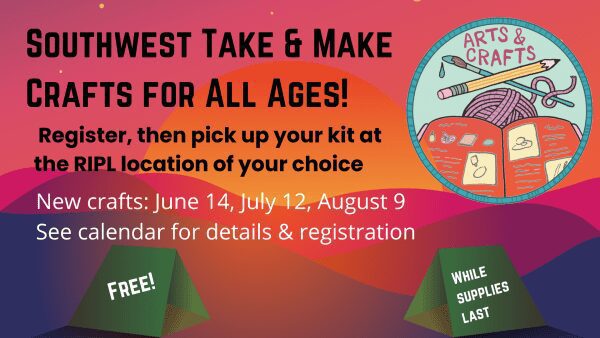 New Blues Night Coming To Rhythm City
We will be hosting the first Rhythm City Casino Blue's Night on Friday, July 15, 2022 at 6:30 p.m. in the Event Center. Tickets are $25 & $35 plus applicable online/phone ticketing fee (this fee is waived when tickets are purchased at The Market Gift Shop inside Rhythm City Casino Resort). All ages are welcome to attend. Tickets in the ADA section are for patrons with mobility disabilities and up to three companions. If companion seating is not available because the ADA section is sold out, Rhythm City Casino Resort will offer other seats as close as possible to the accessible seat, if available, at the purchase price of the original section.
Our featured acts for the night will include Jamiah Rogers, Hal Reed and the headliner Ana Popovic. Jamiah is a Blue's artist from Chicago who takes heavy influence from the legendary Jimi Hendrix, while Hal is a local legend and a Blues Hall of Fame member.
Celebrating 20 years as a touring musician, the award-winning guitar player, singer and songwriter Ana Popovic releases 'Live for LIVE', an exciting hour and a half CD & DVD demonstrating why she's proudly looking back at a career of thousands of shows worldwide. This high-energy concert showcases not only Ana's mesmerizing guitar skills but also her fabulous band, successfully merging musical styles. She's called "one helluva a guitar-player" by Bruce Springsteen and nominated for seven Blues Music Awards nominations. Her albums 'Can You Stand The Heat' and 'Unconditional' were USA Today Picks-Of-The-Week and featured on NPR Weekend Edition, who praised her "Fiery technique on the Stratocaster". Nearly all of Ana's albums reached the top of the Billboard Blues Charts. She and her six-piece band have toured tirelessly, sharing stages with B.B. King, Buddy Guy, Jeff Beck, Joe Bonamassa and many others.
Like his father, Jamiah is also a multi-instrumentalist featuring drums, guitar, bass, piano and organ in his repertoire. At the age of 15, he started his first power trio band, Jamiah On Fire & The Red Machine. Jamiah was the lead vocalist and guitarist. In 2017, Jamiah recorded his first solo release, Blues Superman.
Hal Reed has a four-decade long tenure in Southern Gospel, Soul, and Blues music. He has headlined for several Gospel Festivals and toured over the last 30 years as Men of Blues and Mississippi Journey. In 2005 and 2020, Hal earned a spot at the International Blues Challenge, and in 2021 he was inducted into the Blues Hall of Fame. He has been featured in Big City Blues Magazine and in the on-line magazine, Blues Blast.
 About Rhythm City Casino Resort: Rhythm City Casino Resort (rhythmcitycasino.com) combines a Vegas-inspired casino experience with the amenities of a 106 room hotel, full service spa, shopping, three exceptional dining options, and a 1,600 seat event center. Visit us at 7077 Elmore Avenue, Davenport, IA of the Quad Cities.
Playcrafters Holding 'Raisin In The Sun'
Playrcafters Barn Theatre is proud to present "A Raisin in the Sun" by Lorraine Hansbury this July!
Directed by Gaye Shannon Burnett, "A Raisin in the Sun" will play the famed Moline barn July 15-17!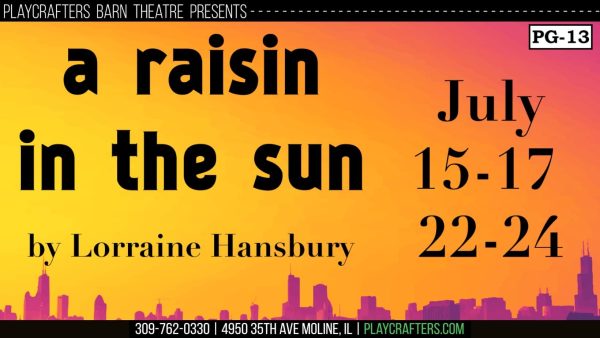 Set on Chicago's South Side, the story revolves around the divergent dreams and conflicts within the Younger family. When her deceased husband's insurance money comes through, Mama Lena dreams of moving to a new home and a better neighborhood in Chicago, while her son, Walter Lee, a chauffeur, yearns to buy a liquor store and be his own man, and his sister Beneatha wants to go to medical school. The stakes climb as questions about identity, class, value, race, and love become forefront issues, and outsiders make it impossible to forget the world that the Younger family cannot seem to escape. This family's heroic struggle to retain dignity in a harsh and changing world is a searing and timeless document of hope and inspiration.
For details & tickets visit Playcrafters.com!
Skynyrd Rocking TaxSlayer Center
Lynyrd Skynyrd will bring their Southern style rock to Moline's TaxSlayer Center July 16 as part of their Big Wheels Turning tour.
The Hall-of-Fame band, which contributed to the popularity of the southern/country rock genres with iconic classics like "Free Bird" and "Sweet Home Alabama", has sold over 28 million albums, three of which have gone Double-Platinum, in addition to another single Platinum album under their belt.
The concert will also feature a special guest and rising country star Chris Janson, singer of the Triple-Platinum 2015 single "Buy Me a Boat."
Tickets will be up for sale beginning Friday, May 16 at 10 a.m. on Ticketmaster, with official prices ranging from $35 to $150.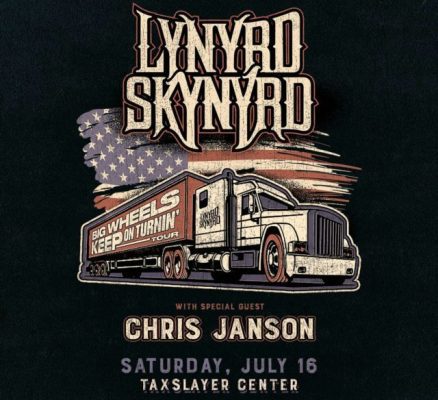 Bettendorf Outdoor Concert Series Offers Great Tunes
The Bettendorf Public Library's wildly popular Summer Concert Series is back from its hiatus and is returning to Faye's Field on Thursday nights at 6:30 PM.
Faye's Field is located just south of the Library on 18th St in Bettendorf.
These free concerts will take place every Thursday from June 2nd through August 11th and will be held come rain, shine or oppressive heat.
In case of inclement weather, the backup location will be inside the Library at 2950 Learning Campus Dr. in the Bettendorf Room.
Attendees are encouraged to bring lawn chairs or blankets and are welcome to bring food and drinks to enjoy during the event.
The Summer Concert Series is funded by the Bettendorf Public Library Foundation.
This year's concert line-up includes:
July 14: Crooked Cactus Band
July 21: Avey Grows Band
July 28: Class of '82
August 4: David G. Smith
August 11: Soul Storm
ABOUT the Bettendorf Public Library Information Center: Located at 2950 Learning Campus Drive, Bettendorf, Iowa 52722, the Library's mission is "Committed to providing access to information and ideas for all." For more information, visit www.bettendorflibrary.com or call 563-344-4175.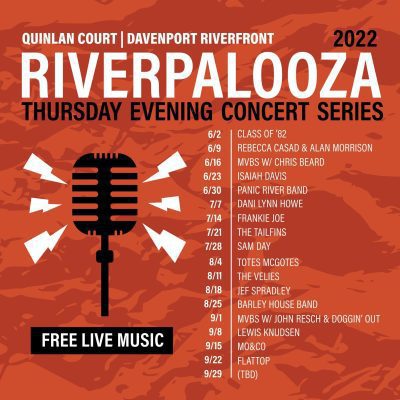 Check Out The Quad-Cities Latest Outdoor Music Venue
Free music from local artists will rock Davenport's newest riverfront venue, Quinlan Court every Thursday!
Front Street Brewery and local food trucks will be onsite for food and beverage purchases.
Food trucks and beverages at 6:00 p.m. with music starting at 7:00 p.m.
Learn more here: davenportiowa.com/riverfront
Featured artists upcoming include: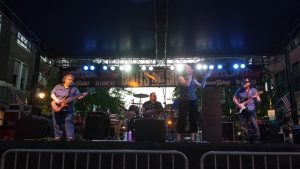 July 7 | Dani Lynn Howe
July 14 | Frankie Joe
July 21 | The Tailfins
July 28 | Sam Day
August 4 | Totes McGotes
August 11 | The Velies
August 18 | Jef Spradley
August 25 | Barley House Band
September 1 | MVBS w/John Resch & Doggin' Out
September 8 | Lewis Knudsen
September 15 | Mo&Co
September 22 | FlatTop
September 29 | TBD
River Music Experience's Live At 5 Rolls Out All Summer
It's that time of year, the 2022 season of Live@Five is taking place in Davenport's RME Courtyard Fridays at 5pm for FREE live music.
7/15 – Soul Storm
sponsored by MidAmerican Energy
7/22 – Jumbies
sponsored by IH Mississippi Valley Credit Union
7/29 – The Dawn
sponsored by Dahl Ford
8/5 – Matt Fuller Band
sponsored by QC Foot & Ankle Associates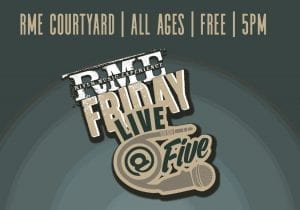 8/12 – Funk Sauce Brass Band
sponsored by Downtown Davenport Partnership
8/19 – Diplomats of Solid Sound
sponsored by The Echo
8/26 – Beaker Brothers
sponsored by Nelson Brothers Agency & West Bend Mutual
9/2 – Crooked Cactus
sponsored by Pierce's Promise
9/9 – Blues Rock-It
sponsored by Lobo's Salsa
9/16 – Flash In A Pan
sponsored by Wind Dancer Boutique
9/23 – Jordan Danielsen Band
sponsored by The Planning Center
9/30 – Orangadang
sponsored by Zeke's Island Cafe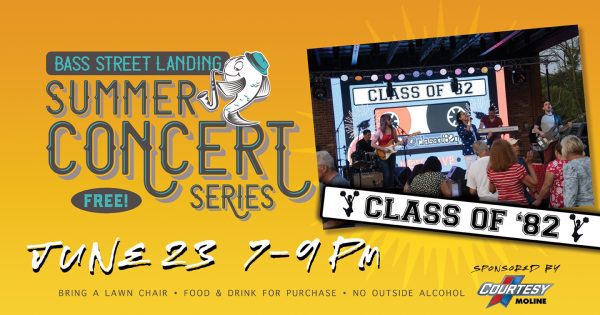 Check Out The Summer Outdoor Concerts At Bass St Landing
With summer comes the sound of live outdoor music in our downtowns!
Enjoy this free summer concert series every Thursday night through August 11th in Downtown Moline!
Moline Centre's Thursday Night Summer Concert Series takes place from 7:00 p.m. to 9:00 p.m. on the Plaza at Bass Street Landing.
All you need to bring is a lawn chair!
There will be food and beverages are available for purchase but no outside food or beverages allowed.
Make Mercado A Regular Friday Stop All Summer
Moline's Mercado On Fifth is back!
Bringing Back Mexican Cuisine, Culture And More Fridays through Sept. 10 from 5 to 10 p.m. at 432 12th Street in Moline, everyone can get the weekend started right with Mercado! There will be a variety of children's activities, delicious Mexican cuisine, and unique retail stands selling everything from jewelry to hand-sewn blouses and imported ceramics.
Mercado on Fifth is not just a market; it serves as a resource and catalyst for aspiring entrepreneurs. The weekly events bring Quad Citizens together to celebrate culture and community in an inclusive way. Educational programming at Mercado provides enrichment hours for children, and free nonprofit booth space gets helpful information to adults.
By addressing the specific needs of small businesses in the area, Mercado on Fifth and its partners have helped create and/or provide a platform for 30 new minority-owned businesses in the Quad Cities region. Most vendors have taken advantage of our free small business workshops (in Spanish and English) in partnership with the Illinois Small Business Development Center at Western Illinois University (SBDC). Through the management of the SBDC, we also started a micro-grant program for minority entrepreneurs to purchase equipment for their businesses. Over the past two years, Mercado founder Bob Ontiveros has given away over $62,000 to over 40 minority-owned businesses to purchase anything from food warmers to an industrial sewing machine.
Black Hawk College, another valued partner, also began offering the Food Sanitation Management class in Spanish at the request of Mercado leadership. Previously, Spanish speakers interested in becoming a kitchen manager or starting a food business had to drive to Chicago to take the class. Finally, Mercado on Fifth supported the creation of a commercial kitchen located within St. John's Lutheran Church just blocks away from the Moline event space, thus completing the entrepreneurial eco-system. Mercado vendors and other small businesses now rent the kitchen for a small hourly fee.
Go ahead and block out your Fridays because Mercado On Fifth is where you are going to want to be this summer.
Advertisement
ate Downtown Davenport venue July 8, 9, 15 and 16 at 8pm with doors opening at 7:30pm. The Mockingbird On Main is now a Pay What You Can venue and guests pay via cash or Venmo at the door. For further details, guests can visit TheMockingbirdOnMain.com.
LA Guns, Faster Pussycat, Rocking The Rust Belt
L.A. Guns & Faster Pussycat will rock The Rust Belt at 7 p.m. TONIGHT!
Want tickets? Click HERE!
L.A. Guns
L.A. Guns never looked like the pretty poster boys that so many of their peers did, but more the band that you would be terrified to bump into in an alley as they would likely be carrying switchblades and ready for a fight. But despite having many songs to back up that image, the band could also write powerful ballads (see the smash hit, "The Ballad Of Jayne" for Exhibit A of this argument) that showed there were some serious songwriting chops in the band. Those chops are on full display on the band's two most recent studio albums and the upcoming new album, "Checkered Past," arguably one of the most vital and exciting releases in the band's catalog.
L.A. Guns was formed in 1983 by guitar player Tracii Guns and, then unknown singer, Axl Rose on lead vocals. The Classic Lineup of Guns, former Girl singer Phil Lewis, Steve, Kelly & Mick, have sold 6 1/2 million records, including 1988's L.A. Guns and 1990's Cocked and Loaded, both of which were certified Gold. Cocked and Loaded contained the hit single "Ballad of Jayne" that went to #33 on Billboard's Hot 100 and #25 on the Mainstream Rock charts.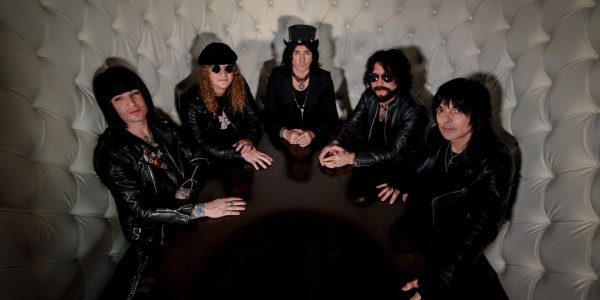 Following their successful performance at SiriusXM's HairNation Festival in May of 2016, L.A. Guns went into the studio to record the critically acclaimed, The Missing Peace, the highest selling release for Frontiers Music in 2017. Their 12th release, The Devil You Know, released 2019 to the same critical acclaim. Their new album Checkered Past was released in November 2021.
Since reuniting, Tracii and Phil continue to tour around the world with L.A. Guns which includes Shane Fitzgibbon (drums), Johnny Martin (bass) and Ace Von Johnson (guitar).
Faster Pussycat
Faster Pussycat rose from the depths of the mid-'80s Hollywood rock scene, taking the Sunset Strip by storm with a sound that wasn't glam and wasn't punk, but blistered somewhere in between. With an attitude and swagger all its own, their self-titled debut featured the instant classics "Babylon," "Bathroom Wall," "Cathouse" and "Don't Change That Song," and its follow-up 'Wake Me When It's Over' climbed even higher with the radio hit "House Of Pain," "Poison Ivy" and "Where There's A Whip There's A Way."
Despite their successes, Faster defied the mainstream mold and always followed front man Taime Downe's underground sensibilities. The gold and platinum records are nice, but Taime considers his greatest accomplishment to be longevity. "The only number that really matters to me is the number 35. Three and half decades later, Faster Pussycat are still rocking, and it feels as fresh as it did in 1986." Look no further than their 2021 releases "Nola" and the Johnny Thunders cover "Pirate Love" – Faster Pussycat are as virile and tenacious as ever… and won't have it any other way.
Yoga In The Park
The Davenport Public Library will be holding Yoga and Stories Fridays in June |Vander Veer Park at 10am.
This summer the library is bringing yoga and stories to Vander Veer Park! Bring your yoga mat or a towel and join us near the playground. Afterwards we'll have a fun craft and selected items available for check out from the OWL (Outreach Wheeled Library). Best for ages 4-10.
This program will be held outdoors. In the case of inclement weather, it will be in the canceled.
Learn more, by visiting:https://davenportlibrary.libcal.com/event/9105674.