Till Death: Wedding & Mourning Traditions
Muscatine Art Center (1314 Mulberry Avenue Muscatine) presents their latest exhibit, 'Till Death: Wedding & Mourning Traditions' this Tuesday Jun 9.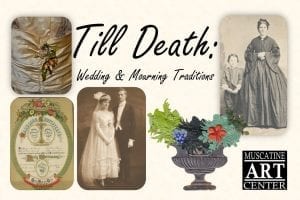 In this exhibition featuring dresses and other artifacts from the Muscatine Art Center's permanent collection, the focus is on how Iowans exchanged vows and laid to rest their loved ones and how those customs changed over time. Visitors may be surprised to discover wedding dresses made in a variety of colors and fabrics such as wool, crepe, silk, satin, and even cotton. Some are heavily embellished while others are plain – both styles dictated by the trends of the day and the wearer's wealth and status.
*The Muscatine Art Center reopens June 9, 2020 with reduced hours Tuesday – Friday, 10 a.m. to 4 p.m., Saturday/Sunday, 1 to 4 p.m.
To protect your health and that of our staff and volunteers, please wear a mask when visiting. For up-to-date details, call 563-263-8282 or visit www.muscatineartcenter.org.
---
For more fun things to do in the Quad Cities this week, check out the latest issue of FUN10QC.