Patty's Pummel Palace Rage Room Re-Opens!
Have any pent-up anger right now? Looking for a way to therapeutically rage? Well, you're in luck!
Patty's Pummel Palace (3217 Avenue of the Cities Moline) celebrated their Rage Room Re-Opening this past Friday May 29.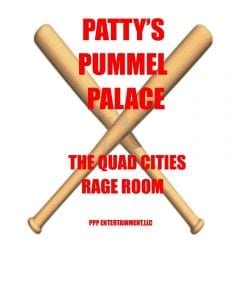 You once again have the option of the package options of Hissy Fit, Tantrum and Furious Rage, depending on how the past couple of months have gone for you.
Worried about your safety when venturing away from home? Well, have no fear. The following statement was released on Patty's Pummel Palace's Facebook page:
"Someone sent a question in messenger relating to our safety gear that you use while smashing. Yes, we will be washing the coveralls and gloves daily and spraying with lysol between users. You may wear your own clothes if you wish, long sleeves and pants, closed shoes. The hard hats and glasses are disinfected between users. You will be required to use hand sanitizer before putting on the safety gear as well, and we recommend using after you are finished as well. Masks are required to enter the business!"
So, there you have it. You can now safely let off some steam. But reservations ARE required! To make your reservation today, visit https://www.pattyspummelpalace.com/.
It's time to get your RAGE out!
---
For more fun things to do in the Quad Cities this week, check out the latest issue of FUN10QC.