High Demand Spurs Circa To Add 'Music Man' Shows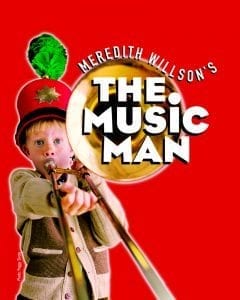 Now into it's third week at Circa '21 Dinner Playhouse in downtown Rock Island, THE MUSIC MAN is charming audiences and critics alike!  "We've had wonderful response to the show" said Brett Hitchcock – Director of Audience Development. Local critics have also enjoyed this delightful musical with such comments as "Music Man was Terrific" River Cities Reader; "The Music Man is a thrilling ride on board a veritable American (and Iowan) classic" Dispatch/Argus; and "Circa '21's The Music Man is a triumphant success" quadcities.com.
The theatre is happy to announce that it's added two special show-only performances on Saturday, April 8th and Thursday, April 13th.  The schedule is the same for both shows with doors opening at 12:00 and the show beginning at 12:30. Tickets are $25 for adults and $18 for those 18 and under.  "We want to give everyone a chance to see this incredible production that takes place in River City, Iowa" Hitchcock said. "With the reduced price for these two performances we are hoping to pack the theatre!
Reservations are available through the Circa '21 ticket office. For reservations, contact the theatre at 1828 Third Avenue, Rock Island or by calling (309) 786-7733 extension 2.
Funny, warm, wicked, romantic, and touching, THE MUSIC MAN is family entertainment at its very best to be shared with every generation, and composer Meredith Willson's six-time Tony Award-winning musical comedy has been captivating audiences since its Broadway debut in 1957.
The show follows fast-talking traveling salesman Harold Hill as he cons the people of River City, Iowa, into buying musical instruments and uniforms for a boys' band he vows to organize – this despite the fact that he doesn't know a trombone from a treble clef.  What follows is a madcap yet sweet-natured musical comedy in which our lead is transformed by his true love for the town librarian Marian, and audiences can't help but tap their toes and hum along to songs from THE MUSIC MAN that have gone on to become timeless standards: "Trouble," "Seventy-Six Trombones," "My White Knight," "Wells Fargo Wagon," "Gary, Indiana," and the heartfelt romantic ballad "Till There Was You."
Don't miss your chance to see THE MUSIC MAN at Circa '21 for less on April 8th and 13th!