BREAKING: Illinois Students, Teachers BANNED For Covid By Pritzker Order; Will Your School Be Impacted?
BREAKING NEWS: Illinois students, teachers and school staff with confirmed and probable covid-19 infections are now required to be banned from schools and school activities due to an executive order signed by Illinois Gov. JB Pritzker.
The executive order, signed late Friday night, states that people are required to remove themselves from schools or school activities if they have covid-19 or knowingly have been in close contact with someone who has the virus.
The order states schools must exclude any student or school personnel with confirmed or probable cases of COVID-19 for at least 10 days, while those who have been in close contact with someone with covid are ordered to stay out of schools for at least 14 days.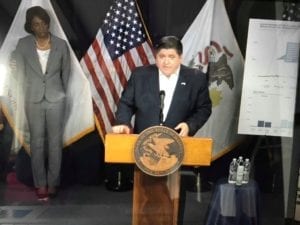 However, the order also allows that local health officials can reduce those numbers to 10 days for close contacts and seven days for confirmed cases if a negative covid test is shown before that seven day period.
Schools are also ordered to provide remote learning opportunities and virtual education for those students who are excluded from school due to having covid or exposure to it.
"The schools and local health departments are helping to separate people, to quarantine them, to keep them from infecting other people and to give them the opportunity to test and then come back into the institution," Gov. Pritzker said in announcing the order.
More than 125 schools statewide — including several in the Quad-Cities area — have been hit with significant outbreaks of covid, according to the Illinois Department of Health. As of Friday, 128 outbreaks were active and causing significant absenteeism, according to the IDPH.
Some of the worst outbreaks have been occurring in western and southern Illinois.
IDPH releases data each week showing COVID outbreaks from the previous 30 days at schools across the state.
Some parents and officials across the state are calling for Gov. JB Pritzker to reinstate remote learning, with some parents in Chicago suburbs protesting to ask for remote learning options.
In early August, Pritzker announced Illinois students preschool through 12 would be required to wear masks during school and indoor sports and activities, as reported on QuadCities.com. That requirement for kids to wear masks in all schools remains in effect.
For more ongoing coverage of this situation, stay tuned to your free, fact-based alternative media, QuadCities.com.