Wise Men Ninja Wizards, Forty Twos, That Dam Shopping Trip, And More In This Week's FUN10
It's Sunday, and QuadCities.com proudly presents Fun10, a list of the top 10 things to do in the Quad Cities this week, and every week!
Every Sunday, we drop a new Fun10, to give you a head start on your week and a heads up on what's going on over the coming seven days. Check out Fun10 every Sunday for the details on ten awesome events happening around town. It's a cool read, and a great way to get started planning your entertainment for the week.
FUN10 — ten ways for you to have fun in the Quad-Cities, this week and every week, running every Sunday, only on your site for fun, free, local entertainment, QuadCities.com!
So what's on the Fun10 for this week? Read on …
What If The Three Wise Men Were Ninja Wizards?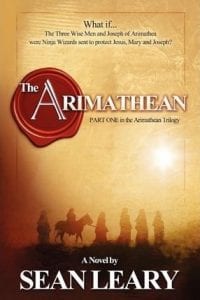 In the action-packed fantasy novel The Arimathean, the three wise men and Joseph of Arimathea are ninja wizards, part of a secret society of warriors of the supernatural, who are entrusted to protect Joseph and Mary on the road to Bethlehem as King Herod and a cadre of demons led by Satan attempt to kill them before Jesus can be born!
It's a wild, fun, roller coaster ride of a novel that tells a totally different and fantastic version of the Christmas story!
The novel will be signed by its author, Sean Leary, from noon to 4 p.m. Sunday, Nov. 28, at The Book Rack, 4764 Elmore Ave., Davenport.
Get yourself or someone on your Christmas list a fun and action-packed novel, get them The Arimathean!
Forty Twos, With The Whiffs And Five A.M. Coming To Raccoon Motel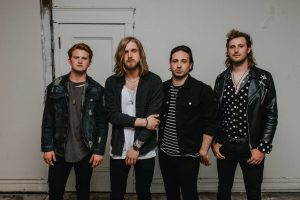 The Forty Twos, with opening acts The Whiffs and Five A.M. are coming to Davenport's Raccoon Motel, 315 E. 2nd St., at 8 p.m. Friday, Nov. 26!
For tickets and more info, CLICK HERE!
Quad City Arts Presents 'Art On Lockdown'
Through December 3, Quad City Arts presents "Art on Lockdown." This diverse exhibition features 80 works of art by 67 regional artists. The public is invited to celebrate creativity at the opening reception on October 15 from 6-9 pm where most artists will be present, and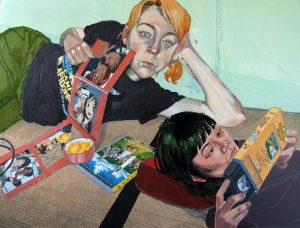 refreshments will be served.
As "Shelter in Place" began in March 2020, Quad City Arts' staff searched for different ways to connect with the community and for a way to encourage artists to keep creating at a confusing time. As most non-essential workers found themselves working from home or not working at all, they needed something constructive to fill their time. Creativity helps people cope with isolation, anxiety, and boredom by refocusing the brain. In 2020, creativity showed up in many ways as people learned how to bake bread, speak a new language, play an instrument, or create visual art.
To motivate artists, Quad City Arts decided to hold a no-fee competition with the goal of showing selected works in the Rock Island Gallery. Artists could continue working as they had before the pandemic or try something completely different. The plan proved to be successful since 187 entries were received, many by artists unknown to us previously. Some of the selected artists had never shown work in an art gallery before, so this challenge represents an exciting breakthrough for them.
The artwork was not required to reflect the pandemic, but since it was top of mind, artists did react to the events of 2020. Many of the artists wrote about what inspired them to create their entries and those words are on display next to their art. Painter Caitlyn Doran wrote, "Goro goro is the Japanese onomatopoeia for lazing about. I just moved back to the states from Japan, and I never imagined this idle a life was waiting for me."
All of the artist's works can be viewed and purchased online at https://www.quadcityarts.com/rock-island-gallery.html
That Dam Shopping Trip Swimming In This Week
That Dam Shopping Trip, a bi-state shopping tour of downtown Rock Island and Davenport small businesses, is back for 2021 and will be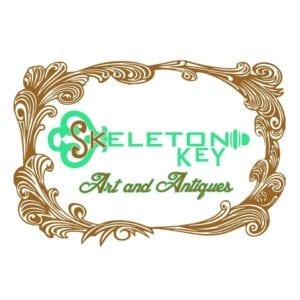 taking place Friday, November 26 and Saturday, November 27 from 11 am to 5 pm. Ten businesses, skirting both sides of the dam, will offer sales and prizes as they welcome customers to our downtown on Black Friday and Small Business Saturday.
That Dam Shopping Trip is a free event, and shoppers can pick up their stamp sheet at any participating location, visit the stores in any order, and turn in completed stamp sheets at their last stop. Each of the stores has donated a $100 gift certificate, and one lucky winner who turns in a completed stamp card will walk away with $1,000 in gift certificates to these local businesses just in time for holiday shopping.
Organizer Skeleton Key Art and Antiques is being joined for this event by Tastebuds, Vintage Varieties, Brick and Motor, and Just Beachy Home+ in Rock Island, and Abernathy's, Chocolate Manor, Theo & Company, Doodads, and the Figge Museum Store in Davenport.
For more information, check out That Dam Shopping Trip on Facebook at www.facebook.com/damshopping or contact Brandy VandeWalle at (309) 314-1567.
Channel Cats Playing At RIBCO
Ready to check out some fun classic rock?
Come on down to downtown Rock Island!
At RIBCO, Saturday night from 9 p.m. to 1 a.m., The Channel Cats will be performing!
Davenport Public Library Holding Teen Events
The Davenport Public Library invites all teens ages 11-19 to DIY Teen!
Clay Agate Ornaments – Tuesday, November 23rd at 6:00 pm at Fairmount: Have some FIMO Clay fun as we learn to make stunning faux agate ornaments. Registration is required at: bit.ly/dpl-teenclayagateornaments.
These programs are hosted indoors. Your family's safety is important to us. Masks are recommended for teen attendees. Please observe social distancing and follow local COVID-19 safety recommendations. These programs are subject to COVID-19 safety protocol updates. Check our Facebook page for updates.
These events are FREE and open to the public. For more information visit www.davenportlibrary.com or call the library at (563) 326-7832.
Walk Through A 'Winter Wonderland' With Circa '21
For the theatre's holiday 2021 production in its spectacular 44th season of live entertainment,  Circa '21 Dinner Playhouse is treating family audiences to a special holiday gift: the yuletide musical revue WINTER WONDERLAND. This charmingly festive stage delight will charm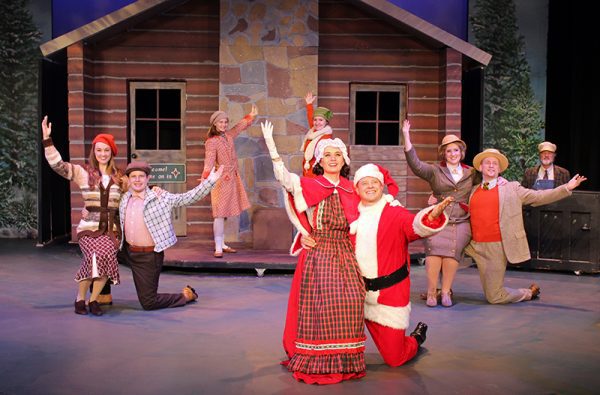 audiences with its magical blend of laughs, sentiment and beloved songs from the past, and it's being brought to life by a marvelous team of professional talents.
WINTER WONDERAND will be presented at Circa '21 through December 29, with performances on Wednesday, Friday and Saturdays evenings at 7:45 p.m., Sundays at 5:45 p.m. and Wednesday matinées at 1:30 p.m. Ticket prices are $53.55 for the evening dinner-and-show productions and $46.73 for the plated-lunch matinées.
Reservations are available through the Circa '21 ticket office. For reservations, contact the theatre at 1828 Third Ave., Rock Island, IL. or by calling 309-786-7733 ext.2.
In this heartwarming musical tale, a dad wishes to celebrate an old-fashioned Christmas like the ones of his youth leads him and his family first to a historic Christmas-tree farm, and then on a magical journey to the year 1921, where he learns that while remembering the past is important, the best way to hold on to tradition is to enjoy the Christmas present! Written for Circa ·21 by longtime Bootlegger and frequent mainstage actor Brad Hauskins, WINTER
WONDERLAND is a nostalgic celebration of family that will leave audiences of all ages filled with the peace and joy of the holiday season.
Hauskins' musical revue originally was presented at Circa '21 during the 2000 holidays, and while his new version retains the former show's title, situation and characters, it is now being staged with a new storyline and a new score of old favorites arranged and orchestrated by the author, Laura Hammes and Mason Moss. As Hauskins explained of this new WINTER WONDERLAND, you'll hear a lot of traditional Christmas music, but a little differently from what we did 20 years ago. And all the songs are songs from that [1921] era, but they're not necessarily all Christmas-themed · there's some Irving Berlin and other songs that we've sort of incorporated into the storytelling."
He continued, There's a lyric in the song 'Winter
Wonderland' that weighs heavily into the show: 'To face unafraid the plans that we made.' And to me, that was the hook of what I'm trying to say. That's what living in the present day means. We make plans, we celebrate this holiday in spite of all the things that are going wrong and we face our plans unafraid. That's a really appropriate statement for what we're trying to do."
Directing WINTER WONDERLAND for Circa '21 is Sean McCall, former artistic director at the Old Creamery Theatre in Amana, Iowa, who also directed the Rock Island theatre's smash-hit comedy Shear Madness in 2016. And with the show's gifted cast of 10 including first-time Circa '21 performers Wrigley Mancha (Quad City Music Guild's Matilda: The Musical), Mark Leo McGinn (Music Guild's The Drowsy Chaperone), and local eighth-grader Cameryn Bergthold, seven familiar talents are returning to the Rock Island stage: Ashley Mills Becher (Saturday Night Fever), Bobby Becher (Irving Berlin's Holiday Inn), Derrick Bertram (Newsies), Erica Lee Bigelow (Disenchanted), Savannah Bay Strandin (Beehive: The '60s Musical), Tristan Layne Tapscott (Kinky Boots), and Krianna Walljasper (Annie).
Circa '21's entire team is ecstatic to welcome audiences back for the holidays after last year's unanticipated season off and urges patrons to make reservations early for what will no doubt be an unforgettable night of stage magic and merriment. Call 309-786-7733 ext. 2 for reservations and treat your whole family to the glorious stage celebration that is WINTER WONDERLAND!
Live On Tuesday Night, It's Trivia Night Live!
Trivia Night Live is rolling into The Tangled Wood in Bettendorf every Tuesday at 7 p.m.!
It's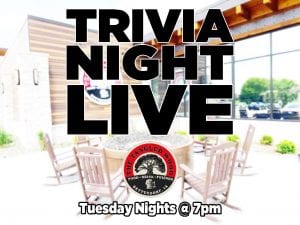 Free To Play, with up to eight people per team playing in various categories.
What is Trivia Night Live?
Trivia Night Live is a live interactive team trivia game played at your favorite restaurants and bars. The game consists of four rounds of questions of increasing difficulty and point values. Categories range from current events, history, geography, science, sports, and more….
Trivia Night Live is free to play, and you can have up to 8 members on a team.
Prizes are awarded for the winner of the 1st half and the overall winners win a $25 gift card for 1st Place, $10 for 2nd Place (cannot be used the same night).
We ask a question, and then play a song. Your team has the duration of that song to turn in your answer. No cell phones. web devices or smart watches can be used, just the useless trivial knowledge contained between your ears.
#LiveFromDavenportItsTriviaNight
presented by Think & Drink Entertainment.
Bootleg Hill Open Mic Every Thursday
Looking for a spot to showcase your talents?
How about the Bootleg Hill open mic night?
The musical open mic night is back. Happening weekly at Bootleg Hill Honey Meads in downtown Davenport. All are welcome. Hosted by Dan Fennesy and starts at 8 p.m.
Want To Watch Some Classic Movies?
Join Davenport Public Library every third Wednesday, through December 15th at 2:00 pm at Eastern (6000 Eastern Ave.) as we watch classic movies starring your favorite actors and actresses! For your safety, we will not be serving popcorn or refreshments. However, you are welcome to bring your movie snacks and covered beverages! Space is limited so registration is required at: https://bit.ly/dpl-afternoonclassics.
This event is FREE and open to the public. For more information visit www.davenportlibrary.com or call the library at (563) 326-7832.