World Relief Quad Cities Boasts Beautiful, Colorful World Mural, by Mexican Immigrant
Saturday in the Arts is a weekly feature covering a trend, subject, event or personality of local interest. It runs every Saturday morning on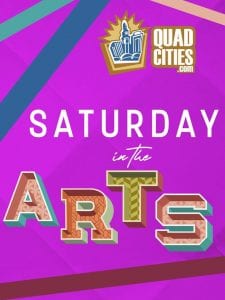 your site for the best entertainment and arts coverage in the area, QuadCities.com!
Over two weeks in summer 2019, Alejandro Martinez literally had the whole world in his hands.
A Mexican immigrant who made a living as a painter in his home country, he was asked by World Relief Quad Cities director Laura Fontaine to paint a world map mural on one wall of their conference area, at 1852 16th St., Moline, Martinez's daughter Alejandra – who graduated from Augustana College in 2020 – then interned for the nonprofit organization that helps immigrants resettle in the area.
He used to do murals and signs for companies and businesses in Mexico as a living, and his father used to do portraits and canvas oil paintings to sell to clients who requested them, Alejandra, now 26 and immigrant coordinator for World Relief, said recently. "Clients could come and maybe find their country, or simply see that we value and welcome everyone that walks through our doors," she said. "The world is rich and diverse, so that is what we wanted depicted in the mural."
"We intentionally wanted an artist that was a New American to do this mural," Fontaine said recently of the gloriously colorful and accurate
artwork. "When we found out that Alejandra's father was an artist in Mexico, we spoke with him and he said sure, find what you want and I'll donate my time — amazing!"
"As a team, we decided that a mural of the world really encompassed our mission and gave us a visual reminder of the importance of the work we do and our common humanity," Fontaine said. "The mural is abstract, bright, and fun — it is everything we wanted. Its painterly style is reflective of all different cultures and people we serve."
They wanted to paint the office regardless, to make it prettier, and Fontaine suggested the mural in 2019. She didn't know anybody willing to do it, and wanted an immigrant if possible, Alejandra said.
The process to paint it took about two weeks, after researching to include details like islands
across the globe. Her father didn't come every day to paint, but mainly on weekends – if he were to work all day, it would have been three full days. He has worked for HON in Muscatine for 13 years, now as a machine operator, previously as a welder.
Alex didn't want to get paid for it. "I wanted to give it; I wanted to bring something to the table, from what I could do," he said (in Spanish, translated by his daughter), noting it didn't matter that Alejandra worked there. "If they would have called me from somewhere else, and told me they were an organization like this, I still would have done it."
Now, he doesn't have time to do freelance painting because of his job. Alex likes painting most by adding a surprise touch that people would not expect. "That's why many people would look for me specifically," he said.
On the world map, he said he added a small shadow as a surprise. He made it so colorful, based on how the picture of a map he was given looked. Alex used a cloth as well as brushes to create the mural. The walls were already painted sky-blue, and it was perfect to provide the oceans for the map.
World Relief is a nonprofit agency providing services to refugees and immigrants in Western Illinois and Eastern Iowa. They provide financial, emotional, cultural, and spiritual support to refugees – victims of war and persecution around the world – who are being placed in the Quad-Cities.
World Relief Quad Cities has been standing for the vulnerable for more than twenty years. Previously World Relief Moline, World Relief Quad Cities began serving refugees in 1999 as a sub-office of World Relief Chicago. Since 1999, it has served over 2,500 refugees, immigrants, and secondary migrants in Rock Island County.
A challenging journey to Q-C success
The Martinez family came to the Quad-Cities in 2005, in search of safety and better educational opportunities.
"Transitioning to the U.S. was difficult since we did not speak any English and missed our family a lot," Alejandra said, noting she has two younger brothers – Carlos is 25 and Marcos is 17. Their family is from Guanajuato, Mexico – where many Latinos in the Q-C are from.
Alex first moved to California on his own in 1982 (before he was married), working in the fruit and vegetable fields in Ventura County. He was there for five years and returned to Guanajuato. Alejandra was born in 1995.
Her grandfather had a car accident and was paralyzed when he was about 19. Alejandro is one of nine children, and his father painted in his wheelchair. "That's what made me leave school and go to California to work," he said. "Everything I earned, I sent to them."
"Painting came easily to me – I would paint however the client would want me to do it," Alex said. "Sometimes they would just give me an idea and I'd go from there. After we came here, many people looked for me and wanted me to do work for them, but I wasn't going to go back to Mexico. I had a lot of work. A doctor wanted to pay my flight so I would decorate his home and do some clouds on the ceiling."
Alejandra's uncle moved to California in 1986, later moving to the Quad-Cities in the '90s, where he applied for citizenship. She and her brothers were all born in Mexico and they applied in the Q-C for residency.
"My mother, my two brothers and I moved here in 2005," Alejandro said. "I would come here to work and go back to California." In the Q-C, he worked at XPAC and Farmland Foods, before HON. He hasn't done much paid painting work in the Q-C area.
They first lived in Carbon Cliff and Alejandra went to Eagle Ridge School in Silvis (5th grade). "For about a year, my brother and I went to a public school that did not provide help with English classes or ESL, so I was allowed to freely color during lectures, since I could not understand the teacher. Although my parents tried advocating for us, they encountered
discrimination and little help. Despite the challenges, however, we met a very welcoming and friendly community in school and in our neighborhood."
"When I started school, I didn't know how to take the school bus and I didn't speak any English, so it was very difficult. The school couldn't assign anyone to help us with English or ESL. There was no need previously."
The first year, she was just given paper and crayons to color and doodle, and didn't participate in classes. They eventually got a tutor to work with them on English once a week, where they started learning the language. At Glenview Middle School in East Moline, things improved.
"It was a long process, because at first we didn't have formal schooling for English," Alejandra said. "It was mainly listening to classmates talk. I had one good friend, also a neighbor, and she would talk to me with signs and really big facial expressions. I kind of learned as a baby would learn, probably. She would use Google Translate on the computer."
She didn't speak a word of English for her first year here, but learned with her friend. At Glenview, they had ESL classes, and caught up with English in 6th grade.
Her ESL teacher encouraged her to go to Rivermont Collegiate in Bettendorf for high school. Alejandra's teacher said it would be hard, but she could do it with help, and her parents are very strong in education, which was one of the reasons they moved to the U.S. "My parents were on board right away, and said yes, we'll do as much as we can financially to support me."
She received a good amount of financial aid, to cover most of her tuition, and graduated in 2013. At the time, Rivermont had foreign students from India, Peru, as well as mostly Caucasian students (no other Mexican students). "I also felt different because I was of a lower socio-economic status," Alejandra said. "I was the only student that had come from a public school. Most students there had studied at Rivermont since kindergarten."
Her Glenview ESL teacher, Mrs. Mojica, really helped her get into Rivermont. "Mrs. Mojica went beyond her duty and met with me during the summer to read 'Henry V,' a required read for my first day in high school," she recalled. "In 2013, I graduated with honors from Rivermont Collegiate, with the help and support of Glenview Middle School and Rivermont teachers."
Her family moved back to Mexico in summer 2013 for six months, since her father would make more money there as an artist. "People think I make a lot of money here because they think I'm painting, like how I did in Mexico," Alex said. "If I were working in Mexico, I would make more money than what I make here. In those days, I would make like $500 a week, back then in Mexico. Most people would earn about $50 a week, and I would earn $500 a week just painting."
Why return to the Quad-Cities?
They moved back to the Q-C for two main reasons.
"One, that some people were doing injustice to us because of corruption, and they took my mother-in-law's house away," Alex said. "They were people of much power and money, and they would buy out the judges."
"The second is the violence. There is no safety there," he said. "Since my children were small back then, so we decided with my wife to come back to the United States."
His grandmother's life also was threatened in Mexico. "Since my wife always went with her mom everywhere, my wife was just tired of being in Mexico," he said.
Alejandra started at Black Hawk College when they came back, earning an associate's degree in art in 2017. "I think they just call it that, but it's more general liberal arts." Since she was little, her dad tried to get Alejandra and her brothers to paint, taking art lessons in Mexico.
"I did learn some; I had some schooling in Mexico, but I just didn't have the talent or the patience to learn," she said. She never really painted at school at Rivermont or Black Hawk. The only art class she took was art appreciation and history, at BHC.
Alejandra does have a cousin who attends United Township High School who is talented in art. At Black Hawk, she first planned to go to dental school, but in 2017, transferred to Augustana, and fell in love with the public health major. She majored in public health and minored
in Latin-American studies.
"It's about prevention of disease," she said. "Now, with Covid, it's very applicable. You can prevent getting sick. And it's much lower cost – you won't suffer much. I just really liked that. I did consider becoming a doctor, mostly because I always suffered from illnesses in high school and I went to high school with a lot of students whose parents were surgeons or doctors, so I thought that was interesting. I always loved science."
Alejandra also wanted to help the most vulnerable populations. At Augie (where she was originally accepted for four years), she also had generous financial aid, which was held while she went to BHC. "It was very kind," she said.
For her senior inquiry project, Alejandra wrote about improving health outcomes for refugees and creating a community network between Augie and World Relief to provide language interpretation services.
Dr. Lena Hann, assistant professor of public health, said she facilitated partnerships among multiple local organizations – including Augustana's Office of International Student and Scholar Services and CORE, with World Relief Quad Cities – to match student translators with refugee families. Hann said Alejandra's work will "have immeasurable impact on families new to the Quad-Cities," as well as students who did translating.
"Alejandra has embodied the Augustana spirit since she transferred here in 2017. We are proud of her hard work and service to the community, and innovation in culturally competent care for others," the professor said in 2020.
Alejandra's mother got immigration legal services at World Relief years ago, and everyone in the family became U.S. citizens in 2005. He got his citizenship in 2004. Because they were minors, the children automatically became citizens.
Alejandra's internship with World Relief was in an employment program for resettled refuges, driving clients to appointments, helping them with paperwork, and checking in on them at home. During her senior year at Augie, she was a part-time employee. At Rivermont in 2012-13, she was the National Honor Society president, and also volunteered for World Relief then.
Alejandra started working as an intern in summer 2019, before her senior year at Augustana. She also interned part-time at Mercado on Fifth in Moline that summer. She really liked working with the immigrant population, and got a job working full-time for World Relief after she graduated in spring 2020.
Alejandra became the first in her family to graduate from college.
"It's a very necessary tool that will open up doors for her to have a better future," her father said. "Not so much for the economic side, but for the quality of person and value you will be. And learning also – when you learn, that will give you an inner peace that you will have. Someone without knowledge will be in fear and worried. I was about to go to college in Mexico. Two years after, I would still wake up thinking I was going to college, but I was not."
Since she started as a full-time employee, she's been an immigration coordinator. It's helping clients seeking an immigration benefit and legal help. "Now it's more of having clients come to the office, doing their immigration applications."
"As an immigration coordinator, I still get to do public health. I haven't stopped doing public health," Alejandra said. "It's just in a differemt way. I advocate for vulnerable immigrant populations, so that's the way I continue to do that. I really enjoy working with people. I would like to pursue a master's degree in public health in the future."
"Having Alejandra on our team has been such a blessing," Fontaine said. "She started as an intern and with her language capabilities and being a first generation American made her a perfect candidate to expand our immigration legal services to the Hispanic community and open our doors to a population we haven't served in the past."
World Relief has been growing and is looking to move to a larger space, but hopefully whoever takes on the current office will keep the map mural, Alejandra said.
"We expanded to the office next door as we are searching for the perfect place in Rock Island (hoping for next spring/summer). We want to move our office to Rock Island because the majority of our families are resettling there and transportation has always been one of the main barriers for our clients," Fontaine said. "So trying to eliminate one barrier will help our clients immensely."
World Relief Quad Cities is working hard to welcome an expected 150 individuals and families (to the Illinois Q-C) who fled war-torn Afghanistan, to resettle them in their new American
homes and lives. About 800 Afghan families are expected overall to resettle in Illinois.
"The Afghan population is going to be new to our community. We advocated to the U.S. Department of State to receive 150 Afghan humanitarian parolees," Fontaine said. The Biden administration is bringing in about 75,000 Afghan families
overall, which are now mainly housed at U.S. military bases around the country. The big issue is that Afghans are not considered refugees or on special immigrant visas, Fontaine said, noting they have two years to adjust their status.
"We're going to be doing the exact same thing as with our refugees that come in — provide the exact same services," she said. "We don't have funding for those services yet, so I'm knocking on a lot of doors, from foundations. The administration has guaranteed three months of funding for the parolees, and they're getting their work authorization and Social Security numbers, which is amazing."
Women and children in Illinois will be eligible for medical benefits, Fontaine said. "We have amazing donors in this community. We have foundations; we are a welcoming community and we will help 150 humanitarian parolees regardless of funding. I think it's the right thing to do."
Alejandra Martinez and her father's artwork will make that welcome all the more special and comforting.
For more information on the agency, visit https://worldrelief.org/quad-cities/about-us/.