Full STEAM Ahead, Playcrafters' Thriller, Outdoor Music And More In This Week's FUN10!
It's Sunday, and QuadCities.com proudly presents Fun10, a list of the top 10 things to do in the Quad Cities this week, and every week!
Every Sunday, we drop a new Fun10, to give you a head start on your week and a heads up on what's going on over the coming seven days. Check out Fun10 every Sunday for the details on ten awesome events happening around town. It's a cool read, and a great way to get started planning your entertainment for the week.
FUN10 — ten ways for you to have fun in the Quad-Cities, this week and every week, running every Sunday, only on your site for fun, free, local entertainment, QuadCities.com!
So what's on the Fun10 for this week? Read on …
Full STEAM Ahead For Rock Island Library!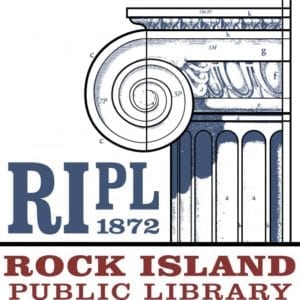 Rock Island Public Library children's librarians will continue to show up at our Longview Park Library2Go bookmobile stop from 2:30 to 3:30 pm on Wednesdays in August for Full STEAM Ahead. Stop by for some fun with our STEAM (science, technology, engineering, art, math) kits. Miss Ranell will bring a new kit each week.
This event is great for grades K-6! (Wednesdays are early dismissal days for Rock Island-Milan School District #41.)
For more information, see www.rockislandlibrary.org.
Playcrafters Presenting 'Whistleblower's Dilemma'
Playcrafters Barn Theatre continues its Barn Owl season with The Whistleblower's Dilemma, an original dramedy written by Jim Sederquist, Bettendorf. The show will be presented through Aug. 22nd at the Barn Theatre, 4950 35th Ave., Moline.
Joe loves his community and the factory that his grandfather helped build from scratch. When Joe discovers the factory's current owner is embezzling millions of dollars from the state, and setting Joe up to take the blame, Joe decides to take an unusual route: he makes the fraud bigger.
Jackie is a star fraud investigator but frustrated with office politics. When she stumbles on something big that just happens to be at the wrong time of the year, she's forced to not ask any questions. But that doesn't stop her from investigating.
How does it end up for Joe? For Jackie? And how are cell phones, yoga, and a rolling
whiteboard stored in a bathroom involved? Find out in The Whistleblower's Dilemma. 
Sundays show today is at 3 p.m. Reservations can be made by calling the Playcrafters box office at 309-762-0330 or by visiting the website at www.playcrafters.com.
General admission is $12 and military and senior admission is $10. All audience members will be required to wear a mask, regardless of vaccination status.
Blackbox Theatre Debuting New Thriller
Opening this weekend at Blackbox Theatre in Moline is the psychological thriller "Murder in Green Meadows" by Douglas Post. The original production received six Emmy Award nominations when presented on TV with the Steppenwolf Theatre Company in Chicago. The Black Box production stars James Driscoll, Jenny Winn, Jonathan Grafft and Lora Adams and directed by Jacqueline Isaacson. Set design by Adams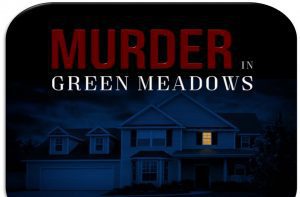 with construction by Michael Kopriva. The production will run through August 28.
Reviewers called "Murder in Green Meadows"  "A thoroughly satisfying thriller on all points. Four stars." —WMAQ-TV. "It spins a web of deception, sex, murder and mind games as two suburban couples discover their darker sides." —Chicago Tribune. "An archly manipulative psycho-thriller…a well-made murder mystery…it holds your attention like a leash." —Windy City Times. "A screaming hit…a tautly constructed plot…the people are the action." —Portsmouth News. "This tale of lust and death in the 'ideal' home is certain to become a classic." —Southampton Daily Echo.
On picking the show for the season co-founder Adams said, "It's not that you don't know who done it, it's finding out why."
The plot finds Thomas Devereaux (Driscoll), a successful architect and local contractor, and his beautiful wife, Joan (Winn), have just moved into their dream house in the quiet suburban town of Green Meadows when they are visited by their new neighbors, Carolyn and Jeff Symons, and a friendship develops quickly between the two couples. But underneath the cool, middle-American exterior, something is truly rotten. A previous sexual relationship is revealed, as is the fact that Thomas learned of the infidelity and may have murdered his wife's lover. Then, one summer evening, following the Symons departure after a friendly game of cards, Thomas lets Joan know that he is aware of her new deception, and his violent, possessive nature surfaces. What follows is a diabolical plot that continues to thicken through the final showdown between a murderer and an aggrieved widow.
Thursday night tickets are $13, all other performances $16. Thursday, Friday, Saturday at 7:30 and Sunday at 2:00 pm.
Tickets are available at theblackboxtheatre.com.
Alternating Currents' Last Day Is TODAY!
YOU create your schedule + your weekend + your festival experience!
This event is made possible through the generosity of GreenState Credit Union and Regional Development Authority.
Zoom Bingo Going Virtual At Davenport Public Library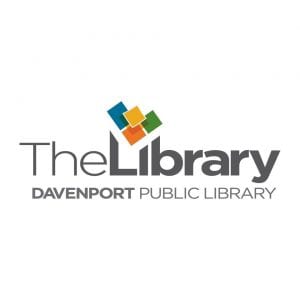 Calling all BINGO lovers! Join us for Zoom Bingo. Prizes will be awarded. Registration is required in order to get the login information. Your Bingo cards will be emailed to you on the day of the program. The event URL will be sent via a registration email. Households can use the same Zoom login.
Registration is required. Register here: https://bit.ly/dpl-zoombingojuly
Keep up with our virtual programming on our Virtual Branch Calendar of Events at https://davenportlibrary.libcal.com/calendar/virtual.
This event is FREE and open to the public. For more information visit www.davenportlibrary.com or call the library at (563) 326-7832.
It's A Zach Attack On Tomfoolery On Tremont
Tomfoolery On Tremont, 901 Tremont Ave.,
Davenport
, presents ZACH MARTINA Sunday, August 22 at 8pm.
Tables of 2 are $24; Tables of 4 are $48.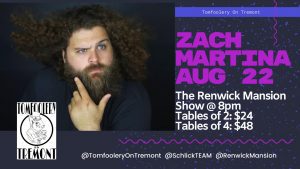 Thus far, life has exceeded the expectations of Zach Martina. He certainly never thought some stranger would be reading to find out more about him but here we are. Here's what you need to know – He loves his wife, his daughters are a constant source of inspiration, and his hair is real. Also worth noting – he's not angry, he's just passionate about the inane topics he chooses to ponder. HE'S NOT SCREAMING; HE'S MAKING SURE YOU HEAR HIM!!!
Zach brings his big energy to crowds across America delivering dark jokes in a delightful manner while pointing the finger of blame at everyone except himself. You've heard him on Dumb People Town, The Bonfire, and his debut album "Skunkman" spinning regularly on Sirius/XM. He's performed as part of Rock on the Range & the Best of the Midwest at Gilda's Laughfest (among others) and has shared the stage with Rory Scovel, Big Jay Oakerson, the Sklar Brothers, Chad Daniels & Kyle Kinane.
He hopes you like him –then maybe more people will like him and those closest to him will stop calling comedy his "hobby"
Bass Street Landing Summer Concert Series Shines On Moline
Moline Centre is holding free outdoor concerts every Thursday night at Bass Street Landing Summer Concert Series, off
17th Street and River Drive.
Moline Centre "is taking many extra precautions to ensure that these series of concerts are following all CDC/State of Illinois Covid-19 safety guidelines," the group posted. "We ask that all guests please wear a mask anytime social distancing is not possible. Social distance whenever possible. Frequently use the hand sanitizing stations that will be provided. Avoid concentrated gatherings of people. Please stay home and do not attend these concerts if you are sick or feeling sick."
The Thursday night lineup for the free 7 p.m. concerts is:
Aug. 26: Alewife
Sept. 2: Dynoride
RME Rocks With Live At Five On Fridays
The River Music Experience, 2nd and Main streets, Davenport, has brought back the free Live@Five on Fridays from 5 p.m. to 7 p.m.
The RME courtyard will host live music featuring a wide range of genres and styles.
This year's schedule of bands is:
See Backwater Gamblers Water Skiing Tonight!
The Backwater Gamblers Water Ski Show Team performs FREE water ski shows every Wednesday and Sunday at 6:30 p.m. at 44th Street and the Rock River,
Rock Island
, IL, from Memorial Day through Labor Day.
Shows are free, but donations are accepted at DONATIONS – VENMO – @Backwater-Gamblers.
Live On Tuesday Night, It's Trivia Night Live!
Trivia Night Live is rolling into The Tangled Wood in Bettendorf every Tuesday at 7 p.m.!
It's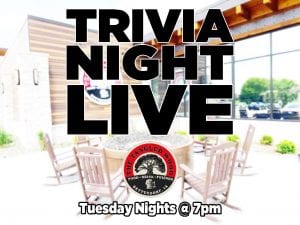 Free To Play, with up to eight people per team playing in various categories.
What is Trivia Night Live?
Trivia Night Live is a live interactive team trivia game played at your favorite restaurants and bars. The game consists of four rounds of questions of increasing difficulty and point values. Categories range from current events, history, geography, science, sports, and more….
Trivia Night Live is free to play, and you can have up to 8 members on a team.
Prizes are awarded for the winner of the 1st half and the overall winners win a $25 gift card for 1st Place, $10 for 2nd Place (cannot be used the same night).
We ask a question, and then play a song. Your team has the duration of that song to turn in your answer. No cell phones. web devices or smart watches can be used, just the useless trivial knowledge contained between your ears.
#LiveFromDavenportItsTriviaNight
presented by Think & Drink Entertainment.