Davenport Drummer Keeps the Beat for Quad-Cities Classic Jazz Fans
Saturday in the Arts is a weekly feature covering a trend, subject, event or personality of local interest. It runs every Saturday morning on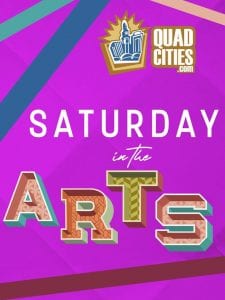 your site for the best entertainment and arts coverage in the area, QuadCities.com!
Over 20 years ago, Josh Duffee had an inspired idea – form a big band and play the music made famous by the jazz drummer who launched the career of a world-famous Moline drummer.
Then a 21-year-old Moline High graduate, Duffee intimately knew his way around a drum kit and worshipped both Gene Krupa (1909-1973) and Louie Bellson (1924-2009) – the latter a Moline alum who in 1941, at 17, won the Gene Krupa National Slingerland Drum Contest in New York City, out of whopping 40,000 drummers.
On June 30, 2001, the Josh Duffee Orchestra performed a Krupa tribute at the then-Moline Community
Center on 5th Avenue, less than two blocks away from where Bellson's family operated a music store at 1711 5th Ave.
Now 20 years later, this Tuesday, June 29 at 7 p.m., Duffee (who lives in Davenport) and his big band will celebrate that successful start with a free Krupa tribute concert in Lincoln Park, 1120 40th St., Rock Island, as part of the Starlight Revue Concert Series.
"We did about 10 or 11 songs that evening with the big band, and I wanted to do that show again, because we haven't done that music in 20 years," he said in a recent interview. "I thought this would be a great way to celebrate 20 years – so people who weren't at that show could hear some of the songs that we played.
"I've found more Gene Krupa arrangements in the last 20 years, so we're gonna do more – like 20," Duffee said, noting they'll do hits from Benny Goodman, including the popular "Sing, Sing, Sing" to close.
He started playing drums in the 5th grade in Moline, and his band teacher – Chuck Comella – has played
trombone in Duffee's orchestra since it formed, in early June 2001. The retired music teacher was his band director at Moline's Garfield Elementary.
"He worked hard and right from the start, he made a lot of stuff happen early on," Comella said recently, crediting Duffee for the cool concept to honor Krupa in 2001 and keep the band together.
"The group is very good. The repertoire is really challenging. A lot of repertoire is, but his is quite demanding and it's certainly a lot of fun to play," Comella said. "It's great music and the Gene Krupa music is so much fun."
"Josh has done great things over the years, keeping styles of music alive that you just don't get to hear much anymore," he added. "You know, the music of Bix and Jean Goldkette and even Krupa, to really dig into those artists and go find music and get the music, and make it happen."
Comella saw Duffee's interest in the era gather steam in high school, but could tell he had a spark even in the middle grades. "He was driven, so I knew there was going to be something happening," he said.
Comella is among four of the musicians for this Tuesday concert who are veterans of the very first show, including Ron Wilson on string bass, Alan Knapper on trumpet, and Matt Sivertsen on saxophone (who also plays with Minus Six).
The current lineup varies between 10 to 14 musicians, depending on the gig and style of music, Duffee said. There are about a half dozen who have been with the band of originally 14 since 2001. The older music (from the '20s and '30s) necessitates a smaller number of players, and by the '40s, up to 15 players – hence the name, "the big band era," he said.
Sivertsen actually went to high school with Duffee and has played with him over 20 years.
"He's definitely part of a core group of musicians that you could tell, were building a passion around music and then specifically going to college, really saw Josh develop into one to really focus on some earlier periods of the jazz, that he's kind of then reflected in the last 20 years with his big band," Sivertsen said.
Many jazz players, as they study in college, typically get more into modern jazz (including Miles Davis and John Coltrane), as Sivertsen did, majoring in saxophone performance at University of Illinois.
"I feel like there's just been a real tried-and-true kind of Bix-era jazz in general, a big band jazz group that has existed in the Quad-Cities," he said, noting the legendary jazz cornetist and Davenport native Bix Beiderbecke (1903-1931). "I feel like in some ways it kind of piggybacked off of that niche, but I think for him starting a fresh orchestra — to have and be so young as well, at that time to have that turnout was definitely a big positive and I think he's definitely been able to carry that forward for the last 20 years."
"He's done a really good job of getting mostly local musicians to play the stuff that he's done with his orchestra and to really put on good shows with that," Sivertsen said. "It definitely feels good to be part of that."
"Leadership-wise, Josh is just so good," he said. "It's just a professional all around and he does it for a living – he teaches and plays full-time
and he's definitely on top of his stuff from scheduling, professionalism, communication, the charts. I think he's just got like thousands of original charts and manuscripts in his house and so he's freshened up.
"He doesn't just stick with the same thing," Sivertsen said. "He's really intentional with his programming and kind of what he wants to go after. It's not like we had 20, 30 charts and played those same 20, 30 charts. He's cycled through a lot of stuff. So, just that freshness, the musicians being willing to read and learn new charts has been there."
"I think this will be fun to go back and do something like this, because we haven't just regularly played a same set list or the same charts all the time," he said of this Tuesday's gig. "We've definitely done some Krupa charts in the last 20 years. So, to go back and play that lineup should be a fun thing for the group."
"We have so many songs and I like to keep changing it up, instead of playing the same things over and over," Duffee said. "The music we're
doing for this 20th anniversary show, some of it we haven't played since that first show. Because there's so much out there.
"If we did the same things over and over, as musicians, we'd start to get a little bit bored, like we're doing the same songs. I always like to keep things fresh and exciting," he said.
Sivertsen also has been impressed with the vast array of events Duffee and his groups have played over the years, locally and internationally – including multiple times in England and Australia. Eight years ago, Sivertsen and his partners bought the downtown Moline building (1615 5th Ave.) that used to house the Moline Community Center and is home to his financial planning firm, The Planning Center. The business started in 1998, and Sivertsen has been with the firm since 2003.
The building dates from 1952, originally a department store. The Moline Community Center operated as a banquet and rental event facility for many years.
Before the Planning Center moved in, the 11,000-square-foot ground-floor interior was fully gutted for renovations, Sivertsen said.
An unexpectedly big debut
Duffee had his big band debut in Moline, because he lived there then, and it was only a couple blocks from the original Bellson family music store.
"It was a neat venue. That's what made it eerie – Louie learned just down here and here's where my first show is," Duffee said, noting he only formed his orchestra about three weeks prior to that first concert. "I did all the marketing, the advertising, with the help of Julie Jensen (of The Dispatch), who wrote the article, and I sold tickets on my own."
He posed for a newspaper photo with all the Krupa memorabilia in his room at home. Duffee had just graduated from Black Hawk College, and the big band just took off – after 500 people attended the June 30 event.
"The whole place was wall to wall. We broke fire codes, so the fire marshal showed up," he recalled. "They said, it's OK as long as you have clear exits on both ends of the building, so you're fine. I didn't expect that, but I didn't expect that many people to show up."
Duffee wanted to do the tribute to Krupa in 2001, because not many people were familiar with his music, and local bands weren't playing it.
"It was more your Duke Ellington, Count Basie – standards that bands play, and Glenn Miller, of course," he said. "But not Gene Krupa, and I was always wanting to do things a little different."
"This gave me a chance to do drum solos like Krupa, because I had listened to him for a long time, so I got to replicate all of that in the
concert," Duffee said. The gig was so well attended because it was something new for the area, he said.
"Going back 20 years, the population of people who were big fans of jazz, there were a lot of them back then," he said. "Since there's not a lot of jazz on the radio or in the public, those people were experiencing the jazz music and had grown up with it."
"You never heard Krupa live – people said, I've heard this on record or CD – I want to hear what it sounds like in person," Duffee said. "People weren't playing the Krupa music, for whatever reason. We weren't stepping on the toes of any other bands; it was something different, to complement the community music-wise."
"I was really nervous," he said of that 2001 date. "I'm thinking, it was 6:30 and there were 50, 70 people, something like that. But then I remember I had gone backstage for like 10 minutes, and I came back out and it had tripled, like 200 people, and people just kept coming."
"I was in shock and the musicians were too," he recalled. "We weren't expecting this many people."
For the 2001 date, Duffee enlisted musicians he knew or had played with before, and had just one two-hour rehearsal before the event, after having sent music in advance.
The band only played at the Moline center one other time, because it was a lot of work to put together and promote, Duffee said. "I think it was possibly five years after that, doing another concert of '20s music. It was a dance; they had a good area for dancing. People came out to dance."
He never went back to school to complete a four-year college degree, since he became a full-time musician and drum teacher.
"I was able to make a nice living – we're not rich or famous, but that's what I'm happy doing," Duffee said. "We just have enough, to pay our bills, have a little savings and that's perfect. But we're doing what we love and that's what matters the most."
His wife Crystal is a paraeducator at Washington Elementary in Davenport, a private flute teacher and professional flautist. Their 14-year-old son Chauncey is named after jazz drummer Chauncey Morehouse (1902-1980), who played with Bix, Goldkette and Frankie Trumbauer. (Yes, he also plays drums.)
People were impressed by Josh's organizational skills from 2001 and attention to detail, which he prides himself on for every event.
"It's something that I love and that's what I tell musicians in high school and middle school, when I do clinics – I'm living my dream," Duffee said. "I wanted to play in a big band and do '20s, '30s, and '40s music. I had people telling me along the line, 'No, you can't do that, you can't play that music.
"I didn't listen to them, and that was fuel for me to do it," he said. "I was ready for the event. I was ready to have fun and play with real musicians. It was nerve-wracking doing my own band, having to count the songs in – that part I was fresh at.
"Over the years, I've developed those skills, how to lead a band, what to do, what not to do," Duffee said. He's also found a lot of big band arrangements from Lush Life Music, transcriptions of classic recordings.
Encouraging young people
Duffee – as a prolifically busy proponent of classic jazz — has had success getting young people interested in old music, because of his excitement and passion.
"That's what draws them in," he said. "When they see the excitement, and hear the clips, that's what gets them excited."
"If more high school bands in the area were to tap into that, the Bix Youth Band does a great job of playing that music and getting students incorporated with that, but I know there's not many high school programs that want to jump back to '30s and '40s -music. I think that would be something neat for the area to have – to do a unit on '20s and '30s music, and then '40s, '50s. That would be great."
One young musician he's helped to hook is the Tuesday Starlight singer — 18-year-old Kiersten Conway, who Duffee performed with June 16 in her hometown of Solon, Iowa (near Iowa City), on Main Street.
Duffee also accompanied her for her senior recital in April, where she and her choir director (Joel Foreman) worked up her own arrangements. Foreman accompanied on piano, with Drew Morton on bass.
"I'm all about trying to give young people that opportunity of playing the music, having a chance at it,
because they normally don't get a lot of it in college," Duffee said. "To actually do big band music is something different."
For Tuesday, Conway will sing at least eight numbers. Gene Krupa's female vocalists were Irene Day and Anita O'Day. She got interested in that style of music her sophomore year of high school.
"I had been listening to jazz tunes and I just kind of fell in love with it. My director, Mr. Foreman, introduced it to me," Conway said recently. "It's like my favorite genre of music and I just listen to all the time."
She's really looking forward to singing with a big band for the first time.
"I just feel like it's going to be so much fun and a really big learning experience for sure," Conway said. This fall, she will go to Central College in Pella, Iowa and study music education with an emphasis in jazz studies. Conway chose Central in part to study with acclaimed jazz bassist Gabriel Espinosa, who is director of jazz studies. She plays piano, guitar and bass.
Bellson success as a teen
Born in Rock Falls, Ill., in 1924, Bellson grew up in Moline and graduated from Moline High. In December 1934, Krupa joined Benny Goodman's band, where his drum work made him a national celebrity. His interludes on the hit "Sing, Sing, Sing" were the first extended drum solos to be recorded commercially.
The 1941 national Krupa drum contest catapulted Bellson's career.
"That contest is what helped spur him to go into the Fiorito Orchestra, 'cause Ted Fiorito had passed through the area and heard Louie Bellson performing here in Moline, and said, 'When you graduate, I've got a spot for ya," Duffee said.
Bellson played with them on the West Coast, and another musician saw him and recommended him for a gig with his brother's band, he said, noting that was Harry Goodman, brother of legendary clarinetist Benny Goodman.
"All the guys with Fiorito told him, 'Go play with Benny; that's the best band. Don't turn it down'," Duffee recalled. Bellson got to play with Goodman in the 1943 film, "The Gang's All Here" (featuring Carmen Miranda).
"Just imagine, when you're 18, playing with the best band in the country," he said. "Imagine going to high school, having the records of these bands, seeing them on film and all that, and all of a sudden, here you are performing with them. It's like, wow!"
Krupa had played with Goodman in the '30s, including the famous 1938 Carnegie Hall concert. Krupa's fame really rose, mainly from the "Sing, Sing, Sing" drum solo, and by 1939 he formed his own orchestra.
Duffee loved the fact Bellson was from Moline. His drum teacher told him about Krupa and their connection, and in 1996, Duffee met Bellson for the first time.
"That's when I started getting into Krupa, because I learned about the drum contest," he said. "Everybody heard about Buddy Rich, but there was something about Krupa's playing that really drove me crazy. This is so melodic and so exciting, the power behind it, and to find out how nice of a person he was in real life – the stories I would hear from Louie, I was really happy I discovered those two guys."
Krupa really influenced Bellson's playing, Duffee said.
"What's great is, during the time, here's Louie playing with Goodman and other bands, while Buddy and Gene are also playing – guys he had listened to," he said. "He admired their playing up until he passed away. He was always talking about Gene; always talking about Buddy, what they meant to his playing. Gene and Buddy would say so many great things about Louie's playing in articles and interviews."
Bellson – who met Duffee about 30 times over the years — was buried holding a pair of Zildjian drumsticks at a family plot at Riverside Cemetery, 2900 6th Ave., Moline.
Bellson, Rich and Krupa were all friends and not rivals, Duffee said. One of his photos growing up was of Gene in the '70s, when he was battling leukemia.
"When I visited flea markets and antique shops, I found old sheet music, old photos of Krupa and I was also into the 'Glenn Miller Story,' the 'Benny Goodman Story,' the films and I'd find posters of that and hang them in my room," Duffee said. "Anything and everything Krupa and Bellson was all around my room."
At the Tuesday concert, he'll display a lot of his Krupa memorabilia on a table, including a big poster from the 1959 film, "The Gene Krupa Story," starring Sal Mineo.
"It doesn't do a really good job of portraying Gene's life," Duffee said of the movie. "I don't think I heard anything orchestra-wise, which I thought was kind of strange."
The Lincoln Park concert will feature his original 1996 drum set that his parents bought him, which he used in 2001. Like Krupa put his "GK" initials on the bass drum, Duffee put his "JD" in big lettering.
"Before the Krupa show, a local company added my initials to the bass drum head, just like Gene Krupa and Louie Bellson did back in the early '40s," he said. "This head has been on the same drum ever since our first show in 2001. I used this drum set on the Krupa show in 2001, and I'll be playing the same drum set on the 20th anniversary performance on June 29."
Becoming a Bix backer
Though the Bix Beiderbecke Memorial Jazz Society formed in 1971, after the first Davenport concert honoring the then 40th anniversary of Bix's death, the annual jazz festival had not featured local bands in many years by the 21st century.
Around that same time (circa 2001), Duffee really got into drummer Jean Goldkette (1893-1962), who played with Bix.
He reached out to the Bix Jazz Festival in 2002, asking to play in the annual fest in Davenport, which then hadn't had local bands play in the past 20-30 years. Duffee's orchestra played a brief set for half the cost, and won a Jean Goldkette Award of Excellence from the festival that first time.
"We won the award from Jean's grand-nephew, for doing the music so authentic to the Goldkette band," he said. "We and the musicians felt we had something really special here, that's just different and unique from anything else. Then I started finding out about more bands from the '20s, finding more arrangements and starting to accumulate music."
Duffee went from having one shelf of music, to having five legal-sized filing cabinets filled with music. "It kind of exploded," he said. His orchestra or other bands of his have played the Bix festival every year since 2002 – the 50th anniversary fest is Aug. 5-7 at Rhythm City Casino Event Center, Davenport.
Duffee served as Bix Society board member from 2002 to 2017, and was festival music director for several years.
This year also celebrates the 90th anniversary of Bix's passing, Aug. 6, 1931 in New York City. Duffee's group, Graystone Monarchs (which includes 10 musicians from across the country) will perform Friday at 8 p.m., Aug. 6, and they will pause at 8:30 p.m. for a moment of silence, honoring the time of Bix's death at 9:30 p.m. Eastern time.
"We're gonna be playing an all-Bix set that night, from the Paul Whiteman days, Goldkette, Trumbauer and The Wolverines and as soon as we're done with that moment of silence at 8:30, the Monarchs are going to go into 'Singin' the Blues,' which is what he's most famous for, to pay tribute to him," Duffee said.
"That's gonna be very emotional for all the musicians on stage, to be playing that," he said. "We're gonna be playing at the exact moment Bix passed away 90 years ago, in his hometown."
Duffee also will play at the Bix fest closer on Sunday, Aug. 8, at Milan's Knoxville Tap, from 5 p.m. to 8 p.m. Tickets for that are $20, including dinner.
"The band will be letting loose, people going crazy because it's the end of the festival," he said. "It's a great time."
Other bands, venues
Duffee's big band played at Davenport's LeClaire Park for the summer Music on the River series on Sunday, June 13, which they've done the past 15 years.
In 2022, he has four shows in the works for a Frank Sinatra tribute, with a big band and a Twin Cities vocalist who sounds just like the Chairman of the Board. Two are planned for the Quad-Cities.
Duffee's jazz quartet has played many years for a Sunday jazz brunch at Hotel Blackhawk, Davenport, but that live music hasn't restarted since Covid – save for special Easter and Mother's Day Sunday brunches.
"They're still wanting to get it up and running, since it's been such a successful event for them," he said. "It would have been 10 years we've played there this past year." Duffee played for the
big grand reopening event in December 2010 (following a $35-million renovation), and started playing the Sunday brunch in 2011.
"There are so many places in the Quad-Cities that are re-opening," he said, noting he's also started performing with his quartet at the Crane & Pelican Cafe in LeClaire, which began live music this past May 1. They play on the lawn, in the gazebo – with music 5:30-7:30 p.m. Fridays and Saturdays, with no cover charge.
Duffee said Rock Island's Lincoln Park is a great place to perform, with lots of trees to shade people from the heat. "It's a great way to celebrate it," he said.
His penchant for sonic nostalgia has a more recent bent, as another band of Duffee's — Class of '82 – is back and performing. Specializing in '80s music, they just played June 24 at Moline's Bass Street Landing, and will be at Tangled Wood in Bettendorf July 2, and for Red, White and
Boom July 3 outside Modern Woodmen Park before the fireworks.
While he's made his living playing and teaching music of the '20s, '30s and '40s, Duffee always has loved the music of Depeche Mode, Tears for Fears, Duran Duran, Erasure, China Crisis, Men Without Hats, Flock of Seagulls, Naked Eyes, Kajagoogoo and Wang Chung — all in the repertoire of the six-man Class of '82, which he formed in 2017.
It includes Victor Leon (lead vocals), Bryce Swanson (guitar/vocals), Devin Alexander (bass/vocals), Zack Johnson (synthesizer/vocals) and Zach Metzger (synthesizer).
"We've got quite a few shows coming up," Duffee said, his first Class of '82 gig back was in DeWitt in May. "It's such a fine-tuned band, everything is memorized."
"People are itching to get out; we're getting huge crowds with this band," he said of the music, which is super fun and family-friendly. "I love it."
To hear the Josh Duffee Orchestra play "Sing, Sing, Sing" (from 2019), click HERE. For information on the 2021 Bix jazz fest, visit https://bixsociety.org/festival.php.