10 Fun Things To Do Week of September 6th: Outdoor Markets, Live Music, Monarchs and MORE!
QuadCities.com proudly presents Fun10, a list of the top 10 things to do in the Quad Cities this week, and every week! Every Sunday, we'll drop a new FUN10, to give you a head start on your week and a heads up on what's going on over the coming seven days. Check out FUN10 every Sunday for the details on ten awesome events happening around town. It's a cool read, and a great way to get started planning your entertainment for the week.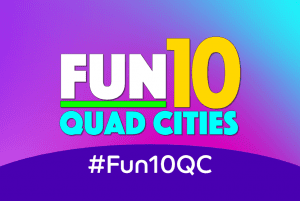 As the current health situation in our country continues to force the cancellation of so many regularly scheduled events in the Quad Cities, we are once again focusing this week's edition of Fun10QC on fun entertainment you can enjoy in the safety of your own home or while practicing safe 'social distancing,' as Iowa and Illinois begin to hold in-person events.
FUN10 — ten ways for you to have fun in the Quad-Cities, this week and every week, running every Sunday, only on your site for fun, free, local entertainment, QuadCities.com!
So what's on the FUN10 for this week? Read on …
Music in Motion
Looking for some morning fun with the littles this week?
Join the Family Museum (2900 Learning Campus Dr. Bettendorf) for Music in Motion this Wednesday Sep 9 from 9:15 – 10 a.m.
Music and plenty of action will take place as little ones clap, hop, tiptoe, run and scoot through a variety of movements! This fun program always ends with some social playtime with soft gym equipment so little ones can learn to follow directions and take turns.
Music in Motion is included with paid admission. Participants should sign up at the Welcome Desk.
For more information, please visit https://familymuseum.org/calendar/event/music-in-motion/1441.
The Savannah Sipping Society
The Circa '21 Mainstage is back in business!
The Savannah Sipping Society, a Jones Hope Wooten comedy, graces the stage at Circa '21 beginning this Wednesday Sep 9 and will continue through Saturday Nov 7.
After a hot yoga class brings four women "of a certain age" together, they decide their sassy humor and Southern charms are better suited for solving life's problems over cocktails. Over the course of six months and through hilarious misadventures, these middle-aged women successfully bond and find the confidence to reclaim the enthusiasm for life they've lost through the years. Together, they discover lasting friendships and a renewed determination to live in the moment—and most importantly, realize it's never too late to make new old friends.
Come raise a glass to lasting friendships and a determination to live in the moment in this joyful and touching comedy! Written by the team that brought us The Dixie Swim Club and Mama Won't Fly.
Because of the Phase 4 rules of Restore Illinois, capacity for each show is limited to only 50 people, so make your reservations early! For the safety of our staff and guests, temperatures will be taken when you arrive, and masks must be worn to enter the theatre, when interacting with staff, and anytime you are away from your table.
For a full list of show times and to purchase your tickets today, please visit https://www.circa21.com/tickets-and-times.
Virtual Artist Talk: Cara Romero
Join the Figge Art Museum virtually this Thursday Sep 10 from 6:30 – 7:30 p.m. for a Virtual Artist Talk with Cara Romero.
Cara Romero is a member of the Chemehuevi Indian Tribe. Romero will discuss her photographic practice and the use of technology in her recent work. Guests will be invited to ask questions at the conclusion of the talk. Romero's photographs can be seen in private and museum collections worldwide.
This program is offered in conjunction with the exhibition Magnetic West: The Enduring Allure of the American West. This live online program is free but advanced registration is required at https://figgeartmuseum.org/programs-and-events/calendar/event/virtual-artist-talk-cara-romero/305.
After registering you will receive an e-mail two hours before the program begins, which will include a Zoom link to join the program at the scheduled time that evening.
Free admission and programs for Thursdays at the Figge sponsored by: Chris and Mary Rayburn
Riverfront Pops Presents Tribute to Fleetwood Mac
Join the Quad City Bank & Trust Riverfront Pops for Landslide, A Tribute to the Music of Fleetwood Mac, this Saturday Sep 12 from 7 – 10 p.m. in LeClaire Park (400 W Beiderbecke Dr. Davenport).
Enjoy an evening outside along the banks of the Mississippi River accompanied by Fleetwood Mac's greatest hits including "Big Love," "Don't Stop," "Go Your Own Way," "Rhiannon," and more. The event will close with the traditional rousing renditions of Tchaikovsky's 1812 Overture and Sousa's Stars and Stripes Forever set to a brilliant fireworks display.
To make the event as safe as possible and minimize the risks of exposure to the virus, the QCSO has implemented robust health and safety precautions detailed below. A complete list of these precautions is provided at the bottom of the page.
By purchasing a ticket to this event, audience members are agreeing to adhere to these health and safety precautions. Those who choose to ignore these health and safety measures will be removed from the event.
Purchase tickets online at https://qcso.org/event/quad-city-bank-trust-riverfront-pops-landslide-the-music-of-fleetwood-mac/.
Fall Fest Artisan Pop-Up Market
Celebrate the changing of the seasons with a Fall Fest Artisan Pop-Up Market at The Rust Belt (533 12th Avenue East Moline) this Saturday Sep 12 from 9 a.m. – 2 p.m.
Shop local from 80+ local artisan vendors. Live music will be provided by Ariel + Jacob from 8:45 – 10:45 a.m. and JD Aguilera from 11 a.m. – 1 p.m. Lewis Knudsen will be also be playing in The Rust Belt Courtyard from 9 a.m. – 12 p.m. Grab some produce and fall mums from Friday's Fresh Market, as well!
Food will be available from Jennie's Boxcar. Grab a drink at Midwest Ale Works, while you're at it!
For a current list of vendors at the event, please visit the Facebook event page at https://www.facebook.com/events/748983415662027.
Fall Outdoor Market
Join the Country Fair Mall (504 W 1st Ave Coal Valley) at their Fall Outdoor Market this Saturday Sep 12 from 8 a.m. – 4 p.m.
Support local extra-small businesses! A variety of antiques, collectibles, crafts and flea market finds will be available for your perusing and purchasing pleasures. The Mall buildings will be open as well.
For more information, please visit https://www.facebook.com/events/299321074824692.
2nd Annual Monarch Festival
Join the Wapsi River Center staff for the 2nd Annual Monarch Festival this Saturday Sep 12 from 10 a.m. – 3 p.m. at the Wapsi River Environmental Education Center (31555 52nd Avenue Dixon).
This day long festival will include activities for the kids, such as butterfly crafts, seed balls, a photo booth and education stations. Three Box Lunch options will be available for $5 and include a sandwich, pickle spear, chips and a cookie. The sandwich options include Turkey & Cheddar, Roast Beef & Provolone, or Italian.
There will be monarch presentations at 10:30 a.m., 12 p.m. and 1:30 p.m. A prairie hike and butterfly catching will occur from 10:30 a.m. – 11:30 a.m. and again from 12 -1 p.m. Monarch tagging and testing will occur from 1:30 p.m. – 3 p.m.
This event is FREE and fun for the entire family, but registration is LIMITED and REQUIRED. Please call (563) 328-3286 to register your family today.
For more information, visit https://www.facebook.com/events/304926660830698.
Tie Dye Masks at Crafted QC
Create your very own Tie Dye Masks at Crafted QC (221 E 2nd St. Davenport) this Saturday Sep 12 from 12 – 4 p.m.
For just $10 per mask (one size fits most adults) you can make a personalized tie-dye mask. Four tie stations and four dye stations will be set up and Liz K will be available for assistance. Additional items may be brought to tie dye, but an additional $10 per item is required.
This event is first-come first-serve and registration is required at https://www.craftedqc.com/product/tie-dye-mask-workshop-sat-9-12-12-4-pm/4021.
Masks and social distancing are required to participate.
Scroll, Stroll & Shop Local in Downtown Davenport
Downtown Davenport has designated the second Saturday of each month to Shop Small/Shop Local collaborative events across the downtown area.
Make plans to Scroll, Stroll & Shop Local in Downtown Davenport this Saturday Sep 12 from 1 – 4 p.m.
Spend some time scrolling online to shop in advance and drive-thru to pick up your goodies. Step out to stroll the downtown streets and check out the sales or stop for a cold beverage and great meal!
Downtown is full of small and locally owned businesses that could use your support.
For a full list of participating businesses, visit https://www.facebook.com/events/1160892174307015.
Come out for a fun day downtown!
Red Door Ride
Gilda's Club will host The Red Door Ride (formerly QC Cancer Awareness Ride) at Brenny's Motorcycle Clinic (4426 State St. Bettendorf) this Sunday Sep 13 from 10 a.m. – 5 p.m. We ride for the mission. We ride for our Members.
Cost: $25 per rider/registrant
Starting location: Brenny's Motorcycle Clinic, Bettendorf
Day of Registration from 9 -11 a.m.
Ride begins 10 a.m.
Ending location: The Tangled Wood, Bettendorf
Last bike in at 3 p.m.! Riders please join in the grassy area at Tangled Wood. They will have a designated food tent for you to place your food order from as well as plenty of spots to get a refreshing beverage.
Join Gilda's Club for a day of riding to honor those in our community that are impacted by cancer. In consideration of social distancing guidelines, there will not be set ride stops but instead a list will be provided in your packet of bars/restaurants along the bike route that you may stop at if you choose. There will be raffle items available for bidding at the beginning of the ride and a link will be provided that you can bid on the items throughout the day via your mobile device. All bidding will close at 4 p.m.
Two ride routes will be provided for you to choose based on the length of ride you'd like to do. Both routes will be along the Mississippi River (more details to come).
Please make sure you register each rider and passenger so organizers can get an accurate count of # of bikes as well as # of participants to plan for. Registrations received after Sep 3 will NOT be guaranteed a commemorative ride shirt.
All proceeds from this event will benefit Gilda's Club Quad Cities and remain local to support those within our community that have been impacted by cancer.
Are you interested in being a sponsor for this event? Please contact Michele Darland, Development Director, at michele@gildasclubqc.org or (563) 326-7504.
Stay tuned to QuadCities.com, your site for fun, free, local entertainment for upcoming events in our weekly column, FUN10, every Sunday!
#Fun10QC