Matching Grant Goal Met for Galesburg Public Library Foundation
The Galesburg Public Library stands on stronger financial footing now that the Galesburg Community Foundation's matching grant has been met. This year, The Galesburg Community Foundation (GCF) offered a 2:1 match grant challenge to the community to help
raise over $700,000 in funds for the new Galesburg Public Library. The challenge offered a strategic pathway for donors to connect with the Galesburg Public Library Foundation (GPLF).
"We wanted to give the library a tool that would allow them to connect with members of the community and have a centralized place where the entire community would be a part of the funding that would secure the community room," said Josh Gibb, President and CEO of the
Galesburg Community Foundation, "The library is a place where everybody in our community has access, every reader in our community can go," said Gibb, "The library as an institution is important for Galesburg."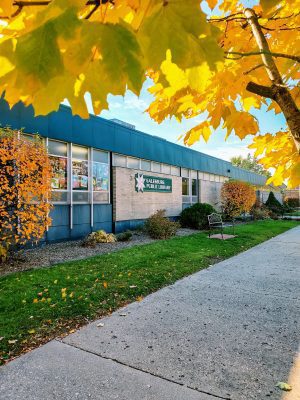 The grant dollars will be allocated to building out the Community Room in the new library, which will serve as a multi-purpose space for the public. "The GCF match grant engaged the whole community to make the new library a reality," said Noelle Thompson, Library Director at the Galesburg Public Library, "The Galesburg Public Library belongs to the entire Galesburg community. It's essential that all members of our community have the opportunity to participate in this project."
In just nine months, the GPLF was able to raise over $700,000 from donors in the community which was the amount needed to secure the $350,000 pledged from the Community Foundation. Donations came in from various Galesburg residents, the Galesburg High School
alumni, Rotary Club, and multi-generational families. "We could not succeed without our donors, volunteers, supporters, and patrons," said Thompson.
There is still opportunity for the community to contribute to building out areas of the new library including the archives and genealogy section, the teen zone, bird-safe glass, and outdoor spaces. "The library is a living, evolving organization," said Thompson, "We are committed to adapting to our community's changing needs, and we invite all community members on that journey forward."
For additional information, contact Heather Sipes, Galesburg Public Library Foundation's Executive Director, at heather.sipes@thegplf.org. To learn more about the mission of the Galesburg Public Library Foundation and how you can donate visit this link.