Grant Spring Carnival Offers Family Fun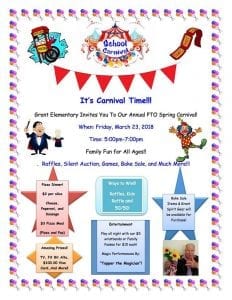 Are you looking for a little family fun in Muscatine, this weekend? Then make plans to head to the Grant Elementary Spring Carnival!
Grant Elementary (708 Barry Avenue Muscatine) is hosting their annual PTO Spring Carnival this Friday Mar 23 from 5-7 p.m.
This fun-filled evening will provide entertainment for the entire family! Come enjoy raffles, silent auction, games, bake sale and much more! A delicious pizza dinner will be provided for $2 per slice (cheese, pepperoni and sausage) or $3 for a pizza meal that includes a pop as well.
You won't want to miss the magical performances by 'Topper the Magician'! Wristbands are available for all-night play for only $5 (family passes are $15). Spirit gear will also be available for purchase! For more information on this year's Spring Carnival check out the Facebook event page at https://www.facebook.com/events/597031097317283/.
Come out this Friday night for a good wholesome time while supporting Grant Elementary!