Get Your Engine Runnin' At Mustang Day!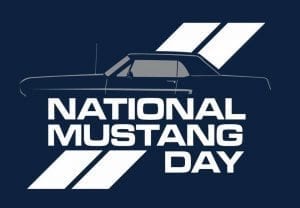 If you are the proud owner of a Mustang, then you are probably aware that April 17 is National Mustang Day. This is the day the unique vehicle was first shown to the automotive world at the New York World's Fair on April 17 1964.
National Mustang Day was created to unite all Mustang enthusiasts. Whether you drive your Mustang to work every day or save it for beautiful cruising weather only, clubs and organizations all over the US are coming together to create one day a year where Mustangs are everywhere!
The Quad Cities Mustang Club has joined hundreds of clubs and organizations this year, and chosen Saturday April 15 as their day of celebration. Across the nation, cruises and shows featuring all Mustangs will be occurring.
Sponsored by the Red Mustang Registry and the Quad Cities Mustang Club, this ride will initially be meeting at SouthPark Mall in Moline. Mustangs from all over will be gathering at 10 am. The cruise will then start around 10:15 and head to Starved Rock, via Route 6. Once at Starved Rock, the group will visit, take pictures and hang out for a bit. On the trip back to the Quad Cities, cruisers will stop in LaSalle for a show-stopping lunch break.
Any and all interested in joining the cruise, are more than welcome to jump in at any time along the Route 6 ride. The Illinois Valley Stampede Mustang Group is expected to accompany the Quad Cities Mustang Club throughout the two-hour cruise heading to Starved Rock.
The first 35 cruisers to show up at SouthPark on Saturday, will receive an officially 2017 National Mustang Day window decal.
This is the second year the Quad Cities Mustang Club has put on a National Mustang Day Cruise. The cruise's organizer, Kerry White, says this year they wanted to go with more of an actual cruise instead of the stop and go format of last year's event. Around 70 Mustangs gathered in 2016 at West Lake in Davenport and cruised through town, ending up at Pizza Ranch in Davenport.
Whether you are interested in participating in this one of a kind Mustang voyage or if you are simply a Mustang enthusiast, this event is not one to miss! For more information or questions, you can visit the Facebook event page at: https://www.facebook.com/events/1104286936367683/.
One special day a year, the Mustang world unites by taking their Mustangs to the road!