Come Prepared For A Healing Experience At Figge Yoga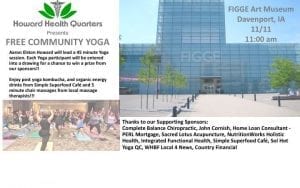 This time of year, schedules get busier and life can feel more overwhelming. As the weather gets colder, those aches and pains can also rear their ugly heads. So why not take advantage of an amazing and free program to help with relaxation techniques and healthy lifestyle tips?
Howard Health Quarters is at it again with another amazing Free Community Yoga event! This one of a kind Yoga presentation will be held at the Figge Art Museum (225 W 2nd St Davenport) on Saturday Nov 11 from 11 a.m. – 12:30 p.m.
This session, designed for all levels of skill, will be instructed by the one and only, Aaron Howard. Aaron is a certified Yoga instructor, a registered nurse, has a bachelor's degree in Health and Human Performance and is also the founder and owner of Howard Health Quarters. In addition, Aaron provides health coaching that focuses on a unique individual approach to developing healthy habits and lifestyle changes to improve your health.
Whether you are a first-timer or a regular, this 45-minute stress-relieving Yoga session will put you on the right track to a more relaxed and healthy lifestyle. All participants' names will be entered in a bucket for a chance to win prizes from supporting sponsors. Following the Yoga magic, you can enjoy some kombucha and organic energy drinks from Simple Superfood Café. Five-minute chair massages will also be available from local massage therapists! You will also have an opportunity to engage with vendors and learn about alternative and holistic ways to improve quality of life.
Past Free Community Yoga events have been held at the Duck Creek Park tennis courts and the QC Botanical Center. This will be the first held at Figge Art Museum, but not the last! The next session will be at Figge on Dec 16. On Jan 20, Aaron will be taking his healing methods to the TaxSlayer Center in Moline. To keep up with future events, visit Howard Health Quarters' Facebook page at https://www.facebook.com/pg/HowardHealthQuarters/.
Bring your yoga mat, comfortable clothes, a bottle of water and positive energy to enjoy this refreshing event. Aaron also requests you "come prepared for a healing experience"!