Tim's Corner Has New Sunshine After Explosion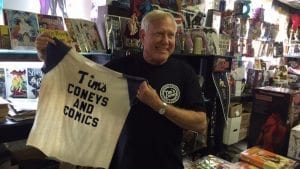 It's been a surprising week for the Quad Cities comic community. The explosions at the Vintage Rose antique shop, which blew out the windows of the store and knocked brickwork from the exterior, though luckily there weren't any serious injuries, have dominated the local news cycle.
At on Monday afternoon I received a call from my father, he said "Tim's Corner blew up." I was understandably confused by this information. "What", I questioned. "Tim's Corner blew up," he repeated. I was still having a hard time processing the information, but I asked if anyone was hurt. He said he didn't know, but there was an ambulance there. I asked him what happened, though given he works for the gas department I was betting it had to do with a gas leak of some kind, which he confirmed. He told me that the fire marshal had looked at the situation and that the building wasn't structurally sound anymore and would be knocked down. I thanked him for the information and called my friend Tim Johnson, who owns Mellow Blue Planet and knows the owners of Tim's Corner better than I do.
I asked if he had heard about Tim's Corner, which he had from a Facebook post. I asked if he knew if everyone was ok. He had talked to his friend Eric who helps out at Tim's Corner. Both Tim Cederoth and a friend of his were in the building when the explosion happened, though from their side of the building all that happened were some ceiling tiles fell from the ceiling. Mr. Johnson and I talked for a bit about what could be done, most comic book stores get their shipments in Tuesday for sale on Wednesday. What was Mr. Cederoth going to do? How was he going to sell comics from a condemned building? I knew there was a vacant lot across the street, but would he get the insurance money quick enough to buy that property or any property in two days' time? Neither of us knew the answer.
After I finished talking with Mr. Johnson, I texted my friend Marcus about the situation since he used to go to Tim's Corner. "Tim's Corner blew up." I texted to him and given his reaction I could tell that he misinterpreted my text and had thought that Mellow Blue Planet had exploded. After about a minute he realized his mistake and I told him what information I could give.
Needless to say the Tim's Corner explosion has been the talk of the comic shop Tuesday and Wednesday. What new information that had been come out was that a propane tank being used to fix jewelry had sprung a leak, which caused the explosion. I suspect that it must have blown out the floor if the building is so structurally unsound that people can't be in it anymore. Luckily, Tim Cederoth was able to move his business, at least for now, into the former Sunshine's Performing Arts and Resale Store at 1303 30th Street in Rock Island. I haven't stopped by the new location yet, though it's on my list of things to do this weekend.
Tim's Corner opened up shop thirty four years ago at the 2963 14th Ave location. While I'm sure that Tim Cederoth wasn't expecting to move his store after a thirty four year history in that building, one lesson anyone's sure to learn after thirty four years in business is to roll with the punches. So, let's be grateful that no one was seriously injured and that Tim was able to pick up and move on to his new building and here's to another thirty four years in this location.