10 Fun Things To Do Week of July 5th: Bike Nights, Walking Tours, Concert Series and MORE!
QuadCities.com proudly presents Fun10, a list of the top 10 things to do in the Quad Cities this week, and every week! Every Sunday, we'll drop a new FUN10, to give you a head start on your week and a heads up on what's going on over the coming seven days. Check out FUN10 every Sunday for the details on ten awesome events happening around town. It's a cool read, and a great way to get started planning your entertainment for the week.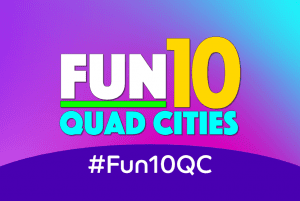 As the current health situation in our country continues to force the cancellation of so many regularly scheduled events in the Quad Cities, we are once again focusing this week's edition of Fun10QC on fun entertainment you can enjoy in the safety of your own home or while practicing safe 'social distancing,' as Iowa and Illinois begin to hold in-person events.
FUN10 — ten ways for you to have fun in the Quad-Cities, this week and every week, running every Sunday, only on your site for fun, free, local entertainment, QuadCities.com!
So what's on the FUN10 for this week? Read on …
Concerts in the Park
Bring the whole family out for an evening of outdoor live music this summer!
Moline Township Activity Center (620 18th Street Moline) will kick off their Concerts in the Park this Monday Jul 6 from 6:30 – 8:30 p.m. These outdoor concerts will continue every Monday night through Jul 27.
Due to the Covid-19 health concerns, there will be NO dancing on the dance floor this season. The band will be set up in the middle of the outdoor floor to discourage dancing. But feel free to dance in your seats!
Hot dogs, brats, chips, bottled water and soda will be available for purchase from 5 p.m. until sold out. Parking is available at Bethany's or the old Dispatch parking lot, located at 1720 5th Avenue. Due to the bridge construction, you will have to cross 6th Avenue to access parking.
Here is this year's line-up:
Monday Jul 6 – The Night People
Monday Jul 13 – Hot Rods
Monday Jul 20 – Tony Rangel & Friends
Monday Jul 27 – Gray Wolf
For more information, visit https://www.facebook.com/Moline-Township-Activity-Center-1403659999928320/.
Bike Night at Uptown Bar & Grill
Calling all Drifters, Sliders, Wingers, Old Ladies and okay, even Band Aids – the ultimate Bike Night has arrived!
On2Wheels QC has teamed up with Uptown Bar & Grill to bring motorcyclists together from all over the Quad Cities and surrounding areas, every Monday night. Uptown Bar & Grill (1720 E Kimberly Rd Davenport) and On2Wheels QC's Bike Night kicks off the fun this Monday Jul 6 at 6 p.m. and will continue every Monday night throughout the summer.
Stop out and enjoy $5 burger baskets, as well as $2 Busch Light tall boys! Come enjoy darts, music, food, drinks and a variety of bikes to check out. Or show off those awesome vocal cords, because this is the only Bike Night with Karaoke!
Get the work week started right and cruise on over to Uptown Bar & Grill this Monday night!
Historic Walking Tours
Historic Walking Tours are back!
The German American Heritage Center & Museum (712 W 2nd St. Davenport) will begin their Historic Walking Tours this Thursday Jul 9. Summer walking tours will be available by appointment online Thursday – Saturday between the hours of 10 a.m. – 3 p.m. in July and August.
Come enjoy this historic walking tour and learn about where German immigrants worked, lived, and created a community. The walking tour will share details of their personal lives, as well as notable architectural styles found throughout downtown and the Gold Coast.
Tours are available for $15 – bring your friends and family for this personal tour and don't forget to bring water and wear your walking shoes!
Call 563-322-8844 to schedule your tour! For more information, please visit https://www.facebook.com/events/4052136928190924/.
2020 Walcott Truckers Jamboree Goes Virtual
The 2020 Walcott Truckers Jamboree is going virtual this year with an online Antique Truck Show; Super Truck Beauty Contest; Trucker's Best Friend Pet Contest and free meals for drivers from July 9-11, 2020.
The Antique Truck Display will move online for this year with a slideshow of all who want to provide photos and information about their antique trucks. Likewise, this year's Super Truck Beauty Contest will also be a virtual event. Drivers will have the opportunity to enter online, choose competitive categories, submit photos and the public will vote on their favorites. Winners will be announced on July 11th and they'll receive their trophies.
Same goes for the Trucker's Best Friend Pet Contest. Drivers are encouraged to register their pet and submit the requested photos or video to compete. Entries have been voted on and prizes will be awarded for Best Dressed, Owner Look-alike and Best Trick.
The Iowa 80 Trucking Museum will also celebrate the 100th Birthday of its 1920 GMC with a video event to be posted on the museum's Facebook page on Friday, July 10th. The truck will still be featured in the lobby of the museum for visitors who would like to see it in person.
All CDL professional driver customers visiting Iowa 80 on July 9-11 can receive a free meal in the Iowa 80 Kitchen restaurant. Meal certificates will be available during those three days at the Fuel Center, Service Center, Truckomat Truck Wash and Super Truck Showroom.
"We want drivers to know how much we appreciate the hard work they do. This certainly isn't the way we thought our 41st Jamboree would play out, but we care about drivers and their families and we still want to celebrate them." says Delia Moon Meier, Senior Vice President. "We truly hope everyone understands and we hope that you will join us in spirit and online July 9-11 in celebration of trucking. We look forward to seeing everyone in person in 2021."
The Jamboree Program will be printed and available at Iowa 80 Group locations starting late June. All concerts are being rescheduled for 2021. More details and a schedule of online events can be found at truckersjamboree.com.
Movie in the Park at Green Valley Sports Complex
Looking for a safe, fun and family-friendly way to spend your Friday night?
Join the Moline Parks and Rec Department this Friday Jul 10 from 8:30 – 10:30 p.m. for a Movie in the Park!
The outdoor movie night will feature Trolls playing on the big screen, starting at dusk. This movie is free and open to the public. Bring your lawn chairs and/or blankets! And please be prepared to practice safe social distancing.
For more information, please visit https://www.facebook.com/events/300592444641934/.
Tea at the Chocolate Shop
Treat yourself or a friend to tea at Chocolate Manor!
Tea at the Chocolate Shop will take place this Friday Jul 10 and Saturday Jul 11 from 10:30 a.m. – 3:30 p.m. at Chocolate Manor (110 E 2nd St. Davenport).
This event includes tea, chocolates and finger sandwiches. Tea time is by appointment only and due to very limited seating they will be taking reservations on a first come first served basis.
To reserve your table please call Chocolate Manor at (563) 355-6600. Price of event is $16 per guest.
Statement on the Facebook event:
"When hosting this event in previous years we would accommodate two tables of guests at a time to reserve for tea. This year we will only be serving one table at a time to better promote social distancing. All tea servers will be wearing face masks and gloves. If you have any questions please don't hesitate to call us at 563.355.6600. Thank you"
Summer Patio Series
Outdoor live music in the Quad Cities is officially in full swing – and there's no exception at Crawford Brew Works!
Join Crawford Brew Works (3659 Devils Glen Road Bettendorf) for their Summer Patio Series every Saturday night from 7 – 10 p.m. In case of rain, everything will be moved inside. The show must go on!
Bobby Ray Bunch will be kicking off the jams for the first outdoor concert this Saturday night. Check out the Facebook event page at https://www.facebook.com/events/266146674612256/ for updates on who will be playing each week.
Movie in the Park Drive-In
Join the Rock Island Parks and Recreation Department for a Drive-in Movie in the Park on Saturday, July 11. Dolittle, a family friendly movie, will be the feature presentation at the Campbell Sports Complex.
Gates will open for cars to park at 7:30 pm. All cars must be parked by 8:30 pm, for the movie to begin at dusk. Staff will be directing vehicles to park every other space, so all vehicles are six feet apart.
People must remain in their vehicles to watch the movie. A concession stand (cash only) will be available.
Event is free. Donations excepted at the door.
This drive-in movie is presented by Blackhawk Bank & Trust with contributions by the Rock Island Parks & Recreation Foundation, South Rock Island Township, and Rock Island Township, IL.
For inclement weather, call the rain line at (309) 732-RAIN (7246) after 3:30 pm on the day of the movie.
Quad Con Davenport's Comic & Toy Show
Comics! Toys! Video Games! Cosplay! It's a Pop Culture Celebration!
Quad Con Comics & Toy Show will be taking place this Saturday Jul 11 from 10 a.m. – 4 p.m. at the Golden Leaf Banquet Hall (2902 E Kimberly Rd. Davenport).
This free event will feature a day of Geeky Goodness and a Live Auction for Helping Hannah's Heart Foundation around 1:30 p.m.
For more information, please visit https://www.facebook.com/events/606548160081525/.
Colonial Germans & the American Revolution
Join the German American Heritage Center & Museum for a virtual program on Sunday, July 12th at 2 p.m. Colonial Germans & the American Revolution will be presented by the GAHC's Assistant Director.
When did the earliest Germans arrive in America? Did Germans fight in the American Revolution? Why do we celebrate German American day on October 6th? What were some of the earliest German-American communities like? Learn the answers to these questions and explore early German-American history in this virtual presentation!
This presentation will be recorded and emailed no later than 2 p.m. on Sunday, July 12 to those who purchase tickets.
Tickets are $5 and can be purchased on Eventbrite.com.
Stay tuned to QuadCities.com, your site for fun, free, local entertainment for upcoming events in our weekly column, FUN10, every Sunday!
#Fun10QC