10 Fun Things To Do Week of August 16th: Outdoor Movies, Live Music, Beer and MORE!
QuadCities.com proudly presents Fun10, a list of the top 10 things to do in the Quad Cities this week, and every week! Every Sunday, we'll drop a new FUN10, to give you a head start on your week and a heads up on what's going on over the coming seven days. Check out FUN10 every Sunday for the details on ten awesome events happening around town. It's a cool read, and a great way to get started planning your entertainment for the week.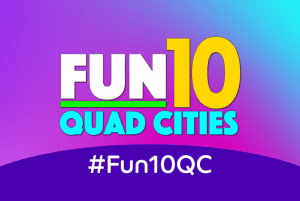 As the current health situation in our country continues to force the cancellation of so many regularly scheduled events in the Quad Cities, we are once again focusing this week's edition of Fun10QC on fun entertainment you can enjoy in the safety of your own home or while practicing safe 'social distancing,' as Iowa and Illinois begin to hold in-person events.
FUN10 — ten ways for you to have fun in the Quad-Cities, this week and every week, running every Sunday, only on your site for fun, free, local entertainment, QuadCities.com!
So what's on the FUN10 for this week? Read on …
The Art of Beer
Experience The Art of Beer at the Figge Art Museum (225 W 2nd Street Davenport) this Thursday Aug 20 from 6:30 – 8 p.m.
Enjoy four delicious brews of 5ive Cities Brewing Company while learning about the artful process of its origins from hops to bottle. In between segments, enjoy the sounds of local musician, Bobby Ray Bunch.
Want a more robust experience? Have your beer tasting paired with four courses from Central Standard. Beer and food packages will be available for pick up.
Food and Beer – $65 | Just Beer – $25
Reservations for tickets must be made by August 17th for food and by August 19th for Beer only packages.
To make your reservation today and to view the full menu available, please visit https://www.facebook.com/events/983904588714350.
Movie in the Park – Lion King
Join Moline Parks and Recreation for the 2nd and final Movie in the Park of 2020, this Friday Aug 21!
Grab your lawn chairs and blankets for a fun family night out. The Lion King (2019) will be showing on the BIG SCREEN at Greenvalley Sports Complex (5920 52nd Ave Moline).
This event is free and open to the public. Restrooms will be available. Concessions will not be open, but families may bring their own snacks.
The movie will start at sunset, approximately 8:00 p.m.
For more information, please visit https://www.facebook.com/events/593021658319535/.
Garden Cinema: Hollywood Fumbles
Rozz-Tox (2108 3rd Ave Rock Island) will be hosting their covid-era outdoor double-feature film series, Garden Cinema, this Friday Aug 21 from 8 p.m. – 12 a.m.
This week's Garden Cinema theme is 'Hollywood Fumbles,' films that shouldn't have been made but we're glad they were.
Movies featured:
8:30 p.m. Super Mario Bros. (VHS)
1993 | US | adventure/ comedy | PG | 1h 44m
a film by Annabel Jankel & Rocky Morton
Super Mario Bros was dreamt up as an obvious cash grab to capitalize on the successful video game franchise. The "film" features an impressive cast including screen legends Dennis Hopper and Bob Hoskins, as well as newcomer John Leguizamo. This coupled with cutting edge special effects and fantastic Production Designer David Synder(of Blade Runner fame) insured nothing could possibly go wrong….right?? Several script rewrites and concept changes ensured a very over budget, confusing and stressful film production that led stars Hoskins and Leguizamo to drink every day to get through the ordeal. While this film was marketed towards children, the dark tone and odd character design choices may make it not make it desirable for younger children (or those who have taste.)
10:30 p.m. Nothing But Trouble (VHS)
1991 | US | horror/ comedy | PG | 1h 34m
a film directed and written by Dan Aykroyd
Nothing But Trouble is a prime example of how casting popular comedy stars and allowing an SNL alum to write and direct is not an equation for absolute success. With a budget of $40 million and a box office gross of $8.4 million (along with its 5% Rotten Tomatoes score) it is clear this film did not resonate with audiences or critics. Stylized as a bizarre cross between Texas Chainsaw Massarce and the Munsters, this dark comedy will leave you wondering, WHY?? The biggest questions may be, why did Dan Akroyd play so many characters, and why did they chose the surprise musical guest at the end? Most troubling question, is why after watching the final product, did anyone agree to put this thing out at all? Thankfully this is the only film they let Dan Akroyd write and direct.
This is a free event, but seating is limited. Feel free to bring a blanket or lawn chair! Food and drink will be available from the walk-up window. Masks are required to use the restrooms – only 2 people inside at a time. For more information, please visit https://www.facebook.com/events/591495078209716/.
Shops with Hops in Le Claire
The Third Annual Shops with Hops is returning to historic downtown LeClaire, on Saturday Aug 22. Starting at 3pm, the shops will be hosting the Midwest's best breweries so you can sip, sample and shop your way through town.
Enjoy delicious craft beer samples from your very own 5 oz. souvenir tasting glass. Join the fun at Green Tree Brewery for the after party where Shops with Hops will be raising money for Getting Heroes Home! Must be 21+. This is a rain or shine event.
Sample beer from Front Street Brewery, Adventurous Brewing LLC, Five Cities Brewing, Contrary Brewing, Crawford Brew Works, Pilot Brewing Supply, Green Tree Brewery, Nerdspeak Brewery, Twin Span Brewing and Gezellig Brewing Company.
Shop while you sip at Grasshoppers Gift Shop, Razzleberries Fine Gifts, Decades, The Shameless Chocoholic, Faithful Pilot Kitchen and Bar, Letty's Designs & Décor, Royal-Tea, Bela, The Crane & Pelican Café, Mississippi River Distilling Company & Cody Road Cocktail House and Aunt Hatties.
Purchase your tickets today at https://www.eventbrite.com/e/shops-with-hops-tickets-91535217299.
Downtown Davenport Outdoor Movie Night
Let's party in the parking lot!
Oh So Sweet by Tiphanie and Fat Sacks are excited to announce that they've teamed up to host a socially distanced outdoor movie night!
Join Downtown Davenport Outdoor Movie Night this Saturday Aug 22 and watch the movie JAWS in the outdoor parking lot behind Kilkenny's Pub (300 W 3rd Street Davenport)!
Grab your friends (groups should be 6 people are less) and arrive at Kilkenny's at 7 p.m. Upon arrival, you will be checked in and you and your group will be shown to your reserved, socially distanced space.
Once you're relaxed and settled in, the guys from Mississippi River Distillery Company will be there as your personal event bartenders for the evening, with their specially designed Blood In The Water craft cocktail that will be available for purchase on the outdoor drink hut!
Fat Sacks will be serving a drive-in Burger Basket made of Two Quarter Pound Patties With American Cheese, Fancy Sauce & LTOP Served With House Garlic Potato Chips.
Once the sun goes down, the movie will start and Oh So Sweet will pass out Shark Bait dessert boxes for everybody to snack on while watching the movie!
Tickets are just $35 and can be purchased online at https://www.eventbrite.com/e/downtown-davenport-outdoor-movie-night-tickets-116224260893.
Everything for this event (drinks, food, dessert, movie) will be outside. All reserved spaces will be for groups that are spaced 6 apart. Masks are also required to enter the event. Once you are comfortably in your space, you can remove your mask.
Let's have some fun, eat some good food and drinks some amazing drinks Quad Cities!
THE FESTIVAL: A School Drive
Looking for some socially-distant fun with live music and a great cause?
Crunk Chocolate presents THE FESTIVAL: A School Drive, which takes place this Saturday Aug 22 from 5 – 11 p.m. at Renwick Mansion (901 Tremont Ave Davenport).
This jam-packed evening will feature music from house DJ K1ng Supr3m3 and multiple performers of differing genre styles. A food truck will also be onsite to fulfill all appetites. Don't miss out on the raffle fundraiser for a chance to win some amazing items.
Tickets are $20 in advance and $25 at the door. However, if you bring any school supplies and/or PPE (masks, gloves, sanitizer, wipes) you will get $5 off your ticket at the door. If you are a teacher, you can show your school ID for $10 off your ticket at the door. Deals CAN be combined!
For more information, visit https://www.facebook.com/thefestivalshow/. To purchase tickets online today, visit https://www.eventbrite.com/e/the-festival-a-school-drive-tickets-114768979106.
Rapunzel in the Wild West
Are you tired of feeling trapped at home? So is Rapunzel! Join her on this Wild West adventure full of hijinks, hilarity, and heart!
Circa '21 Dinner Playhouse (1818 3rd Avenue Rock Island) presents Rapunzel in the Wild West this Saturday Aug 22 and Saturday Aug 29 at 10 a.m. and 1 p.m.
Rapunzel longs to be a cowgirl but her mother insists it's time for her to start acting like a lady. When the evil Bandit Queen shows up to steal the town fortune, it's up to Rapunzel and her famous, long golden hair-lasso to save the day. Can she prove to everyone that she's more than just a lady? Hop on the "Friendship Train" and help lasso the Bandit Queen just in time for Rapunzel's birthday party! Rapunzel in the Wild West is a musical, and interactive melodrama for the whole family! It's a "fairytale" of female empowerment, and most importantly, being true to yourself, and you won't want to miss it!
Tickets are $9.50. Purchase tickets at circa21.com or thecirca21speakeasy.com. Because of the Phase 4 rules of Restore Illinois, capacity for each show is limited to only 50 people, so make your reservations early! You must purchase tickets in quantities of 4 or 6 ONLY, and you must purchase tickets for your entire party at the same time.
Rev It Up for Awareness
Hey Quad Cities, are you ready to Rev It Up for a great cause?
The annual Rev It Up for Awareness Ride, after some rescheduling, will take place this Saturday Aug 22 at the Mississippi Valley Fairgrounds (2815 W Locust Street Davenport) from 9 a.m. – 6 p.m.
Stay tuned to QuadCities.com for more details about this year's Rev It Up for Awareness Ride.
The Dawn at The Tangled Wood
Looking for some live music and great company this weekend?
Western Illinois based roots rock/jam band, The Dawn, brings their Rock the Wood 2020 tour to The Tangled Wood (3636 Tanglewood Road Bettendorf) this Saturday Aug 22 from 7 – 10 p.m.
The Dawn's live show experience has proven contagious and is tightly gripped in spacious jams, roaring guitar and soulful harmonies. Now a six-piece, The Dawn pushes the envelope at every performance and audiences are rewarded with an experience that can only be described as "The Dawn Effect." Coupled with an equally adventurous light show, The Dawn concerts keep their dedicated and growing fanbase coming back for more.
For more information, visit https://www.facebook.com/events/275779176854217/.
Sophie Scholl – The Final Days
Head to the German American Heritage Center (712 W 2nd Street Davenport) on Sunday Aug 23 at 2 p.m. for a screening of the film Sophie Scholl – The Final Days.
This film is a dramatization of the final days of Sophie Scholl, one of the most famous members of the German World War II anti-Nazi resistance movement, The White Rose.
This event is included with general admission:
Adult: $5 | Senior: $4 | Child: $3 | Member: Free
For more information, please visit http://gahc.org/event/sophie-scholl-the-final-days/.
Stay tuned to QuadCities.com, your site for fun, free, local entertainment for upcoming events in our weekly column, FUN10, every Sunday!
#Fun10QC