WQPT Unleashes Expanded Signal Upon The Quad-Cities
WQPT, the PBS station serving the Quad Cities and surrounding communities has often heard from viewers with issues related to receiving their signal. As a result, for the last several years WQPT has been involved in their Aspire Higher Capital Campaign. The first year was spent in the "silent" portion of the campaign and in January 2020 WQPT announced the public phase of the campaign. "This was only the second time in our 38 year history that we embarked on a capital campaign," said Interim General Manager, Dawn Schmitt. The first being before WQPT went on the air for the start-up of the station.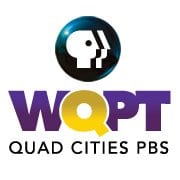 What does this mean for viewers? The WQPT broadcast antenna has been raised 300 feet higher on the tower in Orion, Illinois. Additionally, the WQPT television transmitter was replaced with a more powerful unit along with all of the additional cooling and engineering equipment needed to complete the signal improvement program. Testing on the new equipment took place the week of March 15 and on March 23 the switch to the new transmitter was completed. "We are now broadcasting from our new antenna location at the top of the tower with 27,500 watts of power – far exceeding the 4,100 watts that we were able to coax out of our old transmitter," said Terry Wilson, WQPT Director of Development.
"As a result of numerous donors and our viewers working toward this end, over-the-air viewers should be receiving a stronger signal from WQPT. If they have been unable to receive our channel in the past they may need to rescan their personal antenna to receive our main channel on 24.1 and our secondary channel on 24.2 broadcasting Deutsche Welle," Schmitt said. Viewers who receive WQPT over cable or satellite should not notice any change.
Aspire Higher Leadership Donors include: Arconic Foundation, Dr. Joe Rives and Scott Brouette, John Callas, Doris and Victor Day Foundation, Hunt & Diane Harris Family Foundation, Rosemary & Dean Huisingh, IH Mississippi Valley Credit Union, MidAmerican Energy Company, The Moline Foundation, Elisabeth & Samuel Norwood, The Ontiveros Family Fund at the Quad Cities Community Foundation, Regional Development Authority, Deborah & Mark Schwiebert, Scott County Regional Authority, Julie & Daryl Shike and Tri-City Electric Company.  Special thanks to Mary Pruess, former WQPT General Manager who initiated and coordinated the campaign along with co-chairs Bill Breedlove and John Callas, and committee members Joe & Ana Kehoe, Julie McHard Shike, Gary Rowe and Dr. Edward Littig. Rep. Mike Halpin also played a key role helping to fund the project through the Rebuild Illinois Capital Plan. "This investment allows WQPT to make necessary upgrades to their transmission equipment, thereby improving the signal and making quality programming more accessible to hundreds of thousands of viewers," said Halpin. "I am pleased to see the funding released. WQPT is a vital resource to our community, and I look forward to the positive impact these upgrades will have across the Quad-Cities region."
WQPT is a public media service of Western Illinois University.