EMSSC Renegades Return Home Victorious From USA Cup
After a stunning first place finish at the 2019 USA Cup in Minnesota over the weekend, the U13 EMSSC Renegades returned home this week, bringing the gold cup and the spoils of their victories.
The annual tournament features teams from over 25 countries worldwide and ranked teams from all 50 states. Teams must meet a certain ranking in order to be included in the mix, and EMSSC has been ranked in the top 20 throughout the season to qualify. The Renegades are made up of Deontae Nache, Aiden Sensabaugh, Landon Sensabaugh, Austin VanDeGeest, Andres Segovia, Jayden Kerr, Carter Ramsey, Logan Schaefer, Saul Banos, Mighel Chimal, Issac Rivera, Carson Killam, Brodie King, Davian Hughes, Adrian Hughes and Brian Garcia.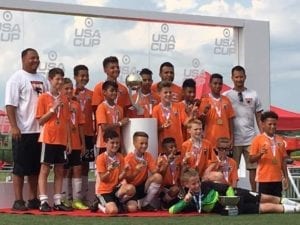 Led by coach Alex Sandoval, the team went 5-0-1 to win its bracket and take the 2019 USA Cup.
The squad busted out to two shutout wins on Saturday, 2-0 and 3-0, before tying and winning their last two games of the day to go on to the semifinals Sunday morning. There, they fought to a 1-1 tie against Barcelona Elite, before winning the game on penalty kicks and advancing to the final, where they won in convincing fashion, taking the gold.
"What a awesome experience for these boys!" Coach Sandoval said in a Facebook post. "Everyone sees the outcome but don't see the hard work they put in behind the scenes! I couldn't do this with out their dedications, my asst coaches dedication and of course the great group of parents who have become like family! "
The boys will have a few weeks off to enjoy and savor the victory, and the inevitable jump in their ranking, possibly even to the top five in the state, given the level of competition, before starting their fall season.
EMSSC is the only Quad-Cities soccer club to have two teams ranked in the top 15 in Illinois at their respective age levels. The U13 Renegades are joined by the U11 Spartans, who have been ranked in the top 15 since spring.