Rock Island Student Entrepreneurs Win Business Awards
The INCubatoredu Entrepreneur and Enterprise students gave their business pitches to a row of "sharks" at FINAL PITCH NIGHT on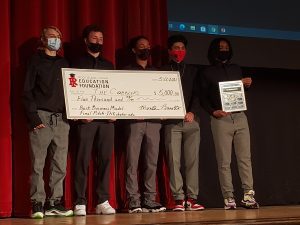 Thursday, May 24 in the
Rock Island
High School Auditorium. Five entrepreneur teams vied for three awards: Best Pitch Award, Best Business Potential Award, and Best Business Model Award:
Luminous Learning– Early Childcare tutoring/daycare, Team member: Isabella Almanza
Elite Grip – Gripping gel to hold the bat; eliminates sweating hands, no pine tar stained uniforms, Team Members: Xander George, McCree DeVoss
(Best Pitch $2,500)Boardable – Foldable longboard, Team Member – Payton Cassidy.
(Best Business Potential $2,500) Pooh Pods –  Team Members: Calvin Banks and Jacob Voigt
(Best Business Model and overall winner $5,000) Cobblers –  Shoe Cleaning and resale of shoes, Team Members: Jason Arroyo Vasquez, Zack Beckman, Ravon Johnson Taylor, Samuel Steffen, James Webb
The Cobblers will have their name engraved on the award plaques to be displayed in the INCubatoredu Entrepreneur and Enterprise Classroom. A video of their pitch presentation will also be submitted to the national INCubatoredu Pitch Competition. The team also received $5,000 in startup cash to further their venture.