QuadCities.com Top Stories Of 2020: Part Six. September And October.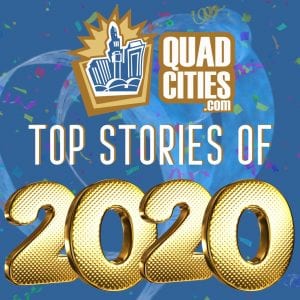 We're headed into the home stretch today!
This week, every day since Sunday, we've been running down the top arts and entertainment stories and features we've run on QuadCities.com.
We hope you've enjoy the look back, and let's all hope for a happy new year and a much, much, much, much better 2021!
To check out the previous installments, see Sunday for January/February, Monday for March, Tuesday for April, Wednesday morning for May/June and Wednesday afternoon for July/August.
Today we hit the final four months of the year!
This morning we've got September and October, and this afternoon we'll be giving you the last episode, November and December. The last four months saw another downturn in the year, after some semblance of lighthearted semi-normalcy over the summer. A derecho hit the area, knocking out power and destroying and damaging homes, allowing insurance companies to show customers that when it comes to taking their money for their bills, they're all over it, but when it comes to actually paying out for policies, those feet are always a draggin'.
Covid came roaring back with a vengeance, as in October, record case numbers and death tolls brought back mitigations and foreshadowed full on shutdowns in November.
People got absolutely sick and tired of seeing election ads and being constantly texted and called by campaigns.
And as the weather got cooler, and covid cases began to spike up, more and more events and arts and entertainment organizations started to really feel the pinch and begin shutting down again, leading to what would be a sad end to the year.
But here in September as we begin this, there was hope, and as we went into October, things were still up in the air a bit, leading to some good news and fun stuff around the area.
Here's today's installment, and as always, we hope you've enjoyed the look back on a difficult year. Let's all hope for better times in 2021, and as always, thank you for making QuadCities.com your place for arts and entertainment coverage, features, health stories and positive news in the Quad-Cities!
Let's get things rollin'…
September
Scott Beck and Bryan Woods (the former Bettendorf filmmakers responsible for "A Quiet Place") announce that Adam Driver will be starring in their next film, "65." How do you spell an upcoming film blockbuster? Add star Adam Driver to a sci-fi thriller written and directed by Bettendorf natives Scott Beck and Bryan Woods, co-produced by the legendary Sam Raimi. "We're still pinching ourselves with this news," Beck and Woods tweeted on Tuesday of the planned pic "65." "Adam Driver will be the star of the next film we're directing for Sony. He's one
of our favorite artists on the planet. Can't wait to share this special movie with all of you."
This fall, Quad City Arts is celebrating its 50th Anniversary, dedicated to enriching the quality of life in the Quad City region through the arts. Looking back at the impact, the Quad-Cities would not be the Quad-Cities without Quad City Arts. ​ Founded in August 1970 as Quad City Arts Council, QCA is a nonprofit arts organization serving a six-county area in eastern Iowa and northwestern Illinois. They are passionate about the growth and vitality of the Q-C region through the arts and for the past 50 years, have been committed to making quality arts education accessible to everyone.
Fontana is in southern California, over 1,800 miles from the Quad-Cities, but that didn't stop Yuji Baba, a graphic designer and illustrator there, from using The Force (and his amazing talent) to win the Quad City Arts Chalk Art Fest. The 30-year-old California native, who was raised in Osaka, Japan, won the first place of $500 with his gorgeous rendition of a book cover featuring Natalie Portman as Padme from the "Star Wars" prequels. "I'm so honored," Baba said Monday. "If I had other graphic design work, I would not have been able to enter this festival."
Less than a week after it was posted on Change.org, roughly 2,500 people have a signed a petition protesting potential removal of the theater major at St. Ambrose University, Davenport. The petition to the Board of Trustees says that due to economic concerns, the private SAU is considering eliminating the theater major and converting it to a minor. "Removing the theatre major will rob many students of opportunities to take classes that will help them to develop and hone essential skills within and outside of the theatre world," says the page, started Aug. 28 by SAU student Erika Seabloom.
Quad City Arts is partnering with several local institutions to celebrate women's empowerment and work by female artists. This month marks the 100th anniversary of the passage of the 19th Amendment, guaranteeing and protecting women's constitutional right to vote. This historic centennial offers an unparalleled opportunity to commemorate a milestone of democracy and to celebrate the achievements of women — especially in the arts. Quad City Arts' September and October exhibition at Quad City International Airport, Moline, titled "A Portrait of Remarkable Women," features a number of women artists.
Hannah Holman has a dream and it's tantalizingly close to coming true. The passionate principal cellist for the Quad City Symphony Orchestra – of which she's been a member since 2001 – has spent years planning and forming the Quad City Music Academy, which is now a registered nonprofit organization with an accomplished local board of directors.
A number of activities continue to be canceled due to covid, but some continue on. Local music in bars and clubs is able to continue, and Circa '21 opens its "Savannah Sippin' Society" on its main stage, making it one of the few theaters in the area to hold any live performances during the year.
Quad City Symphony's Riverfront Pops pays tribute to Fleetwood Mac with "Landslide," and Modern Woodmen Park opens up to do drive-in movies. SUYP Comedy Troupe returned for a show at the Village Theater and Black Box Theater in Moline debuted "Three Viewings."
On the art scene, artist Steve Sinner made the most of the derecho by creating awesome artworks with a lot of the found wreckage from trees and other items.
Last year, spoken-word artist Aubrey Barnes and singer-songwriter Delores Westbrook-Tingle partnered to make a new song that summarizes what United Way of the Quad Cities is all about – "Together." That inspiring song – which kicked off the July 2019 unveiling of United Way's African-American Leadership Society (AALS) and was part of the September 2019 launch of "Amplify Quad Cities: The Soundtrack" – has now been made into a five-minute video to support the nonprofit's racial equity effort.
Starting freshman year of high school can be a challenge for most kids, especially during a global pandemic. The transition is a bit smoother for 14-year-old Lucy Lareau, Moline, who is marking the imminent publication of her fourth graphic novel, written with her mother Liz. Lucy is on a mission to inspire elementary-school girls to raise their voices and make a difference, through her two-year-old series, the Geeky F@b 5. Her new book, "Food Fight for Fiona," which addresses student hunger and food production, will be published Sept. 15 by New York City-
based Papercutz.
"Sons & Daughters of Thunder" is continuing to make noise throughout the Iowa Film Awards scene! The movie, created by Kelly and Tammy Rundle, won a Critic's Choice Award at the 2020 Iowa Independent Film Festival. The awards were announced during an online ceremony. "Thank you to the festival, and particularly to festival official Terry Harrison, for choosing "Thunder"!" Kelly Rundle said in a Facebook post.
For the eighth consecutive year, Western Illinois University has been listed among the best of the best, and one of the best colleges for student voting by the Washington Monthly. This year, WIU, ranked at number 12, is listed in the top 25 of "Best Bang for the Buck" Midwestern schools, according to the 2020 Washington Monthly College Guide, which is supported by the Bill and Melinda Gates Foundation.
A dilapidated brick building, right off the 74 bridge on Moline's riverfront, is all about possibility. And Brandon Nees is thrilled about bringing that surging potential to colorful life. The 25-year-old Davenport artist, who graduated from Moline High School, has been chosen to create a $10,000 public mural on nine panels of the boarded-up ground floor of the Spiegel Building, 200 20th St., just north of River Drive. Renew Moline partnered with the City of Moline and Quad City Arts to issue a call for entries.
Wallesance returned to Skeleton Key in Rock Island, and Viva Las Divas Drag Show came back to the Speakeasy in Rock Island. Ballet Quad Cities performed at Davenport's Outing Club, and Anthony Natarelli's $1 Producer Project presented "Lonely Planet."
Einstein's Sister released their first new material in almost 20 years! The band collaborated with musicians from the bands of Paul McCartney, Sheryl Crow, Phil Collins and more, and the double-A side single was mixed at RAK Studios (where albums from Radiohead, Adele, Simple Minds and more have been recorded) and mastered at the legendary Abbey Road Studios. Written by Kerry Tucker (guitar and vocals) and Bill Douglas (vocals), and featuring Marty Reyhons on drums and Andy Brock on bass, the songs, "Begin Again" and "Standing Still," are power pop gems.
Twenty-seven nonprofits were awarded just over $470,000 in grants from the Quad Cities Community Foundation's Coordinated Field of Interest Grant Program. The grant program includes awards from 10 funds made possible by donors at the Quad Cities Community Foundation.
Continuing a 17 year trend, Western Illinois University's combination of excellent academics, affordability, supportive faculty, and student services has again brought a "Best Midwestern College" designation for Western from The Princeton Review. Western is one of 158 regional universities, and one of only three Illinois public institutions, named to the "Best in the Midwest" list.
Friends and family in the Quad-Cities are mourning the sudden, shocking loss of Keith Bonnstetter, a beloved Bettendorf Spanish teacher and master of intricate paper cutting. He died at 52 after collapsing during a run. Bonnstetter was a Spanish teacher at Bettendorf High School since 2001, said principal Joy Kelly in a Sunday post on the school's website. "He loved his students, he loved his colleagues and he loved teaching," she wrote. "Keith was a positive, compassionate and talented presence
on our campus and he will be missed dearly by all of us."
Haley DeGreve just graduated from Augustana College in May, but the Alleman High alum and Moline native already has become a national advocate in the fight for suicide prevention. DeGreve was on the podcast of Kevin Hines, a leading suicide prevention activist, and she'll be a keynote speaker Saturday at 6:30 p.m. for the Hope Rising Suicide Prevention Virtual Summit, a 12-hour free event available at https://www.hoperising.one/agenda. It's also a fundraiser for the National Suicide Prevention Lifeline and the American Association of Suicidology.
Monday, Sept. 28, was a beautiful and a full day for Moline's Sarah Stevens, who was awarded a $10,000 Nation of Neighbors grant by Royal Neighbors of America (RNA). Founder of The Beautifull Project (TBP) in 2018, Stevens works as an online curator and author of content that encourages women of all body types, ages, and ethnicities to embrace their bodies and to live more confidently, freely, and fully in them.
October
Lewis Knudsen, a Rock Island-based singer/songwriter, had one of his original tunes debut last fall on the Hallmark Channel and he didn't even know until a couple weeks ago.
"The way it works with composition, there are so many libraries, so many songs. I have a good relationship with this library, but they don't have the bandwidth to let every artist know," he said Thursday of Gramoscope Music, which works with artists nationwide to place shows in TV and film.
Knudsen had a two-year-old song, "I Need To Get Free," as one of eight songs on the soundtrack for Hallmark's "Love, Fall & Order," which aired Oct. 12.
In the 84-minute romance, Claire (Erin Cahill) goes home to save her dad's (Gregory Harrison) annual Fall Fest on her family's pumpkin farm, and sparks fly with an old rival — the opposing lawyer (Trevor Donovan) she now faces in court.
Gramoscope is one of several music libraries Knudsen has contracted with to provide exclusive or non-exclusive use of his music. The Hallmark song is exclusive to Gramoscope, so he can't make it available on his own record or streaming services.
"When I stopped touring (with the pandemic), I needed as a musician to find a different stream of income, and I'm really glad I did," Knudsen said. "It's way more viable."
The party ended for Billy Bob's Redneck Party Bar, not that long ago a thriving business in Rock Island's downtown strip, announced on Facebook that they were closing next week. Undoubtedly hit incredibly hard by covid-19 and lengthy closures and quarantines, the dance club owners posted the following: It's with a heavy heart that we have to make this post. Saturday October 3rd will be our last day open. Owners are looking at a potential re-opening in 2021.
A native of China, Xixuan Collins has lived in Iowa since 1997, but has only written in English since 2015. Her debut novel, "Flowing Water, Falling Flowers" from the Rock Island-based Midwest Writing Center Press, was released in October. "I'm still not sure I actually have the
confidence even now as a writer," Collins, 52, said recently. "But I have taken a lot of workshops through MWC and have learned a lot about the craft of writing fiction. Through MWC, I also met some amazing writers and writing instructors, and their encouragement and affirmation have helped me greatly."
The Rock Island-Milan Education Foundation (RIMEF) Board of Directors has awarded $40,277.66 to fund internet access for Digital Equity in the Rock Island-Milan School District (RIMSD) over a period of 3 years. The vote was made at the RIMEF's board meeting last Thursday after a presentation from RIMSD IT Director, Troy Bevans. Mr. Bevans stated the goal for the District's technology is a sustainable approach reaching beyond the current COVID-19 crisis.
"The Rocky Horror Show" returned to the Rock Island Speakeasy, as star Tristan Tapscott scandalized audiences with his ribald behavior as Frank-N-Furter.
Lee Enterprises fired more people from the Quad City Times, including several who had been there for decades. Veteran journalists like Linda Cook and John Marx also left the paper, leaving it with very, very few veteran columnists and journalists who had been there even a year earlier.
Bob Williams absolutely loved theater, Quad City Music Guild and his family – to the point where Music Guild and his family became one. In an unrelentingly awful year, which has seen the Prospect Park theater in Moline go dark for the first time since 1949, the Guild family endured another bone-crushing loss Sunday, as Williams (a veteran director) died suddenly from a massive heart attack at age 61. "We are all in shock. It will take some time for the loss to become real," longtime Music Guild volunteer Cathy Marsoun said.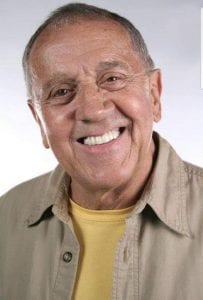 Local actor and comedian Don "Hep" Hepner dies.
In a move that will devastate the lives of thousands of employees nationwide just before the holidays, the Moline Regal Cinemas, in addition to over 500 other theaters nationwide, was closed down. The second-largest cinema chain in the United States, Regal Cinemas, which operates 543 locations in the United States, will be shutting down all of its movie theaters starting Thursday due a cascade of postponements for big-budget Hollywood films.
Family Museum holds a virtual science fair, Joe Nichols plays at East Moline's Murphy Park, Ballet Quad Cities holds "Dracula," a number of area Haunted Houses open with covid guidelines, Quad City Symphony and BlueGrass Drive-In continue to hold events, and the libraries around the area expand their repertoire and services to more of the virtual realm to help people.
Quad City Arts' Visiting Artists Series goes virtual.
Davenport singer-songwriter Jordan Danielsen creates a music video to raise awareness about suicide prevention.
The Iowa Women's Foundation (IWF) has announced 2021 Core Grant awards to United Way of the Quad Cities and Lead(h)er, for programs that help young girls and women. The grants are among $100,000 to 13 organizations across the state – raising the total granted to over $1.1 million since the program began in 1997.
The Quad-Cities ranks number 79 among the top 150 best places to live in the nation, and the sixth most affordable, according to U.S. News & World Report. The report, released this week, represents a pretty good win in economic development. U.S. News analyzed 150 metro areas in the U.S. to find the best places to live, based on quality of life and the job market in each metro area, as well as the value of living there and people's desire to live there.
Josh Duffee and Carol Schaefer are two Davenport men who are passionate about one of Davenport's most famous natives. They are the newest winners of the Bix Lives award, given each year since 2007 to people who exemplify what it means to keep Bix Beiderbecke's legacy alive.
Soccer fans score big as the Quad-Cities First Annual Q-C World Cup debuts at Campbell Sports Complex, 8399 29th St W, Rock Island! Join Quad-Cities Interfaith organization in celebrating all the people from countries all around the world who now call the Quad-Cities their home by watching their teams participate in the beautiful game. There will be teams representing eight different countries competing in the soccer tournament.
Freddy Allen is getting by with a little help from his friends. The 50-year-old Davenport jazz pianist and singer has been a professional musician for 37 years, performing all over the globe and in October he launched a Facebook Live concert series called Freddie And Friends.
The Putnam Museum & Science Center's virtual Mad Scientist Ball, on Saturday, Oct. 17, raised $26,735, with donations still coming in. "I am THRILLED with the success of the event," Nisha Ladlee, the Putnam's vice president of development, said Monday by e-mail. "Everyone really seemed to enjoy themselves. Eric Sorenson was a phenomenal emcee and Emily Calandrelli was wonderful as our celebrity guest. This was the Putnam's first time holding a virtual fundraiser and we are grateful for the support from our community locally."
Rock Island's Big Swing closes its doors, with plans to re-open in 2021. Rock Island's Black Sheep also closes, with future plans as yet unknown.
Despite the PGA Tour 2020 John Deere Classic being canceled this summer due to Covid concerns, it helped raise $12.22 million for 465 local and regional charities, through the annual Birdies for Charity program.
The #MaskUp campaign by the Western Illinois University Department of Communication Social Media Lab has been honored for outstanding volunteerism by the McDonough County Quality of Life Advisory Committee.
Despite an online petition protesting theater cuts, the private St. Ambrose University in Davenport has decided to eliminate its award-winning theater major, but maintain faculty and programs. It's also cut two theater staff positions. "It's a disappointing decision, and a short-sighted one," River Music Experience executive director Tyson Danner (a 2007 SAU alum) said Monday by e-mail.
Brandon Nees squinted into the sun at the dilapidated, vacant Spiegel building, and all he saw was bright, boundless possibility. That's partly because the 25-year-old Davenport artist, who graduated from Moline High School, painted the word "possibility" in big turquoise block letters across seven plywood panels – among nine colorful 7.6-foot-by-6.75 feet panels he created for a $10,000 public mural on the boarded-up ground floor of the city-owned Spiegel building off River Drive (200 20th St.) in downtown Moline. "It's amazing," Nees said of the finished mural.
Tammy and Kelly Rundle and their Fourth Wall Films Crew announced: We awoke to some marvelous news! "Sons & Daughters of Thunder" has received a nomination for a Mid-America Emmy in the Arts/Entertainment category! "Thunder" was produced by Tammy Rundle, Kelly Rundle, Kent Hawley, and Executive Producer Kimberly Kurtenbach.
And given all the seriousness and bad news as the fall crashed in, let's end with this, shall we?
There are awards, and there are VERY SPECIAL awards.
Honors, even.
And this month, Quad-Cities actor/musician/bon vivant Doug Kutzli was verily bestowed with one of the greatest honors that could be graced upon a local performer.
Upon a search for "donuts near you," Mr. Kutzli's performer page came up, thus putting him in rarified company as the ONLY Quad-Cities entertainer thus dubbed as AN OFFICIAL DONUT NEAR YOU.
This is the first time any local entertainer has come close to gaining such a status since actor, singer, and cocksman
Russell Lee was handed the Aunt Connie's Chili Bowl Of Greatness in 2005.
We at QuadCities.com are beside ourselves with joy for Doug and wish to congratulate him on such an august and revered tribute.
As for Doug, he had the following to say upon finding out the good news:
"It was an honor just to be nominated! I am cream filled with pride and still walking around in a glaze"
And that's all for September and October, folks…
stay tuned later today for the FINAL CHAPTER.
November and December.
You don't want to miss it…