Putnam Partners Again with MLK Project, Opens New Original Exhibit
Saturday in the Arts is a weekly feature covering a trend, subject, event or personality of local interest. It runs every Saturday morning on your site for the best entertainment and arts coverage in the area, QuadCities.com!
This past week has been another major one for the Putnam Museum & Science Center, 1717 W. 12th St., Davenport.
On Jan. 17 (Martin Luther King, Jr. Day), Putnam CEO Rachael Mullins attended an exciting announcement from the Friends of MLK, Inc. The Quad Cities non-profit announced Monday that a new $1-million park will be built to honor Dr. King, outside its building at 501 Brady St., Davenport.
The MLK Park, to open this summer, will be the City of Davenport's first official memorial for Dr. King.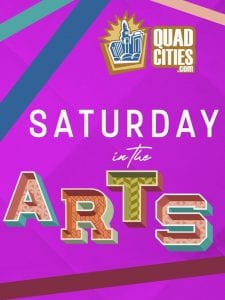 "The vision for a MLK memorial began back in 2014 with a City of Davenport Task Force. It is exciting to see this vision begin to come to reality," Ryan Saddler, board chair and CEO of the Friends of MLK, said. "It is our hope that all Davenport residents and Quad Citizens will see this park as an opportunity gather and honor the life and legacy of Dr. King. This park is our reminder of the fight for equity and justice that has made America what it is today."
"This is the prime location to feature the rich cultural history, located in this community," Saddler said. "These and many other stories will be featured in the park, thanks to community partners like the Putnam Museum, the Azubuike Center for the Arts, LULAC Council 10, and many more, that are helping us collect stories that we will be able to have implemented and cemented into the story of Davenport."
The new park will feature a stage for live music, he noted. While there will be permanent displays, there also will be rotating exhibits on other local QC civil rights leaders, he said.
"It's really exciting," Mullins (who's working with Friends of MLK and many others on updating the Putnam's permanent regional exhibit) said of the plan.
"I think the mission of the Putnam is to bring these kinds of stories to life across the Quad-Cities region. We love that there's this collaboration that will bring these stories directly to this neighborhood that was so instrumental to the Black history movement and emblematic of the incredible entrepreneurship and opportunities in the African-American community."
"It's a tremendous opportunity and a tremendous honor to be working with the Friends of MLK on this initiative," she said.
The Putnam is working on collecting oral histories with the nonprofit, documenting those stories, both for the museum's update to its regional history exhibit and the new park. Visitors will be encouraged to see both places to learn about the important history, Mullins said.
"Friends of MLK is dedicated to not just African-American history, but the broader story of Martin Luther King and what he was trying to accomplish," she said. "Bringing his vision of that beloved community here to the Quad Cities. For those of us that love the Quad Cities and have found tremendous opportunity here, it's now our responsibility to make sure this is a beloved community that has equal access, social justice and love and care for all of our citizens.
"So I love that there's that broader outreach and mission to make sure everyone's history is represented, and we understand that as part of our collective identity as Quad Citizens," Mullins said. "Our community has extraordinary stories across the board, for fighting for social justice and civil rights, from a variety of standpoints, in all different cultures. It's exciting to see that manifested here in the central city of Davenport."
In November, the Putnam announced it is raising money to match a new federal grant of $245,000 to complete a major overhaul of the regional history exhibit ("River, Prairie and People"), including partnering with several community organizations.
The grant (the only one in the state of Iowa) from the Institute of Museum and Library Services was made possible through the support of local funders, including the Regional Development Authority, United Way of the Quad Cities, Exelon Corporation and the Jim Estes estate. The $245,000 grant requires a 1-to-1 local match, and the entire Regional History Update is expected to cost over $700,000, according to the Putnam.
The update – to be completed in 2023 – will ensure that the exhibit reflects the modern era, our shared experience as Quad Citizens, and the rich cultural diversity of our community.
The update will bring the exhibit to the current day, including the extraordinary accomplishments and challenges of our times. Additions are also planned to reflect stories that are missing from the exhibit, including those that reflect the diversity of our region.
A primary project partner is Science Museum of Minnesota — creators of the exhibit "Race: Are We So Different?" — who as one facet of the exhibit will work with the community to distill the themes of the "Race" exhibit through the lens of local history so that participants can learn about, build pride in, and embrace the collective identity of our diverse community.
The project partners in this work include Azubuike African American Council for the Arts, Friends of MLK, LULAC Council 10, the Iowa Women's Archive of the University of Iowa Libraries, and World Relief Quad Cities.
"As a major family destination and through rich relationships among area school districts, the Putnam will welcome nearly every child across our region through this exhibit at some point in their childhood." Mullins said. "That is a blessing and a responsibility for the Putnam. We must assure each child and every citizen sees themselves in the history, current fabric, and the future of the Quad Cities community."
Opening another new, homegrown exhibit
As the two-year Covid pandemic has forced museums to pivot and pinch pennies, the Putnam has opened another original exhibit – "Mother Nature: Modern Muse" – based on items on the museum collection, in the lower level.
"We love featuring the Putnam's glorious collection and creating exhibits original to our museum," Mullins, the Putnam's president/CEO, said. "Our recent traveling exhibit Nature's Blueprints inspired us to draw from our own collection to further explore the concept of biomimicry for this exhibit."
"In science and technology, we tend to build upon what the previous generation has learned. Nature has had billions of years to come up with unique and innovative solutions and strategies that support life on Earth," Putnam curator of natural science Christine Chandler said. "Why has it taken us so long to recognize what nature has to offer? It's definitely time for us to sit up and take notice."
The original museum exhibit includes examples from the Putnam's sprawling collection, supplemental reading material, and an opportunity to try your hand at your own design.
Last fall, the Putnam hosted a similar traveling exhibit on biomimicry, called "Nature's Blueprints: Biomimicry in Art and Design."
That exhibit brought together design and environmental science using artifacts and photography, and interactive learning stations. The traveling exhibit was enhanced by other items from the Putnam's own treasured collection.
Biomimicry – in which patterns and designs in the natural world are copied in man-made items — is not a novel idea; Gaudi and Da Vinci both took inspiration from nature, the Putnam said last August. Modern science and technology are rapidly expanding the types of materials and systems we can create. Bird wings, Rainbow Trout and spiderwebs have inspired design improvements that enable faster travel, more effective wind turbines, and safer bridges.
The traveling exhibition aimed to encourage discourse among audiences of all backgrounds as the understanding of the natural world can lead to extraordinary creations that improve lives and reduce environmental impacts. "Nature's Blueprints" was an adaptation of the High Desert Museum's Innovation Lab: Design Inspired by Nature and was produced and toured by ExhibitsUSA.
Chandler, the Putnam's curator of natural science, looked to mimic the success of that exhibit in the current, locally-grown one. It replaced the long-running previous Putnam original, "OMg: The Elements of Surprise," about the Periodic Table of Elements," which opened in November 2019.
That one shrank when the new World Culture Gallery opened in May 2021. Chandler wanted to fit more natural science as part of the Putnam's ongoing science education.
"Think of all the stuff that natural sciences connects to," she said recently. "We're a living, breathing chemical factory. We're amazing marvels of engineering. That all links, and people keep forgetting."
Chandler decided to feature examples of things they had in the museum collection.
Biomimicry means finding things in nature that you want to duplicate in a product, she said. "It's using nature to solve problems and to come up with strategies."
One example is cicada wings, which have tiny spikes. They don't have a problem with bacteria, because those disease-causing materials are broken up by these spikes, Chandler said.
"They're using them to make different anti-bacterial surfaces," she said. "You can do the same thing with shark skin. A lot of hospitals use material that's made with a coating like shark skin. It helps a lot with reducing bacterial infection."
Studies have examined how well the shark skin-like material — which has bumps that are too small for the eye to see — could prevent the growth and spread of disease-causing bacteria.
The exhibit shows the striking similarity between Kingfisher birds and supersonic bullet trains. When those trains go through tunnels, they make a sonic boom, Chandler said.
"There was an engineer who was actually a birder, and said you need something that cuts through air. You need a shape that cuts the air. He remembered the kingfisher," and he designed the train nose like the bird beak, she said.
"You don't get that huge boom, and you get better mileage on their trains," Chandler said, noting they're more aerodynamically efficient.
Elephants have honeycomb shape within their skull, and Audi thought that was a cool idea. They designed car parts with open space inside, that lightened the load, but were still really strong, Chandler said.
The whole exhibit is themed on biomimicry, featuring about 15 items from the Putnam's 250,000-piece collection, in part to offer more space for visitors to social distance, in the current Covid surge.
One piece is a resin cast of a kangaroo (which had been in the Hall of Mammals), to illustrate energy. Engineers in Germany made a robot, based on the kangaroo hops, like an Energizer bunny, Chandler said.
Some of the items haven't been on display before, or Chandler would take them out occasionally for educational talks.
Many pieces in the exhibit are blue, to illustrate life – water, sky, etc. "I just like the color scheme," she said. A blue butterfly is due to reflecting light, not the pigment.
"So you don't have to worry about creating a color that will fade in sunlight," Chandler said. The butterfly colors change depending on the angle you're looking at them.
By reflecting different light, you may not need to have as much heat in your house. That reduces carbon dioxide emissions, by keeping your house cooler in warm months, and you don't use as much energy in air conditioning, Chandler said.
The exhibit features a couple of winged walking sticks. Walking sticks, or stick insects, are a group of highly camouflaged insects. They escape predation by blending into plant material. As their name suggests, they look just like sticks, and may even sway back and forth to more closely resemble a twig moving in the wind.
The exhibit asks visitors to come up with their own inventions based on walking sticks, which are displayed on the wall. One is a car that walks.
There are seating areas for adults and kids, including articles from biomimicry in the news and several books on the subject.
"The biggest challenge is just being selective," Chandler said of assembling the exhibit.
There also is Spanish translation in the exhibit, available on displayed QR codes. The Putnam has offered Spanish translations in other exhibits over the past two years. (You can also see the Spanish by visiting the Putnam site HERE.)
Touring vs. local exhibits
The last big traveling exhibit the Putnam hosted was late 2019, with "Rube Goldberg: The World of Hilarious Invention." Created by the Children's Museum of Pittsburgh in partnership with the heirs of Rube Goldberg, that showcased the humorist and inventor Rube Goldberg's iconic contraptions and celebrated his storytelling and inventive cartoons.
The advantages to hosting original exhibits are not only lower costs, but more control over how items are displayed and arranged, Chandler said.
Ben Johnson, the new Putnam vice president of museum experiences, agrees.
"Part of wanting to do stuff that's our own and in house is, we have such an amazing collection that nobody – or few of us – actually get to see and enjoy," he said. "The ability to say OK, spending a bunch of money to bring in somebody else's stuff is great, but if you can spend time and energy bringing out part of your collection most people don't get to see – that's the cool part."
"Doing more stuff in house does end up saving money in the long-term, 'cause we're not dropping money on transportation," he said. "But it also, the product is so much better."
"And it's the pride in our community – hey, we have all this great stuff," Chandler said.
"We did it in house and we're gonna spend more time and energy on it, and make it look cool, make it last longer," Johnson said.
This kind of exhibit can also stay up longer than a touring one, and can be updated over time, Chandler said. "We can alternate, add a page or two if we want to," she said.
"This can theoretically stay as long as we want," Johnson said. "And it's a cool opportunity to have our temporary exhibits inform how we do our semi-permanent stuff, as we look to do that with our arts and culture stuff."
"By doing these, we're also learning more about some of the exhibit practices we may be able to incorporate into long-term," Chandler agreed.
"The more stuff we can do in house, the easier it is to keep people coming back and experiencing new things," Johnson said. "It's not always the same exhibits you saw in kindergarten or 4th grade. We've changed things up."
"Anything we can do to practice the process is good," he said. "There are things you learn in the process of creating small, medium or large exhibits. It is invaluable as you go to do the high-dollar, high-impact exhibits, because you can answer some of those questions – remember when we did it last year and that didn't work at all?"
The video screen in the "Mother Nature" exhibit shows a rotating loop of different YouTube clips on biomimicry, Chandler said.
Mullins agreed there are benefits to both the touring and original exhibits.
"We look at a variety of models – we get wonderful experiences, diverse expertise, high-quality graphic design with traveling exhibits that align with Putnam content," she said Friday. "We can have the best of both worlds, with our local collection featured and showcased."
"The objects we're featuring, we can tailor them around regional interests in our local community, references to local industry, to increase local relevance of the exhibit," Mullins said.
She greatly appreciates the interactive nature of "Mother Nature," that doesn't rely on touch screens.
"It's intermixed with reading selections, news content. It has a much friendlier, conversational feel than you think of as a museum exhibit," she said. "It feels like a learning space. You feel like the space is designed for the learner. I've been really excited by the evolution of exhibits. It's the decision making, innovation that the Putnam is exploring and we also want to encourage interaction. You are co-creating, experiencing part of the exhibit itself."
Working with public on "Winter Wheels"
The new display comes on the heels of last fall's almost entirely community-generated exhibit, "Winter Wheels," a collection of motorcycles from the past 110 years all lent by Q-C area residents. The Putnam supplemented the exhibit (which continues through April 3) with a great variety of blown-up posters and ads for motorcycles.
"It was completely curated by our local community," Mullins said with pride. "We have had exhibits in the past that feature private collections, bringing in artifacts around a specific theme."
With motorcycles, it's not just for history and culture focus, but the focus on technology and engineering," she said. "The Putnam is known for a blend of history, culture and science."
"Winter Wheels" has been popular, and brought in new audiences, Mullins said. "It's been exciting to welcome people to the Putnam that may not have been here for many years."
"It's fascinating to see so many different examples of this one very specific interest, of motorcycles, to see so many different examples, and the historical perspective," she said, noting all of them will be returned to their owners in April.
The Putnam continuously encourages local residents and families to donate important items to the permanent collection, and in the past two years has focused on that during this unprecedented period.
"We receive donations from the community year-round," Mullins said, noting the museum has received 500 objects related to the life-changing events of the past two years – including Covid, I-74 bridge construction, the 2020 derecho, social justice movements and 2019 flooding.
"They represent our modern era, the shared experience we all had in the Quad-Cities in the past two years," she said, noting several are currently on display in the Reflection Room, focusing on the Regional History Update. They include a piece the old green 74 bridge.
Submitted items also have included journals and photos, Mullins said.
The Putnam hosted several community meetings to get input for the Regional History Update, which are continuing this month and next.
Part of this also partners with Visit Quad Cities and the Q-C Chamber, as part of the new "QC, That's Where" branding campaign, Mullins said.
"We're collecting feedback on the overarching image of being a Quad Citizen, so when we have a final exhibit design, it will be reflective of the vision of ourselves in the Quad-Cities," she said.
Expanding staff, education offerings
In July 2021, the Putnam expanded its leadership team to include a Vice President of Marketing and Sales, Leslie Klipsch, and Vice President of Museum Experiences, Ben Johnson.
"The Putnam is emerging from the pandemic stronger than ever. Not only has the facility been re-imagined, but we've been able to rebuild our staff," Mullins said then. "We're pleased to welcome two new leaders to the Putnam who both bring an incredible expertise that will further our growth and relevance to our Quad-City community."
Klipsch is a communicator, connector, author, and entrepreneur. She was a founder and co-owner of COWORKQC, a coworking space in downtown Davenport, and, until recently, was the Director of Communications for Empower Tanzania, a non-governmental organization working to sustainably improve quality of life in rural Tanzania.
Over the last decade, she helped launch a fair-trade brand, wrote and published hundreds of articles, and co-led a team of women that raised nearly a half million dollars for clean water solutions across the globe—an experience she chronicled in her book, "Mama Bear's Manifesto: A Moms' Group Guide to Changing the World," published in 2017.
Klipsch has a bachelor's in English from the University of Iowa and a master's in writing from DePaul University. She loves life in Davenport with her husband and their three children.
Johnson joined the Putnam team after spending five years as executive director of the Glenn Curtiss Museum in upstate New York, which focuses on aviation.
His current position absorbed the formerly vacant education director job.
"It's a weird time, and we're finally getting our stride back when it comes to staffing stuff," Johnson said recently. "They reorganized it, and took all the educational programming efforts, exhibits and collections, and merged them under one department. I love it, because we have the most fun part of what we do.
"That's kind of the whole purpose of being what we are – to the education, exhibits and collection management, kind of do it altogether, with an eye towards education programming," Johnson said.
Visitors overall are not back to pre-pandemic levels, but Johnson said the Putnam has seen solid attendance the past three months. Face masks are required for all visitors.
"We're getting some of our school groups back," he said, noting this past Martin Luther King Day was popular.
"Holidays are great – you get people back in town, people home from school," Johnson said of late December and early January. "That was nice having the theater open again over the holidays. We're still not back to full seven-day-a-week screenings now. Having it open at all is awesome. We're slowly getting people aware that we're back open. We've got some cool new stuff to look at."
The Putnam had a water-main break over the summer, which closed the Giant Screen Theater. It reopened by Thanksgiving, and is slowly getting back to attendance. The very cold weather doesn't help foot traffic, Johnson said.
The theater is typically just open on Saturdays and Sundays.
The former Museum Store (which moved elsewhere in the facility) is being converted to a new Education Flex space, including 2,820 square feet (which formerly was the museum store, a storage area behind it, and an office area), with new flooring, lighting, office space, and will be renovated to accommodate groups and meetings.
The new space will be for learners of all ages, including adults, with space available to rent for educational or private events.
"It's kind of going to be a black-box space, wired for a variety of uses," Johnson said.
A grant of about $20,000 came from the Scott County Regional Authority, plus an estate gift from long-term Putnam supporter Jim Estes, and memorial gifts in honor of him have made the project, which is called Virtual Education Spaces (VESPA), possible.
Supply chain issues have delayed the renovation, and driven up the costs, Johnson said. The area also will have its own entrance, so people won't have to come all the way through the museum.
Past and future activities
The popular Polar PJ parties this past holiday season were greatly reduced, with options for people to purchase their own to-go kits.
"We limited the number of shows; we limited the number of people that could attend each show," Johnson said of "The Polar Express" showings. "What we did was extremely well-attended. People loved it and were stoked to get back. Nobody complained about masks, or that I can't do the hot cocoa bar like I used to. You had it served to you."
One of the most meaningful screenings was for military families, Johnson said.
The Putnam also had a reindeer scavenger hunt through the museum as part of Polar PJ parties.
The "Colors of Culture" in the World Culture Gallery will be updated with west African culture this spring, through loans from local immigrant families and the Putnam collection, Johnson said.
Many area libraries have free Putnam passes available for checkout: Bettendorf Public Library, Cambridge Public Library District, Clover Library, Columbus Junction Public Library, Cordova District Library, East Moline Public Library, Edwards River Public Library, Galena Public Library District, HJ Nugen Public Library, Keck Memorial Library, Mellinger Memorial Library, Moline Public Library, Odell Public Library, River Valley District Library, Robert R Jones Library, Schmaling Memorial Public Library, Scott County Library System, Sherrard Public Library District, Silvis Public Library, Sterling Public Library, Warren County Public Library, West Branch Public Library, West Point Public Library, and Western District Library – Orion.
The passes are good for five guests per visit, but each library decides how long they can be checked out.
The "Museums for All" program has been going for a year, allowing people who get SNAP benefits, to use their EBT card to get in for just $1.
Admission to the "Mother Nature" exhibit is included in the price of general admission—$9 for adults, $8 for youth (ages 3-18), seniors, college students and military. For more information on the Putnam, visit www.putnam.org.