Muscatine Sip And Shop, 'Threepenny Opera,' Beaux Arts And More In Illinois And Iowa FUN10!
It's Sunday, and QuadCities.com proudly presents Fun10, a list of the top 10 things to do in the Quad Cities this week, and every week!
Every Sunday, we drop a new Fun10, to give you a head start on your week and a heads up on what's going on over the coming seven days. Check out Fun10 every Sunday for the details on ten awesome events happening around town. It's a cool read, and a great way to get started planning your entertainment for the week.
FUN10 — ten ways for you to have fun in the Quad-Cities, this week and every week, running every Sunday, only on your site for fun, free, local entertainment, QuadCities.com!
So what's on the Fun10 for this week? Read on…
Sip And Shop In Muscatine Next Weekend
Shop, dine & unwind in Downtown Muscatine on a Friday night!
Enjoy extended evening hours and wine samples at your favorite local shops.
"Last year's event was such a success and such a fun evening that we are doing it again this year," said
Greater Muscatine Chamber of Commerce and Industry's Event Organizer, Dena Ferreira.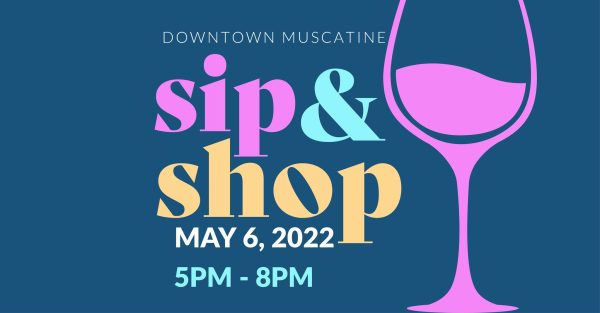 Participating businesses will be open from 5pm – 8pm on Friday, May 6, 2022, in Downtown Muscatine.
Attendees will receive a one–ounce sample of wine at participating locations while they shop! The first
200 registrants will receive a wine tote, wine tumbler, 21+ wristband, and a map at check–in.
Beginning at 4:30pm on the night of the event, participants need to check in at the Greater Muscatine
Chamber of Commerce & Industry located at 100 W. 2nd Street.
GET YOUR TICKETS TODAY at: https://sipandshop2022.eventbrite.com. Individual tickets are $25.00.
Please check muscatine.com and the Downtown Muscatine Facebook page for updates and schedules.
Augustana Presenting 'Threepenny Opera'
The Augustana College Department of Theatre presents "The Threepenny Opera," May 5-8, 2022.
Set in the impoverished back alleys of Victorian London, "The Threepenny Opera" follows underworld antihero Mack the Knife as he tries to woo Polly Peachum and elude authorities. Created in 1928 Berlin to speak out against capitalist corruption, this musical bluntly addresses issues that remain relevant today.
Through epic theatre, theatrical movement, and progressive music, Hauptmann, Weill, and Brecht's work opens up difficult conversations about greed, oppression, and accountability within our society.
"In 'The Threepenny Opera' Brecht argues that a capitalist system drives people to do anything to make money. They steal, kill, and sell their bodies, and none of these actions is out of the ordinary" says director Shelley Cooper. "These activities will arise naturally because the characters live in a system that rewards ruthless competition. The past two years have forced us to have some difficult conversations about accountability, economic injustice, inequality for women, inequities for the LGBTQ+ communities, racism, corporate greed, privilege, and more. I think, if we don't address these important conversations head on, we will be doing a grave disservice, and the same stories will keep being told."
By Bertolt Brecht and directed by Shelley Cooper, assistant professor of theatre arts.
Tickets can be purchased at Augustana.edu/tickets.
Performances will all take place in the Brunner Theatre Center.  For additional information, please contact the Ticket Office at tickets@augustana.edu or 309-794-7306.
Beaux Arts Fair Blossoms Next Sunday
Join us for the spring Beaux Arts Fair at the Mississippi Valley Fairgrounds next Sunday, May 8, from 10 a.m. to 4 p.m.! This will be the 69th year for the fair with proceeds benefiting the
Figge Art Museum
's art education and outreach programs.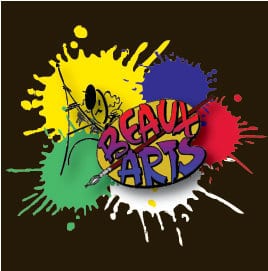 St. Ambrose Presenting 'Little Women'  TODAY
St Ambrose Theatre presents 'Little Women the Broadway Musical' for its last show TODAY!
Produced nationally and internationally, Little Women has been praised by critics for its ambition in adapting such a well-known story for the stage. This timeless, captivating story is brought to life in this glorious musical filled with personal discovery, heartache, hope and everlasting love. The original production starred the unparalleled Sutton Foster, who received Tony, Outer Critics Circle and Drama Desk nominations for her performance.
Based on Louisa May Alcott's life, Little Women follows the adventures of sisters, Jo, Meg, Beth and Amy March. Jo is trying to sell her stories for publication, but the publishers are not interested – her friend, Professor Bhaer, tells her that she has to do better and write more from herself. Begrudgingly taking this advice, Jo weaves the story of herself and her sisters and their experience growing up in Civil War America.
Little Women embodies the complete theatrical experience, guaranteeing a night filled with laughter, tears and a lifting of the spirit.
LITTLE WOMEN
May 1
St. Ambrose University
Get all the details HERE!
'Grace For President' Kids Show At Circa '21
With the theatre's first family musical of 2022, Rock Island's Circa '21 Dinner Playhouse will treat patrons to the joys of laughter and song in the charming stage treat GRACE FOR PRESIDENT. Running through May 14 and based on the beloved children's book by Kelly S. DiPucchio, this delightful musical was praised by the Columbia Star as "an entertaining hit for all ages and audiences" and is being brought to life by a sensational team of professional talents.
Circa '21 will present show-only performances of GRACE FOR PRESIDENT on scheduled Tuesday and Saturday mornings and selected afternoons through May 14. Morning productions, with the doors opening at 9:30 a.m. and show beginning at 10 a.m., will take place on May 3, 7, 12, 13 and 14. Afternoon productions, with 12:30 p.m. doors and 1 p.m. show are scheduled for  May 6, 7 and 12.
Ticket prices are $9.50 per person. To reserve your seats, contact the Circa '21 Dinner Playhouse at 1828 Third Ave., Rock Island, or by calling 309-786-7733, Ext.2, or at circa21.com.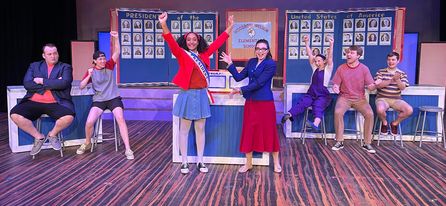 In the star-spangled musical GRACE FOR PRESIDENT, our heroine Grace Campbell attends class one day to discover that the United States has never had a female president. "Where are the girls?" she asks, as her third-grade teacher rolls out a poster with all of our country's presidents, all of them male. Frustrated by the lack of female faces in the White House, Grace decides she wants to be president herself, and inspires a school election.
Through the throes of campaigning and pep rallies, service projects and posters, Grace and her classmates discover what it takes to both be the best candidate and find the fun and hilarity in the weighty but wonderful world of politics. An ideal family entertainment for an election year, GRACE FOR PRESIDENT boasts a book, music, and lyrics by Joan Cushing, whose stage credits include a number of shows previously produced at Circa '21, among them "Miss Nelson Is Missing," "Junie B. Jones & A Little Monkey Business," and "Diary of a Worm, a Spider & a Fly."
Serving as GRACE FOR PRESIDENT's director is Circa '21 veteran Ashley Becher, who previously helmed "Seussical" and the dinner theatre's current mainstage presentation "Just Desserts," and also appeared in the holiday musical "Winter Wonderland."  Grace is portrayed, in her Circa '21 debut, by Audrey Seneli, whose other area credits include roles in the Spotlight Theatre's "The Lightning Thief: The Percy Jackson Musical" and Davenport Junior Theatre's "The Wizard of Oz." Circa '21 favorite, Shelley Walljasper, is GRACE FOR PRESIDENT's music director, the show's cast is completed by Derrick Bertram, Emmett Boedeker, Marc Christopher, Sarah Hayes, Lexi Smith and Rachel Winter.
Circa '21 is thrilled to gather this group of tremendous talents for such a delightful, debuting stage adventure and encourages audiences to quickly make reservations at 309-786-7733 Ext. 2 for the patriotic pleasures of GRACE FOR PRESIDENT!
Subatlantic Shows Featured At Bettendorf Library
Starting May 1st, the Bettendorf Public Library's Brown Bag Lunch concert will feature local band, Subatlantic. The virtual performance will run throughout the entirety of May and be accessible for viewing on the Bettendorf Public Library's YouTube channel. A direct link to the event will also be available on the Library's website at http://events.bettendorflibrary.com/event/6348899. No registration is required to view the Brown Bag Lunch series, which is free thanks to the support of the Friends of the Bettendorf Public Library.
Based in the Quad Cities, Subatlantic is an indie rock band that uses textures in their music in order to create a unique sound. The four-musician group performs with an array of instruments from guitar and bass to cello, keyboards, and accordion. The Bettendorf Public Library's Brown Bag Lunch series offers a monthly concert perfect to view over a lunch hour. More information about this offering and other library events can be found at http://www.bettendorflibrary.com or by calling 563-344-4179.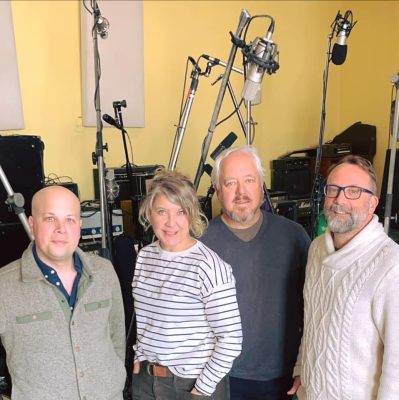 ABOUT the Bettendorf Public Library Information Center: Located at 2950 Learning Campus Drive, Bettendorf, Iowa 52722, the Library's mission is "Committed to providing access to information and ideas for all." For more information, visit www.bettendorflibrary.com or call 563-344-4175.
Rock It Out With Rock And Roll Bingo!
Rock Star Bingo rocks The Tangled Wood in
Bettendorf
EVERY Wednesday Night at 7pm!
Think you know your music?
If you know what song contains these lyrics, you would probably love Rock Star Bingo!
"And she's watching him with those eyes,
And she's loving him with that body, I just know it,
Yeah 'n' he's holding her in his arms late, late at night."
What is Rock Star Bingo?
Just like "regular" bingo, but we replaced bingo numbers, like "B16", with parts of songs. If you know the song title (no phones, devices or apps – basically no cheating), then place a bingo chip on that square. Get 5 squares in a row and you're a winner!!
It's the most fun you will ever have playing bingo!
Rock Star Bingo rocks The Tangled Wood in Bettendorf EVERY Wednesday Night at 7pm!
It's free to play and you can win free drinks.
It's also all-ages, except for that free (alcoholic) drinks part.
Games include B-I-N-G-O, Name That Tune, Sing-a-longs, Rock Star Bingo and more!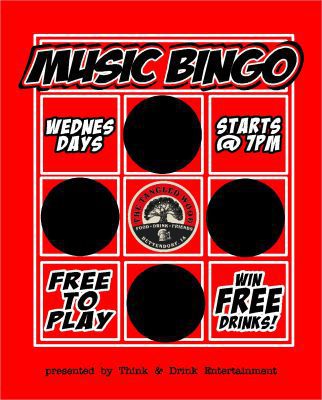 Bootleg Hill Open Mic Every Thursday
Looking for a spot to showcase your talents?
How about the Bootleg Hill open mic night?
The musical open mic night is back. Happening weekly at Bootleg Hill Honey Meads in downtown Davenport. All are welcome. Hosted by Dan Fennesy and starts at 8 p.m.
Get Fit Every Sunday On The Skybridge
Get Fit on the Davenport Sky Bridge!
Free fitness every Sunday at 9am. Beat those winter blues, keep those cold muscles active and share a smile or a high 5 with some great people! There is about 50 mins to walk, jog run, climb stairs, shake your hips with Zumba and so much more! Positive quotes are hung throughout the course that you go at your own pace at. At the end we draw for prizes thanks to local businesses donating ever week! Wear layers it gets warm inside, water available, and a great playlist!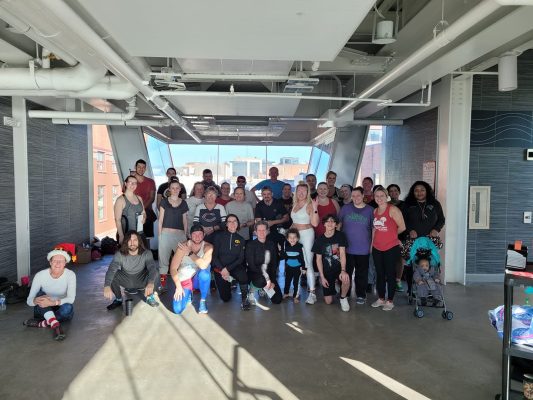 Get Your 'Just Desserts' At Circa '21
Praised by Connecticut's Patch magazine as "a delightfully sweet musical with some savory elements," Circa '21 Dinner Playhouse opens its exciting 45th season of live entertainment with the delectable new musical comedy JUST DESSERTS. This uplifting musical comedy is making its area stage debut and is being brought to life by a marvelous team of professional talents.
JUST DESSERTS will be presented at Circa '21 through May 14, with performances on Wednesday, Friday, and Saturday evenings at 7:30 p.m., Sundays at 5:30 p.m. and Wednesday matinées at 1:30 p.m. Pre-show entertainment featuring the theatre's wait staff, the Bootleggers also will precede all performances. Ticket prices are $58.55 per person for the evening dinner-and-show productions and $51.73 for the matinées.
Reservations are available through the Circa '21 ticket office. For reservations, contact the theatre at 1828 Third Ave., Rock Island or by calling 309-786-7733 ext. 2.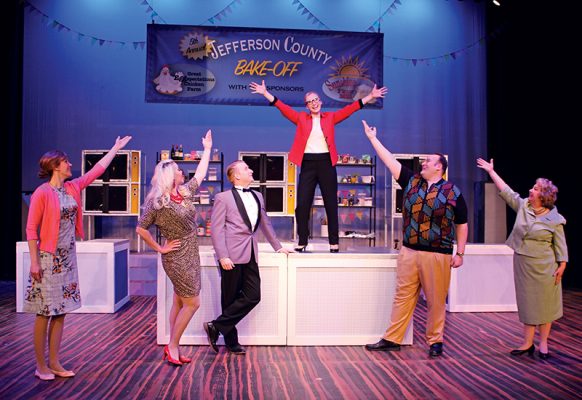 In JUST DESSERTS, five strangers put their hearts, reputations and baking skills on the line to become the crème de la crème of bakers at a county fair. The heat is on to create three different types of desserts during the finals. Among the competition's eccentric contestants is a determined young woman dreaming of opening her own bakery. There's also a sexy nail technician who wants to fit in. Plus, a shy school nurse who doesn't want to be there at all, a mysterious man from Brooklyn who arouses suspicion about his past and the reigning champion who is confident that she'll garner yet another victory this year.
They're all sure to get their "JUST DESSERTS" at the Jefferson County Bake-Off in this hilarious theatrical experience that boasts a little mystery, a little romance, some potential cheating and some back-stabbing, with the results sure to prove deliciously satisfying.
Directing JUST DESSERTS for Circa '21 is venue veteran, Ashley Becher, who previously helmed "Seussical" and appeared in the theatre's recent "Winter Wonderland." Becher also directed last summer's Countryside Community Theatre production of "Newsies: The Musical." With performers Marc Christopher and Lexi Smith making their Circa '21 debuts, Becher's six-person cast is completed by returning actors Bobby Becher "The Play that Goes Wrong," Elsa Besler "The Play That Goes Wrong," Sarah Hayes "The Savannah Sipping Society" and Shelley Walljasper "Disenchanted."  TJ Besler, Kiera Lynn and the director herself will serve as understudies.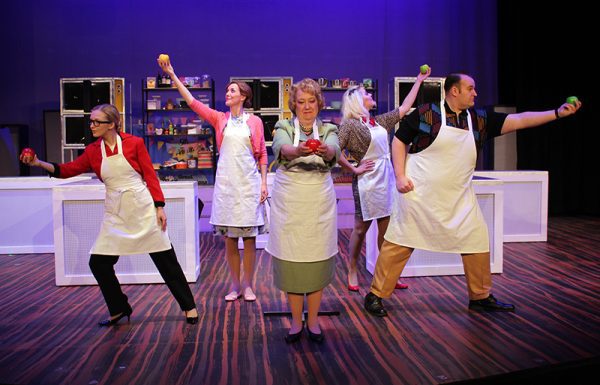 Area favorite, Ron May, takes the reins as JUST DESSERTS' musical director. Additional members of the show's creative team include scenic designer Susie Holgersson, lighting designer and production manager Jeremy Littlejohn, costume designer Greg Hiatt, sound designer Sam Ramont, stage manager Kendall McKasson, technical director Nick Divarco and assistant stage manager and deck manager Emmett Boedeker.  Director Ashley Becker and husband Bobby created the musical tracks for the show.
Circa '21's entire staff is delighted to be opening their 45th season with this delicious stage treat and urges audience members to make immediate reservations for what is certain to be a spectacular springtime hit. Call the Circa '21 ticket office at 309-786-7733 ext. 2 for reservations and share in the tasty enjoyment of the sweet musical comedy JUST DESSERTS!