Molly Durnin CD Release Party Set For Thursday at Davenport's Redstone Room
Molly Durnin will perform at a special CD release party for her new disc, "It's Fine," at 8 p.m. Thursday at the Redstone Room, 129 N. Main St., Davenport.
Karl Beatty will open the show.
For the past 10 years, Durnin has worked as a full-time touring musician, but 2020's Covid pandemic put a stop to that – as it's decimated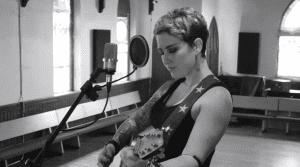 the careers of so many artists nationwide.
Durnin is an impassioned alternative singer/songwriter who emerged from the talented 518 music scene of Upstate New York. Her sultry, uninhibited vocals, percussive acoustic guitar style and sophisticated lyrics invariably excite and captivate audiences. Molly's passionate devotion to her music and fans has driven her down the east coast with a nonstop show schedule.
Molly's self-produced debut album Run received widespread acclaim after its release in June of 2012. The Times Union called the album "simply exquisite" and Fools Hill Music described it as "smart, sexy pop/rock in the post-modern style."
For more information on Molly and to get a taste for her sultry sound, visit http://www.mollydurnin.com/.