Magic Of Bill Blagg Coming To Davenport's Adler Theatre TONIGHT!
The Magic of Bill Blagg LIVE! is coming to Davenport's Adler Theatre!
Event Date and Time: Friday, April 14 at 7:30 PM
General On-Sale: TODAY!
To say that BILL BLAGG has had a magical life would be no exaggeration. He received his first professional magic book from his great-grandfather, which eventually led to building magic tricks with his dad.  These early beginnings paved the way for what is now known as The Magic of Bill Blagg.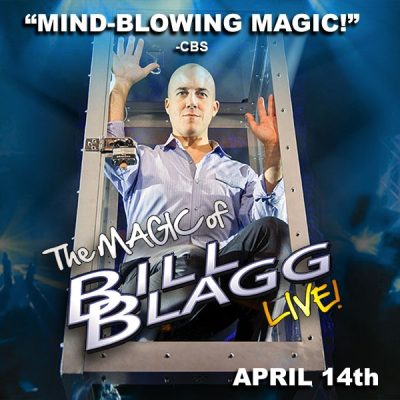 After years of endless practice and persistence, Bill professionally launched his magic performing career in 1996. In just two short years of professional performance, Bill developed a stage presence that made him a stand out in the magic community, due in part to his off-the-cuff personality and his high-energy performance style.
Today, Bill is one of the nation's top touring illusionists. His theatrical brand of magic thrills thousands of people every single year.  His live performances leave people in complete disbelief as he creates the impossible in a way only he can do.
Bill prides himself in performing new, never-before-seen illusions such as the world's only rideable hoverboard.  He is also known for instantly teleporting across theaters, squishing his body from 6 feet to 6 inches tall, passing through the blades of an industrial fan, and much more!
With an attitude aimed to please and a talent as large as they come, Bill's future in magic is limitless as he continues to change reality one city at a time!