Last Weekend To Help Bettendorf Rotary Collect 800 Blankets For People In Need
Bettendorf Rotary members are determined to reach their goal of 800 blankets for their Acre of Warmth promotion! The event will end on Monday, November 1 and they still need 200 blankets to cover an acre.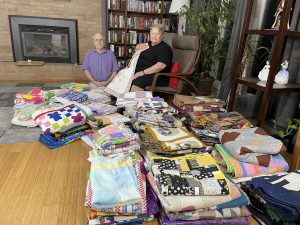 One couple from Davenport, Nancy and Neil Russell, made 95 hand-made quilts to donate to the drive. Picture attached.
Quad Citizens are encouraged to drop off new or gently used blankets at the following Bettendorf locations:
K&K Hardware
Bettendorf Library
Bettendorf City Hall
Duck Creek Tire
Ace Auto Doctor & Repair
AAA
Businesses are also encouraged to do a blanket drive with their employees.
For more information or to see the warehouse with blankets, call Joe Campion, 563-343-78961.