Iowa Women's Foundation Gives Grants to Two Quad-Cities Programs
The Iowa Women's Foundation (IWF) has announced 2021 Core Grant awards to United Way of the Quad Cities and Lead(h)er, for programs that help young girls and women.
The grants are among $100,000 to 13 organizations across the state – raising the total granted to over $1.1 million since the program began in 1997. IWF works to improve the lives of Iowa's women and girls. Grants are awarded to projects that focus primarily on serving the needs and aspirations of women and girls.
Six specific areas have been identified as the most critical barriers for Iowa women and girls: employment, child care, housing, education/training, transportation, and mentoring. Programs must address one or more of the barriers to be considered for a grant. United Way and Lead(h)er each was approved for a $6,485 grant, and both of their projects center on mentoring.
For United Way, its Girls Mentoring Project addresses the barrier of mentoring, and is a program of United Way's African American Leadership Society (AALS).
African-American students in the Quad-Cities lag behind their peers at every educational benchmark: school readiness (13% gap), reading proficiency (30% gap), middle school attendance (9% gap), and high school completion (7% gap).
To address these gaps, AALS has selected a single school – Madison Elementary in Davenport – for a pilot project that coordinates an array of community services on behalf of the school's African-American students and their families.
The ultimate goal is to provide stability in the students' lives so they can benefit more from the education they receive. This new program is based on a successful mentoring program for 4th and 5th grade boys and will provide these elementary aged girls with an adult African-American female mentor. The mentors serve as role models of what it means to be an educated, successful, African-American woman.
The IWF funds will be used to design and implement a program for Madison Elementary's African-American girls, mainly in 4th and 5th
grades, said Karrie Abbott, United Way's vice president of community impact.
The program will feature presentations and discussions about various topics, including self-image, personal responsibility, and the media's portrayal of women. They will also take field trips to sites throughout the Quad-Cities in order to broaden these students' knowledge of the world and the variety of career options open to them.
"We were looking for schools that had some lower reading proficiency, and a high percentage of minority students," Abbott said. "We chose Madison; they're a great community partner. They're used to working with supports outside the school.
"Covid has pretty much gotten in the way of most of what we had planned," she said of mentoring for boys and girls. "Covid has gotten in the way of putting volunteers in the school. It likely will be virtual, since now volunteers are not allowed into the schools."
Abbott said United Way hopes to match mentors with students in six weeks.
"We know that having a personal relationship with an adult role model can reinforce student achievement and assist in development of life skills," said Kayla Babers, United Way AALS  manager. "But the problems that preadolescent girls face are different from those faced by preadolescent boys. Social media and pop culture are putting more pressure on girls, earlier in their lives, to look and act like adults, creating
new levels of anxiety and self-consciousness that, in turn, interfere with the students' education."
The "Girl's Mentoring Program" will provide a two-day-a-week afterschool program for African-American 4th- and 5th-graders at Madison Elementary.
"Girls are facing a lot with social media and bullying," Abbott said, noting the mentoring will in turn help them with their grades as well.
The Iowa Women's Foundation is a nonprofit organization, committed to improving the lives of Iowa's women and girls through a diversified mix of funding and action: research, grant-making, advocacy, education and collaboration. To achieve its goals and make the most significant impact, IWF brings together and invests in organizations across Iowa that make women and girls more successful. IWF is the only statewide organization working to enhance and improve women's economic self-sufficiency.
United Way of the Q-C is also presenting a free virtual Equity Summit on Thursday, focused on bringing people together to talk about what we can do individually and together to reduce and prevent racial inequities across systems that impact education, income and health in the Q-C.
Four hundred and fifteen people are registered to participate. The summit is an outgrowth of an online 21-Day Equity Challenge that United Way started in August, and over 1,000 people participated in the first two periods. The last session is Oct. 26 – Nov. 15; Register by Oct. 22 at www.unitedwayqc.org/21-day-equity-challenge.
Striking a match with Lead(h)er
The only other Q-C program granted from IWF in the latest round is the four-year-old nonprofit Lead(h)er.
Its "Strike a Match" program addresses the mentorship barrier. Lead(h)er has identified a gap in local professional development for women, particularly development that would be accessible to every woman in the community, regardless of employment status or ability to pay for the service.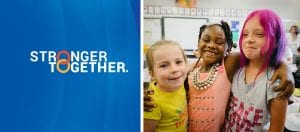 To meet that need, the organization developed the "Strike a Match" mentoring program which connects applicants with a mentor who is individually recruited to meet each applicant's needs.
Not only does this provide one-on-one professional development, but in most cases, it also means that the applicant gains access to a new professional network in the community, said Lead(h)er executive director Megan Hasselroth.
"The benefit of an expansive professional network cannot be overstated," she said. "The women who come through the program consistently report an increase in confidence from these new connections and this confidence translates directly into more tangible outcomes like willingness to negotiate salary and likelihood of applying for promotion thus increasing their economic self-sufficiency."
The Strike a Match program participants are provided with structured networking events, skill-building sessions, and volunteer opportunities in addition to an assigned mentor or mentee.
With the IWF grant, "we can serve this many more women," Hasselroth said. "It's an honor. This is the first year we've gotten this grant. It really fulfills our mission. Our board president, Melissa Taylor, got this email from the Iowa Women's Foundation and said, I think this
would be a good idea. Having her connections, all of a sudden Lead(h)er had this great connection."
In its recent virtual 4th birthday party, Lead(h)er netted $11,000, Hasselroth said. On Sept. 29, Lead(h)er shared stories from across its 300-plus matches of female mentors and mentees, highlighted successes, and announced the 2020 Girl on Fire Award winners.
The awards honor Mentor of the Year and Mentee of the Year — amazing women nominated by their peers who show exceptional commitment. Lead(h)er offers free mentorship to young professionals, free networking, guest speakers and professional development, as well as an inspirational spark to serve their community.
For more information, visit www.leadherqc.org. To learn more about AALS, visit www.unitedwayqc.org/aals. To learn more about IWF, visit www.iawf.org.