Illinois Hits New All-Time Highs For Covid Numbers; Daily Average Over 16,000 For First Time
UPDATED: The following article is updated with new information from the office of Illinois Gov. JB Pritzker.
Illinois has hit a new all-time high for covid numbers, as the seven-day positivity rate hit 12.4 statewide, cases reached 20,800 today, the seven-day daily average went over 16,000 for the first time, and Gov. JB Pritzker is calling on regions to implement their own restrictions as needed.
To put the soaring numbers into perspective, previously, a region could be potentially placed under the most restrictive Tier 3 mitigations if it sees a test positivity rate over 12 percent for three consecutive days within a 14-day monitoring period, according to information still listed on the State of Illinois website. According to the latest numbers released today, covering the week through Dec. 28, one of Illinois' 11 regions (Region 7 near Chicago) is over that number, while almost all of the other 10 — including the Quad-Cities' region 2 at 11.6 percent — are quickly approaching that 12 percent number.
However, today, the Governor's office said those previous tiers and their triggers were no longer in place.
"The tiers have not been used since vaccines have become available. When the state entered phase 5 that plan was done," said Jordan Abudayyeh, Press Secretary for the Office of Governor JB Pritzker, in an e-mail to QuadCities.com. "Instead, the state closely monitors hospitalizations to ensure healthcare systems are not overrun, provides monoclonal antibodies to hospitals, and expanding vaccine and testing. We currently have a mask mandate in place and as the governor said yesterday, the state is not currently looking to institute additional mitigation."
Cases reached 20,800 today, and reached a yearly peak of 21,130 on Dec. 24.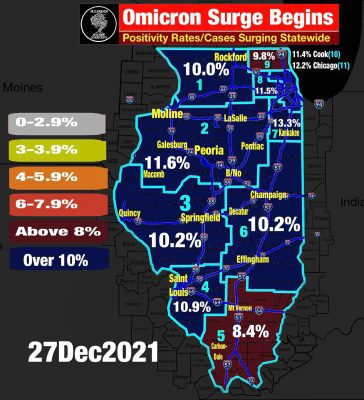 The Omicron surge has arrived in Illinois, with cases skyrocketing in all regions.In his press conference yesterday, Illinois Gov. JB Pritzker said that each region needed to enact its own mitigations to stop the explosion of covid cases in the state. In a previous press conference, Pritzker said local governments should "certainly look at stricter mitigations," if warranted.
"I hope that people across the state will take an example and look at what will work in their community, because just saying that you are going to look at vaccine cards may not work in one place or another, so you got to know your community and get it right in your community," Pritzker said during his press conference yesterday.
"I want to be clear that I am going to continue to do everything possible to protect all the people of this state, whatever your vaccine status. But what kind of year 2022 turns out to be depends on all of us doing what is best for all of us," Pritzker said. "If you are unvaccinated and you get very sick, you'll be filling a bed that would have been available for your ailing spouse or your parent or your child — or someone else's child — someone with cancer or a heart attack or seriously injured in a car accident. If we are forced to move to a crisis standard of care in our hospitals, it will be because a massive number of unvaccinated people chose to let others go without quality care — and even more people will die. If you are choosing not to be vaccinated for some non-medical reason, please change your mind."
For the third time in a week, Illinois covid numbers set a new record high. The last figures from the Illinois Department of Public Health showed 20,804 cases of the virus were diagnosed over the last 24 hours, accompanied by 96 covid-related deaths. The seven day average for the state covid infection rate is now 16.040, another new record since the pandemic began.
The state is currently seeing its highest number of cases of the entire pandemic and hospitalizations increased by 330 patients in the last 24 hours, said Dr. Ngozi Ezike of the Illinois Department of Public Health, during the press conference.
"It's not just about cases. If it was just cases and no one was ending up in the hospital, then let the cases be," she said.
"It continues to be the case that the vast majority of cases, hospitalizations and deaths are among those who are not vaccinated,"she continued. "If you don't want to do it to protect yourself from hospitalization and death, can you do it to protect others? Can we do it as a sign of respect for the men and women in our hospitals and our health care systems who are overwhelmed and exhausted?"
As previously reported on QuadCities.com, the omicron variant has begun to sweep across Illinois, with confirmed cases in seven counties, all around Chicagoland. The variant was responsible for 73 percent of new cases over the last week nationwide.
In reaction to the exploding numbers, cancellations and new restrictions have begun individually in regions across the state. Beginning Jan. 3, Chicago as well as suburban Cook County — areas in regions 7, 8, 9, 10 and 11 —  will require proof of vaccination for many indoor public spaces.
Several schools across the state announced they'll be going to remote learning at least to begin the next semester in January. Northwestern, DePaul and University of Chicago in Cook County will all begin as remote learning, as will University of Illinois Urbana- Champaign in downstate Champaign and Illinois State University. In addition, Southern Illinois University at Carbondale has told students, faculty and staff that they must test negative for covid-19 within 48 hours of returning to campus, including those who have been vaccinated, and those who have not been vaccinated will have to continue to be tested weekly.
In addition, theatrical performances and sports around the Chicagoland area, including games by the Chicago Bulls, Chicago Blackhawks, and performances by the Joffrey Ballet, have been canceled or postponed, with more expected to be impacted.
Illinois cases are up over 40 percent since the start of December.
"We have moved into very high transmission," said Dr. Allison Arwady, Chicago Department of Public Health Commissioner. "While unsurprising, this news should remind Chicagoans of the ongoing threat from covid-19, especially as families prepare to come together over the holidays."
For ongoing coverage of this situation, continue to follow QuadCities.com.