Great Pages Circus Coming To Iowa's Mississippi Valley Fairgrounds This Weekend
Don't miss this traditional Family Circus – Fun for everyone.
Buy tickets at the door – 1 hour before showtime.
Ready for a show stopping, heart pounding family adventure? The Great Pages Circus has the finest international circus acts and artists for a spectacular show each year!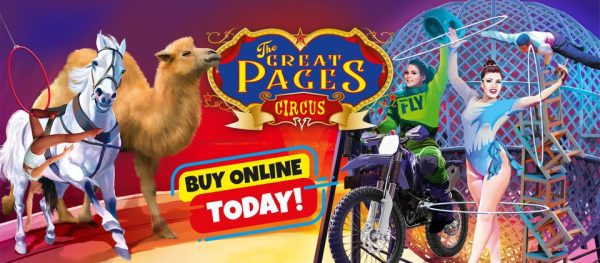 Although our Elephants and Tigers have now retired, we still present our liberty ponies, horses, and camels. These highlight our fabulous aerial, juggling and clown acts to complete the family experience and whenever possible Earhart's Globe of Death makes an appearance with adrenaline rushing motorcycle mayhem.
Your circus experience will last approximately an 90 minutes. Of course we love to show off, so the more noise you make, the more we do! We love to ask for volunteers. Be ready to make some noise if you want Ringmasters James or Colleen to notice you.
Location: Mississippi Valley Fair – 2815 W. Locust St
Buy at the Box Office one hour before showtime.
RESERVE YOUR FREE CHILD TICKETS ONLINE!
Adults: $20
Children (14 & Under) FREE with a paid adult
Limited to 2 FREE Children for each paid adult
Additional Children: $2 each